For Keene State Grad Sofia Thornblad, New Job Stokes Her Curatorial Talents and Interests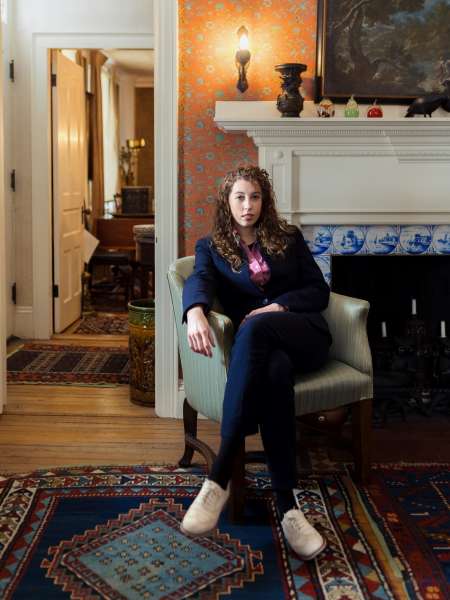 Sofia Thornblad '17 is set to embark on a new journey, one far from home but one that offers such personal and professional resonance she can see it only for its possibilities.
Next month, she will leave her Monadnock Region roots and head to Tulsa, Oklahoma, to become the curator at the Sherwin Miller Museum of Jewish Art.
She credits access to conversations and connections from her time at Keene State, where she earned a bachelor's in Holocaust & genocide studies and a minor in German, for this opportunity.
"I would not have gotten this job if it weren't for Keene State," Sofia said. "Dr. Henry Knight moved to Tulsa after retiring. We stayed in touch, and he emailed me the job description for this Jewish Museum in Tulsa and recommended I apply. Without his urging, I may not have considered moving halfway across the country."
You might go into college thinking you want your life to look one way, only to find out that there are so many possibilities. … Education is about exploring and having fun and coming into your own as an adult."

– Sofia Thornblad
Knight is the former director of the Cohen Center for Holocaust & Genocide Studies at Keene State. The college offers the only four-year BA degree of its kind in the United States with a major and a minor, as well as an MA in genocide prevention & human security and a graduate-level certificate in atrocity prevention.
The Cohen Center is one of the nation's oldest Holocaust resource centers, which attracts internationally renowned scholars who deliver public lectures and visit classes.
Sofia went on to complete her master's in museum studies from the University of New Hampshire.
"I love curating exhibits," said Sofia, who is currently the executive director of the Horatio Colony House Museum in Keene. "Curating is like this mini exploration of a project that you see through from start to finish, from research, to writing, to searching archives, to creating object labels. Museums help to contextualize stories that need to continue to be told."
Emily Robins Sharpe, an associate professor of English and affiliate faculty member in the departments of women's & gender studies and HGS at Keene State, who had Sofia in two courses, said Sofia's range of interests and willingness to stretch herself academically stand out.
"Part of what I keep thinking about is how Sofia is this perfect example of making the most of the liberal arts experience: She took interesting interdisciplinary courses, she studied abroad, earned a master's degree. She is an incredibly flexible thinking, she is intellectually curious, and she is self-possessed."
Two of those "interesting" courses Sofia took were taught by Sharpe: Queer Britain: Introduction to LGBTQ Literatures and Archiving War.
"Sofia always wanted to learn more, no matter the topic under discussion," Sharpe said. "She deserves this opportunity, and it's a great fit for her as a next career step."
Sofia is going to a part of the country that is not without some difficult, violent history. She noted the 1921 Tulsa Race Massacre, for example, which destroyed 35 square blocks and resulted in deaths that many believe numbered in the hundreds.
Greenwood Rising is a relatively new museum dedicated to remembering the highs and lows of Tulsa's historic black district, from a community that once supported the putative Black Wall Street to the white-mob-incited two-day massacre. The museum, which opened in mid-2021, has already surpassed 20,000 visitors, according to its website.
Reflecting on her time at Keene State, Sofia cites three experiences that proved transformative for her: a trip to the US Holocaust Memorial Museum in Washington, D.C.; a study abroad semester in Krakow, Poland, that included an internship at the Galicia Jewish Museum; and curating an on-campus exhibit titled "Visual Witness" that centered on art made in the Terezin Concentration Camp. She describes the latter, opening reception and all, as "one of the most important experiences of my life so far."
A Jewish ghetto and concentration camp, Terezin held primarily Jews from Czechoslovakia, as well as tens of thousands of Jews deported chiefly from Germany and Austria.
"The more Holocaust & genocide studies classes I took, the more I realized that this was my calling," Sofia said. "I learned how to process this dark history in a healthy way. What was not clear was how my passion would manifest as a career. I considered careers in human rights, law, and education before realizing that the museum world was where I wanted to be."
In Poland, Sofia led tours that brought her to actual Holocaust sites for the first time. She made the most of her time there and learned to overcome uncomfortable moments in another part of the world.
"One thing I did well in college was saying 'Yes" to opportunities, like internships, and projects. It was something I trusted doing. I was driven academically, but putting myself out there socially, that was never easy. Traveling, I had to learn to be okay with being isolated, exploring for myself, breaking down those barriers that made it so hard for me to connect with my peers at times. Complete culture shock, that's an experience."
An open mind and a go-for-it spirit translate well in college, she said.
"You might go into college thinking you want your life to look one way, only to find out that there are so many possibilities."
"I went to college thinking I might study dance performance, but Keene State allowed me to lean into my passion for Holocaust studies," she added. "The HGS program is completely unique, and the courses remain the most in-depth I have taken. But it's not all academics. Education is about exploring and having fun and coming into your own as an adult."
Sofia's TikTok account – @underthesilentbluesky – is dedicated to Holocaust education and has more than 32,000 followers.
Related Stories