For Jeff Hunter, Owl Men's Basketball Team, Winning Has Become Habit-Forming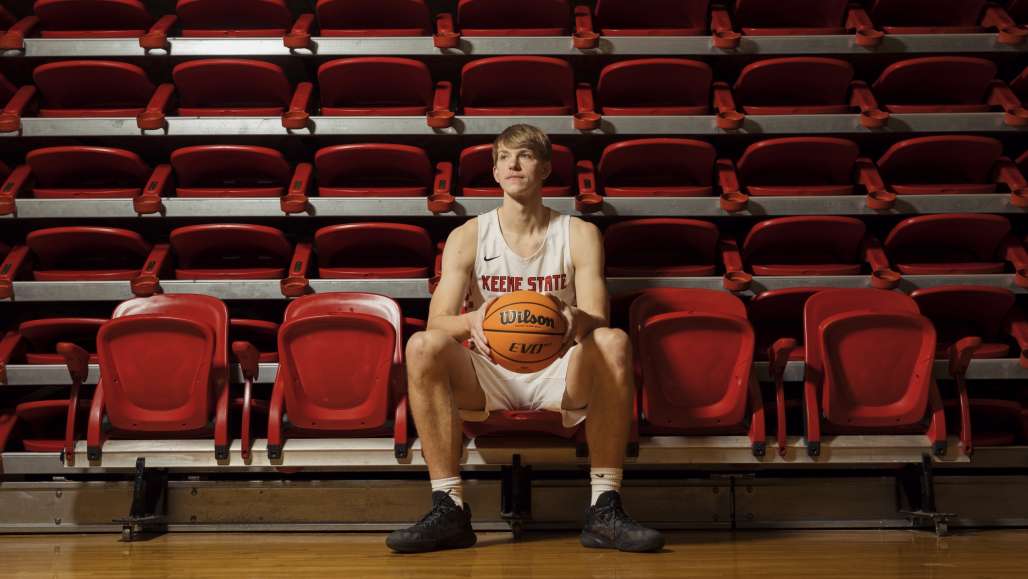 At 6-foot, 7-inches tall and muscular, Keene State basketball senior co-captain Jeff Hunter '24 is hard to miss.
And now, 14 games into the 2022-23 season, Hunter and the Owls are hard to ignore.
The Owls enter Saturday's contest at UMass-Boston as one of four remaining unbeaten teams in Division 3. Two days later, January 16, Coach Ryan Cain's red-hot squad, ranked No. 4 nationally in the latest D3hoops.com poll, entertains No. 13 Middlebury.
Jeff, the affable big man out of Assabet Valley Regional Technical High School in Marlborough, Massachusetts, is having another monster season by every statistical measure. Gaudy numbers, really. Numerical evidence that puts him in elite company nationally in scoring average, rebounding average, blocked shots, shooting percentage and more.
In a road win Tuesday at Eastern Connecticut, Jeff recorded his first career 20-20 double-double. Translated: 20 points, 20 rebounds. In 14 outings, he has 11 double-doubles, second best in the nation. Hunter is averaging 20 points, 14 rebounds and three blocks a contest this season.
His stats are a long paper trail of proof that his selection as one of five national preseason All-America centers was spot on.
But Jeff's preoccupation is less with numbers than it is with setting tone; modeling work ethic, in words and actions; and assuring that shared goals and a spirit of collegiality are embedded in the men's basketball program's expectations and culture.
Numbers – neither his nor his teammates' – don't promise wins and they don't deliver championships, Jeff said ahead of a recent practice. "Really, our ranking is great for bringing in big crowds and more recruits, but that's about it."
"For me," he added, "it's all about reaching the goals we set, getting the best out of one another, and it's the thrill of playing basketball with good friends."
Jeff said he will take his extra year of eligibility afforded to any student-athlete on a roster in 2020-21 during the COVID-19 outbreak. He called the pandemic a "Blessing in Disguise."
The extra year will also allow Jeff to complete a second bachelor's degree, in construction management. His other degree will be in occupational health & safety, and he will graduate with a minor in business management, to boot.
And, another season on the hardcourt is pure bonus, he said.
Going into Saturday's LEC road contest, Jeff has 1,114 career points, which is 27th best in program history. His rebound (776) and blocked shot (121) totals rank in the top 10 in the college record books.
With another season of eligibility, "It's highly likely he will break the block-shots record, and could break the rebounding record, too, but not this season," Abe Osheyack, the college's assistant sports information director, said.
While he made Cain and his staff sweat out an almost yearlong recruiting process, Jeff said Keene State was his choice all along. Coming from a technical school, where his education focused on carpentry, he said Keene State's safety and Occupational Health Applied Science program was a perfect fit.
"I knew I was coming here after my first walk around campus," Jeff said. "It just felt so right, and it made so much sense. I've found an identity here. Keene State will always be a part of me."
He enjoyed a recent internship with Boston-based Construction Risk Partners, an insurance broker, splitting time in the office and the field as a participant in job-site inspections across new England.
Driven and fiercely competitive on the court, Hunter doubles as "the nicest kid on earth," Cain said.
"What you see is what you get," the coach said. "Left-handed, he's unorthodox to guard. He has a 40-year-old mind and a 20-year-old body. He has always been a leader … like a coach on the floor. There is a reason our program is where it is – it's because we have great people, like Jeff."
Jeff credits a book titled "Atomic Habits," given to him as a gift by a close friend from grade-school days, Joey Cammarata, for helping him to be a better leader. Cammarata gave Hunter a journal, too, at the same time.
The New York Times best-selling book explores the power of habit formation as a path to self-improvement, and Jeff said he draws from it routinely.
"'You've got to read this book,' Jeff said he told Cain, excitedly. How we build habits, how I build my habits, it matters. I realize that I had been saying a lot of the right things, but not doing all the right things."
Jeff said he uses new skills and approaches from the book to track what he does, for basketball and his education, and to make sure that his training and focus align with team goals, personal goals, and his team captain role. It makes dodging complacency easier too, he said.
"I lifted weights for 183 straight days at one point," Jeff said. "I tracked all my habits on a white board."
Playing professional basketball abroad after college is something Jeff has not ruled out.
Jeff has an older brother, TJ, and his mom and dad, Ann and Tom, are his biggest fans. Ann makes all the home games, traveling from the family home in Hudson, Massachusetts. He acknowledged that family makes everything possible.
"Everything I do is to try to help my family be in a better spot," Jeff said.
"We've always said, the best decision Jeff ever made was going to Keene (State)," Ann said. "It's a family relationship over there, and we've been made to feel like a part of that family. I know we can trust Coach Cain to be like a father to Jeff, and we know how happy (Jeff) is there."
"I'm so proud to watch Jeff and to see the person he's become, that I could cry."
Related Stories