First Person Project: Madison Olsen '20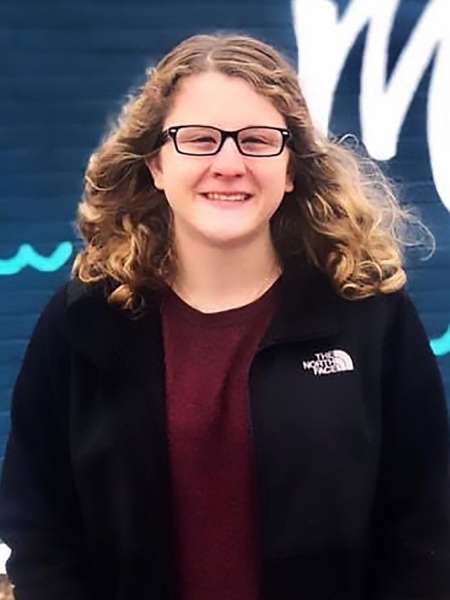 Our Education Graduates Inspire the Dreams of the Next Generation
Madison Olsen '20, BA English/Education
Sixth Grade Language Arts Teacher, Woodbury Middle School, Salem, NH
Maddy Olsen was practicing her lessons with her little brother and her teddy bears by the time she was six. And she grew up with Keene State in her veins—both of her parents are alumni. So, when it came time for her to pick a college, the choice was clear. "I knew //i wanted to study education, and there was no better school to go to than Keene State," she said.
Now she's in front of her own sixth grade classroom, and she knows she made the right choice. "Keene State prepared me so well. I learned all the dimensions of being a teacher, even the ones you don't really see, from assessments to talking to parents to working with administrators," she said. "I feel comfortable in my classroom."
Our scholarships create space for students to focus
Maddy said she was grateful for the Presidential scholarship and several endowed scholarships she received at Keene State. "They helped take the burden off of financial stress, so I was able to focus more on what I'm doing in school," she said.
Financial support is crucial for the academic success of students who don't come from economic privilege. "With support, student teachers can focus on grading that stack of papers rather than waiting tables. They have a little space to reflect. That ability to focus on their development as teachers is big," said Christopher Parsons, PhD, coordinator of secondary English education.
At Keene State, mentoring builds leaders
The solid, supportive mentoring relationships forged at Keene State are crucial in helping students like Maddy thrive in their careers. Dr. Parsons mentors just seven to 10 students in a cohort—at some schools that number climbs as high as 90.
He advises those students from day one, and teaches them during every semester for their final two years. "This consistent mentoring of students sets Keene State apart. I'm able to develop close relationships and really help students develop themselves into great teachers," he said. "Those consistent, long-term relationships are just not something that often happens in other places."
Our graduates bring breadth and depth to their careers
With Keene State's liberal arts focus, teachers bring a well-rounded education to their classrooms. "Schools who hire our graduates get real content experts. They are getting people who have a broad background, but also a deep background in their content area. That's really valuable," Dr. Parsons said.
Related Stories