Film Studies Students Savor Best Internship Ever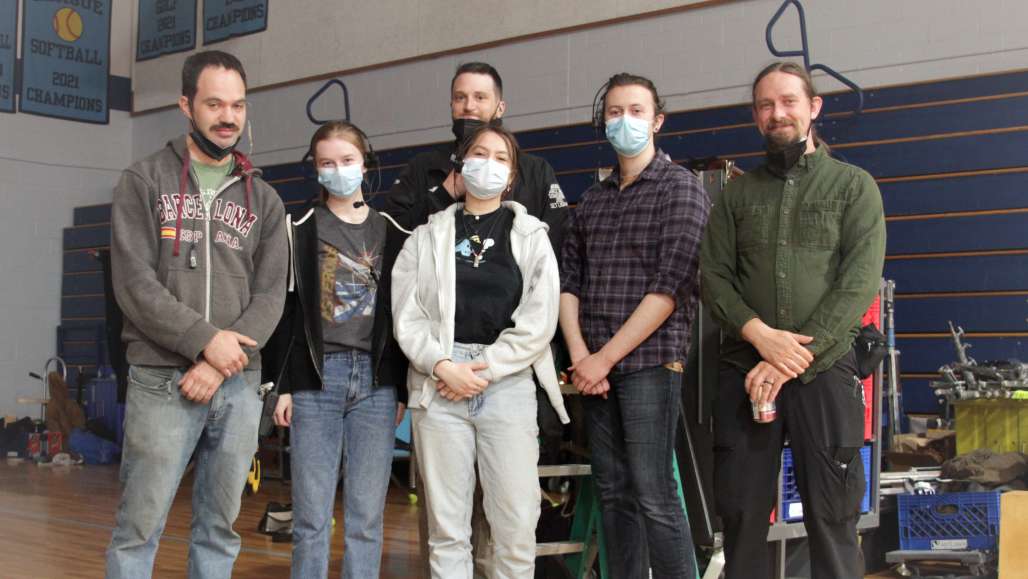 Students in Professor Jo Dery's course Film 380: Career Development in Film and Media quickly learn that the path to Hollywood is paved with challenging work, technical expertise, a willingness to hustle, and, above all, the ability to collaborate.
This spring, ten of her students hit the jackpot of internships.
"I've taught this course before," Dery said, "but this is the first time I could offer the experience of working on a real film set."
Thanks to Keene State alum Ben Heald, teams of students were invited to spend up to a week working with the camera and lighting crews of Money Game, an independent film being made just 45 minutes away, in Turner's Falls, Mass.
Heald, who left Keene State just shy of graduating in 2010, is the director of photography for Money Game and recently a gaffer (set lighting) on the Academy-Award-winning film CODA. Heald's willingness to mentor students in his profession comes from his lifelong love of filmmaking.
"At Keene State, I knew I wanted to do cinematography," he says. "I was fascinated with the way lighting and camera work inform each other. I also learned the importance of communication and accepting diverse viewpoints – something you will find with every film crew, anywhere."
Heald said some of the students had never been on a set before, but "we threw them in and gave them the basics." Justin Wakefield '10 and Jay Nelson '10, other Film Studies alumni, were also part of the lighting team on the set.
Paige Karavas '22 (BA, Film Studies, Production), Anna Sheppard '22 (BA, Film Studies, Production), and Wyatt Codd '24 are among the ten students who rotated through the Money Game set during April. They worked on scenes set in a school gymnasium, which required installing lighting high on the ceiling. Although union rules prevented the students from going up on lifts to install the lights, the students worked as production assistants, helping to set up stands, move light rigs and camera dollies, and, yes, make coffee.
Their enthusiasm was hard to contain.
"This experience reinforces why I loved film making in the first place," Paige said. "From readings in my class, I knew what to bring to the set: markers, a multi-tool, a head lamp, a level, and a lighter. I learned so much, and the crew members were great teachers. They put us right to work and just assumed we could do it. I think lighting, directing, and script writing are the most fascinating parts of filmmaking, and I can't wait to do more. I am so grateful to Professor Dery – she really cares about us."
Anna shadowed the camera department.
"I made sure the batteries were charged and learned so much about the whole process. I was fascinated by one woman in a tent who was doing on-set color correction and data management, working directly with the director and cinematographer. I am applying for a job as a production assistant so I can experience every aspect of film production. I feel so grateful I had this internship."
Wyatt's academic adviser told him to take Film 380 early to get a practical idea about the profession he wants to follow. He has always loved literature and film and enrolled at Keene State because he wanted to learn from a well-respected program.
"Being able to be on a set makes it all more tangible, more real. I was on the gaffing crew for two days and helped place the one-man lift that set the lights on the ceiling of the gym. At lunchtime we talked with Ben, Jay, and Justin about Keene State and professors we all knew. I loved the sense of collaboration between faculty, students, and alums. It was so cool, and I'm so thankful."
This immersion into the world of filmmaking will continue. Heald is a board member on Massachusetts local 481 of the International Association of Studio Technicians, the union that includes all film craft outside of camera. The new union contract creates a fulltime internship coordinator. In addition, Massachusetts gives tax breaks to encourage the film industry.
Given the level of collaboration that already exists, Keene State Film Studies students may have opportunity for internships at their doorstep.
Related Stories