Eric Perrault Overcomes Setback to Sign with Diamondbacks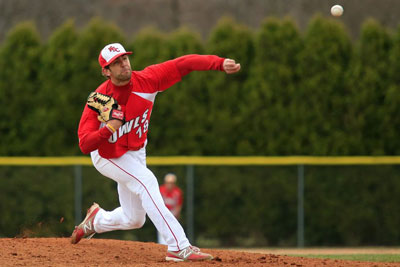 Major league baseball's "hot stove" is heating up, general managers are talking trades and free agent players are slowly starting to sign with teams.
The recent signing of non-drafted free agent and former Keene State College hurler Eric Perrault by the Arizona Diamondbacks might have flown under the radar. But for those who followed his long road to recovery following Tommy John surgery, his signing was special. They couldn't be any happier that Perrault was able to overcome his setbacks and sign with the Diamondbacks. "He worked his tail off to get back and I'm very excited for him," said KSC Coach Ken Howe. "It's very well deserved and hopefully he has an opportunity to pitch for a while."
"There was never a doubt in my mind that Eric would come back because that injury is based on how hard you rehab, and with his work ethic I knew that it was just going to take some time," said KSC Associate Coach Marty Testo. "His dedication to training as a pitcher is second to none."
Coming off a strong sophomore season at Keene State, Eric Perrault decided to try his hand, or more specifically his lethal left arm, playing summer ball. Hooking on with Nashua Silver Knights in the fledging Futures Collegiate Baseball League, Perrault had a sensational summer, earning pitcher of the year and best pro prospects awards.
Salivating scouts began noticing the sturdy 6-4, 190 lb. southpaw from Salem, N.H., keeping tabs on him as he got set for his junior season with the Owls. However, expectations soon turned into exasperations for Perrault. Experiencing soreness that progressively got worse, Perrault never made it through his second start in Florida, shutting it down in the second inning against St. Joseph's College of Maine. "It was pretty tough to shut it down because I had such high expectations for the season," he said.
Instead of facing batters, Perrault was facing Tommy John surgery. Perrault was able to have his surgery done by Dr. James Andrews, a renowned orthopedic surgeon who has operated on some of the biggest names in the game.
Perrault knew that the rehab is as much mental as it is physical. "You really have to push yourself through it," said Perrault. "It's a time when you're not around your teammates anymore and not around the game. You constantly have to remind yourself why you're doing it."
Perrault became very familiar with the route to the Cressy Performance Center in Hudson, Mass., where he threw his first few post-surgery pitches in November of 2012. "It's like having a new arm," he said at the time.
Gradually building up his arm strength, Perrault returned to the team last spring, making a couple of middle-inning, pitch-count appearances down in Florida. Discouraged at times with his progress, Perrault kept plugging away, making 10 appearances while posting a 2-3 record and 5.76 ERA in his final season with the Owls. "It was tough pitching at Keene State last year because I was still experiencing a little bit of pain," said Perrault. "But things started to click during the summer."
Perrault went back to work after the season, hoping to return to the form that had caught the eyes of numerous scouts. Disappointed at not getting picked in the annual MLB amateur draft provided him with more motivation. Going to an occasional tryout, a persistent Perrault got in touch with Chris Hall, the commissioner of the Futures League. Hall told Perrault that Chris Carminucci, a special assignment scout with the Diamondbacks, had called and asked if he knew of anyone interested in going to a late-September independent league tryout in Chicago.
Perrault pitched pretty well at the tryout, furthering the Diamondbacks' interest. Carminucci, the former CEO and manager of the Brockton Rox, came over to work with Perrault a few times a week in Hudson, ironing out some mechanical flaws in his delivery. Last Friday, Carminucci filmed Perrault pitching and sent the video to the Diamondbacks. "I had a feeling something good was going to happen," said Perrault, who went on a brief vacation to Mexico. When he returned early this week he got the good news – the Diamondbacks wanted to sign him to a contract.
"I was really pumped," said Perrault. "I'm glad all my hard work paid off."
"Eric had a dream and he wasn't going to let it go," said Testo. "It's here now and I hope he makes the most of it because I think Eric Perrault can pitch. This has been a long time coming for him and I think he's eager to get out there and show people what he can do."
Perrault, who joins Shawn Barry and Corey Vogt as recent Owl pitchers signing professional contracts, will continue to work out in Hudson before heading out in late February to the Diamondbacks' spring training facility in Scottsdale, Ariz. "I'm just going to work hard and be ready to go," said Perrault, who hopes to get assigned to one of the Diamondbacks' minor league teams.
Perrault says he won't mind the long bus trips that are a part of minor league baseball. After enduring the long road back from Tommy John surgery, what's a few more miles?
Related Stories