Environmental Studies Majors Conduct Natural Resources Inventory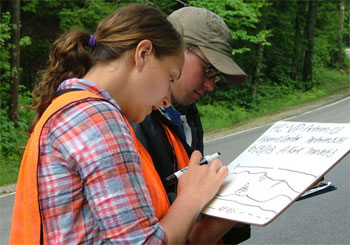 For several years, the Harris Center for Conservation Education has played an integral role in stitching together a 33,000-acre Supersanctuary of connected protected lands in the towns of Antrim, Greenfield, Hancock, Harrisville, Nelson, Peterborough, and Stoddard. These contiguous blocks of habitat are vital for long-ranging species of animals, for migratory birds, for timber, and for outdoor recreation. In order to most effectively manage and understand this area, the Harris Center needed to conduct a natural resources inventory (NRI). That's a perfect project for some of KSC's Environmental Studies majors, but there's a problem: A lot of the critical information—such as were the vernal pools are and which animals are on the move during breeding season—takes place in late spring/early summer, when most students are off campus and working summer jobs to help pay for next year's classes.
The solution? Hire some of these students to stick around and conduct the NRI. Talk about a win-win: The Harris Center gets a team to collect critical data to help it manage the trust, and the students get paid to develop real-world skills that bring substance to classroom theory and will look very impressive on a resume.
Under the direction of Environmental Studies Professor Renate Gebauer and Assistant Professor William Fleeger and the Harris Center's Executive Director Jeremy Wilson and Brett Amy Thelen, program director for the Ashuelot Valley Environmental Observatory (AVEO—the citizen science arm of the Harris Center), the students are collecting ecological data on Harris Center lands. They've been conducting road mortality (roadkill) surveys on Route 123 in Hancock (which bisects the Supersanctuary) and identifying vernal pools. They'll also be doing invasive-plant surveys and forest-community inventories on Harris Center lands later this month, participating in the Project Nighthawk(surveying for the state-endangered Common Nighthawk in Keene), monitoring Harris Center campsites on Spoonwood Pond, and helping with other special projects.
The students were shocked at how many animals—including migrating salamanders, frogs, turtles, and even a mink—they found killed on a short stretch of Rt. 123. "The road mortality study is important because so little is known about the effects of roads and vehicles on wildlife populations in the Monadnock region," Dr. Fleeger explained. "The studies that have been done suggest that the impact is considerable. For example, we have gone out only six times and have documented over 300 animals killed on just over 3 miles of a moderately trafficked roadway."
Vernal pools are seasonal collections of water that exist only in the spring; after that, they dry up. But they're critical breeding grounds for a variety of amphibians—important members of the ecosystem. Because amphibian populations are dropping at an alarming rate, it's necessary to locate these breeding pools and make sure they're not destroyed. "The vernal pool and road mortality studies are producing a significant amount of data," said student intern Stefan Birardi. "It is a great opportunity to get out into the field and use the knowledge I have acquired over the years at KSC for both quantitative and qualitative data collection. Being able to develop methods and procedures through trial and error allows a new way of learning that the classroom cannot provide. I enjoy working through issues we encountered in the field as a group, because more efficient methods are developed with group discussions."
Dr. Fleeger agrees that the program benefits everyone involved: "Students gain valuable field experience and professional skills while the Harris Center gains important information it can use to better protect and conserve the resources that it manages. This program also allows the College to expand our educational opportunities beyond the classroom and to become an effective partner in addressing the challenging problems facing our region." Dr. Fleeger pointed out that the partnership contributes to a much more significant learning experience for the students: "Conducting field studies and interacting with other conservation professionals really enriches the students' education. It exposes them to demands and possibilities of the profession that is impossible to replicate in any other way."
And the students would certainly agree. "I've learned a lot about what actually goes into collecting field data," intern Kyle Tefft said. "In addition, I've learned efficient and inefficient methods of data collection. You can never tell what will actually work until you have the time to try it for yourself. This internship also builds team work and group productivity. Before working this internship I had never been as effective or comfortable in a group setting."
And the Harris Center definitely appreciates their diligent work. "Working with these students enables us to do science that we couldn't do otherwise," explained Brett Thelen. "Their data increase our understanding of the natural resources within the Supersanctuary, which will ultimately help us to better steward the land. For example, we can't protect vernal pools from the potential impacts of forest management, road salt, or trail construction if we don't know where they are. In the short term, we'll be using the road mortality data to help us place 'wildlife crossing' signs where they'll be most effective. In the long term, we might even be able to consider wildlife passage infrastructure, like tunnels. But we can't do any of that without basic data about how—and where—wildlife move across roads in the Supersanctuary."
The work the student team will be doing to identify invasive species is also critical. "On a global scale, invasive species are a significant threat to biodiversity and result in billions of dollars in economic losses each year," Dr. Fleeger said. "Though we have not yet found any significant populations creeping into the Harris Center properties, we know they are out there and are spreading—particularly along roadways. Early intervention is the best way to prevent invasive species spread and infestation."
Related Stories