English and Education Grad Wins 2020 Intern of the Year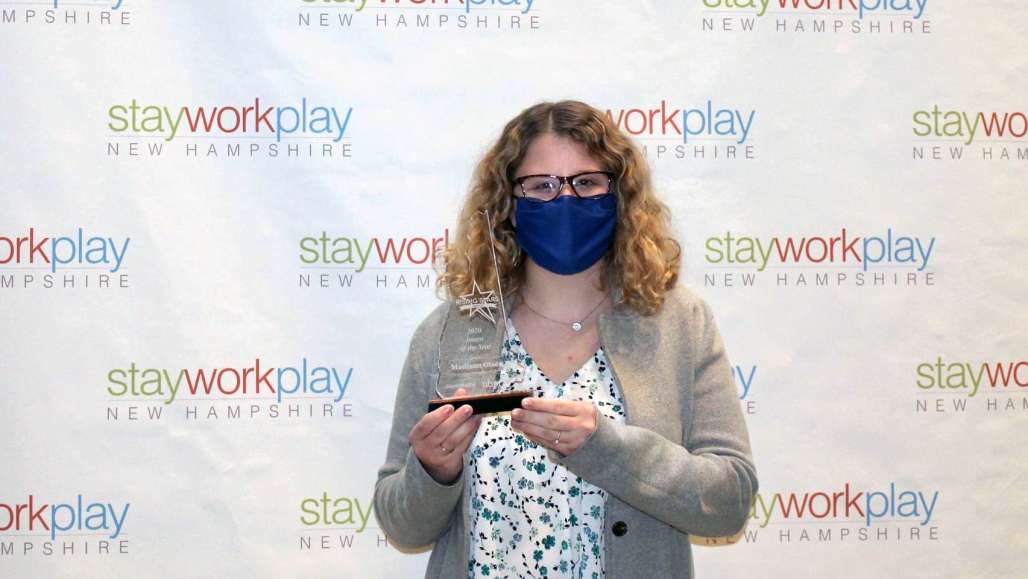 Madison Olsen '20 was awarded Intern of the Year by Stay Work Play New Hampshire for the semester she spent student-teaching at Hinsdale High School in spring 2020. Her passion for teaching was unmistakable as she was chosen to receive the award for her exceptional dedication to working with grades 10 through 12.
Maddy graduated with degrees in secondary education and English literature. Her senior spring semester was heavily impacted by the COVID-19 pandemic which caused school across the country to close and move to remote learning. Maddy was faced with a challenge as her last semester of college was student teaching and now, she had to shift into a new territory of online school. "I felt like when everybody else was struggling with remote learning, I was struggling with remote teaching," she said.
Overall, Maddy had a positive experience with student teaching. "It was awesome. It's one of those things that's going to reassure you that you're in the right field. I had an amazing cooperating teacher, Glenn Hammett, who was basically my mentor," she shared. "I felt like it was a real experience. He gave me independence which really solidifies your skills and gets you as ready as you can be to enter the real deal."
And while she couldn't have been prepared to do her semester of student teaching remotely, Maddy credits her education at Keene State for giving her the skills she needed to be successful. "I actually went to Keene State because of the education program," she said. "I heard really great things and both of my parents are graduates from Keene State. I knew the program was really strong. The people that I work with now say that they feel I am a pretty good teacher for a first year, so I must be doing something right."
Maddy is now employed as an English teacher in Salem, NH, teaching grades 4 through 6. "With everything going on, they need more staff in schools these days, so I was able to find a job fairly quickly," she said. "I had an interview in December and was hired within my student teaching time before summer ended." Giving advice to students pursuing a career in education, Maddy said, "Get involved with different parts of the school, such as clubs. It's easy to connect those activities back to education and it opens up more connections for you."
Stay Work Play is a non-profit organization dedicated to supporting and retaining a young workforce in New Hampshire. The nomination for Intern of the Year 2021 will open in the spring. For more information visit https://stayworkplay.org/.
-By Hailey Harding-Rogers '21
Related Stories