Dr. Landau Receives Lambda Award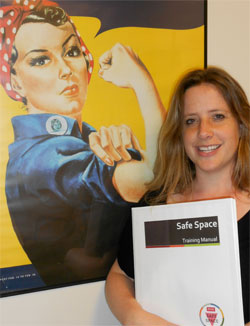 Assistant Professor of Communication Jamie Landau is this year's recipient of the Lambda Award, given by the Caucus on LGBTQ Concerns of the National Communication Association (NCA). The NCA is made up of researchers, educators, and professionals dedicated to the study of communication. The Lambda Award recognizes extensive service to the LGBTQ (lesbian, gay, bisexual, transgender, and queer) community, notable campus activism, successful teaching of LGBTQ issues, and successful advising of LGBTQ students.
Dr. Landau received the award due to her extensive campus service as the chair of the Safe Space Subcommittee of the Campus Commission on Diversity and Multiculturalism, her mentoring and advising of LGBTQ students on an interpersonal level and formally as the faculty advisor to KSC Pride, and her successful teaching of LGBTQ issues in the core curriculum for Communication majors and in special-topic service-learning courses.
Dr. Landau's award highlights Keene State's commitment to diversity in perspective, community, ideas, and thoughts. "I see the Lambda Award as recognizing Keene State College, not only me," she explained. "LGBTQ activism, teaching, and mentoring are not the accomplishments of one person. Real social change occurs because of the tireless efforts of a lot of people over a long period of time. … I'm excited to receive the Lambda Award because it makes visible (what is too often invisible) an increasingly supportive climate for lesbian, gay, bisexual, transgender, and queer Keene State College students, staff, and faculty."
Dr. Landau is also an effective teacher. She recently received recognition for giving her students real-world experience by having them create marketing plans for area non-profits that couldn't afford to hire professional marketers. For a lower-level communication course that she's teaching this fall semester, Dr. Landau arranged service-learning with the Keene-based community agency Parents, Families, and Friends of Lesbians and Gays of New Hampshire (PFLAG-NH).
Her approach makes students feel supported and welcome on campus. "She is always approachable with a big and infectious smile, giving words of encouragement about being yourself and accepting others for who they are," said Communication major Jason Abisch '13, former president of KSC Pride. "With the help of Dr. Landau, there is a brighter future for all LGBTQ students at Keene State College."
Dr. Landau will be honored at the National Communication Association's 99th Annual Convention that will take place from Nov. 21 to 24, 2013, in Washington, D.C.