Dr. Dottie Morris Named "Hero for Justice" by YWCA New Hampshire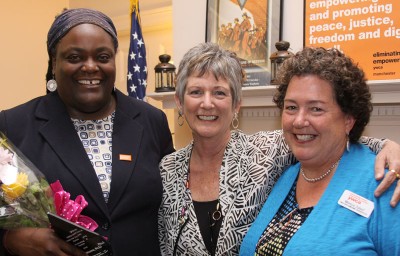 Dr. Dottie Morris Honored for Her Work to End Racism
Keene State College's Chief Officer of Diversity and Multiculturalism, Dr. Dottie Morris, will be honored this evening by YWCA New Hampshire for her work to end racism. She has been named a Hero for Justice and will join two other women who will receive the same honor for their work to end child abuse and domestic and sexual violence.
"I am deeply honored by this recognition, and grateful to YWCA New Hampshire for supporting critical efforts that protect individuals and improve the lives of New Hampshire residents," said Dr. Morris. "I offer my sincerest thanks to the leadership team at Keene State College for their support and efforts to promote a healthy and civil community free from any form of oppression and injustice. Students, faculty and staff at Keene State have demonstrated a real dedication to these goals as well. I share this honor with the many people who make it possible to help end racism in Keene and beyond."
This is the fifth year that YWCA New Hampshire has given these awards. YWCA New Hampshire reaches out to partners and community members to receive nominations, and decides who is selected for the honors.
Linda Saunders Paquette, executive director of New Futures. Inc., nominated Dr. Morris for the honor. "At Keene State, diversity is intimately connected with the College's other priorities of 'academic excellence and student success' and institutional effectiveness, sustainability and financial stability. Each and every day, Dr. Morris shapes and impacts students' attitudes, values and academic successes through her teaching and counseling," said Ms. Paquette. "Dr. Morris serves as a role model for women of color, and all women, throughout New Hampshire. Through her work on the campus of Keene State College, and through the service learning projects she leads both nationally and internationally, Dr. Morris teaches that every woman, and man, can make a difference by being different, accepting differences and respecting differences."
For more information about the 2013 Heroes for Justice awards, visit here.
Dr. Morris will be the keynote speaker at 2013 Commencement of World Learning School for International Training Institute (SIT), and she is part of the Leadership New Hampshire 2013 class.