Doug Elkins Premieres New Comic Dance at Redfern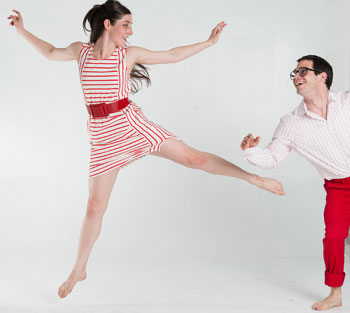 The Redfern Arts Center at Keene State College presents the world premiere of irreverent choreographer Doug Elkins' Hapless Bizarre, a contemporary dance that melds slapstick comedy with hip-hop moves and ragtime music. Doug Elkins Dance company will perform this light-spirited work and Elkins' more shadowy Mo(or)town Redux, named one of the top 10 dance pieces of 2013 by the New York Times, on Tuesday, February 4, at 7:30 p.m. in the Redfern's Main Theatre. Tickets range from $25 to $15 depending on seating and $5 for Keene State students. Call the Box Office at 603-358-2168 or order online at www.keene.edu/racbp.
Hapless Bizarre is an exuberant mash up of physical comedy, choreography, flirtation, and romance that Elkins describes as "Merce Cunningham meets Buster Keaton." Dancers, actors, and clowns have near misses of physical action and attraction with high flying kicks and turns eliciting a range of emotion. Elkins has been called one of "the most inventive, musical, and witty choreographers of his generation" (New York Times) and this new work promises to showcase these talents.
Elkins pairs this new piece with his recent hit Mo(or)town/Redux, an hip-hop homage to Jose Limon's famous modern-dance work Moor's Pavane, which is based on Shakespeare's tragedy Othello, using the upbeat sounds of Motown and the neo-Motown music such as Marvin Gaye and Amy Winehouse. "Its sheer danciness holds you; the plot takes you by surprise and then shock," says Alistair Macaulay with the New York Times when listing Mo(or)town among his top 10 dance works of 2013.
In conjunction with this performance, Doug Elkins will lead a dance master class on Tuesday, February 4, at 10 a.m. in the Mabel Brown Room of KSC's Young Student Center. The same day, Elkins also will present a pre-show talk about Mo(or)town/Redux at 6:45 p.m. and a post-show discussion on Hapless Bizarre with Maura Keefe, Jacob's Pillow Dance Festival scholar-in-residence. The pre-show talk will take place in the Harry Davis Room off the Redfern main lobby, and the post-show talk and reception will take place in the Redfern lobby. All these programs are free and open to the public.
Doug Elkins is a two-time New York Dance and Performance (BESSIE) Award-winning choreographer and 2012 John Simon Guggenheim Memorial Foundation Creative Arts Fellow. He began his dance career as a B-Boy, touring the world with break dance groups New York Dance Express and Magnificent Force, among others. Hapless Bizarre was hatched and first previewed at The Yard, an artist residency and performance center dedicated to contemporary dance, theater and related arts, as part of its summer 2013 season. The dance was further developed during a Creative Development Residency with support from The Jacob's Pillow Dance Award Initiative and a second residency provided by The Joyce Theater Foundation, New York City. The presentation of Hapless Bizarre at the Redfern Arts Center was made possible by the New England Foundation for the Arts' National Dance Project, with lead funding from the Doris Duke Charitable Foundation and The Andrew W. Mellon Foundation
About the Redfern Arts Center at Keene State College
The Arts Center is named in honor of Dr. Leo F. Redfern, Keene State College President from 1969 to 1979 for his vision, commitment, and eloquence on behalf of the arts that made funding and construction of the facility a reality. In 1981, KSC inaugurated this new performing arts center, with the goal of providing unforgettable artistic encounters for the campus and community. Since then, the Redfern stage has hosted hundreds of amazing shows, from internationally renowned artists to emerging young talents to KSC's own student performers. Over the years, the Redfern has expanded its outreach programs, curricular and community partnerships, becoming an indispensable resource for the Keene community and beyond.
Related Stories