Don't look now: High-Flying, Unbeaten Owl Cagers Earn Top 25 National Ranking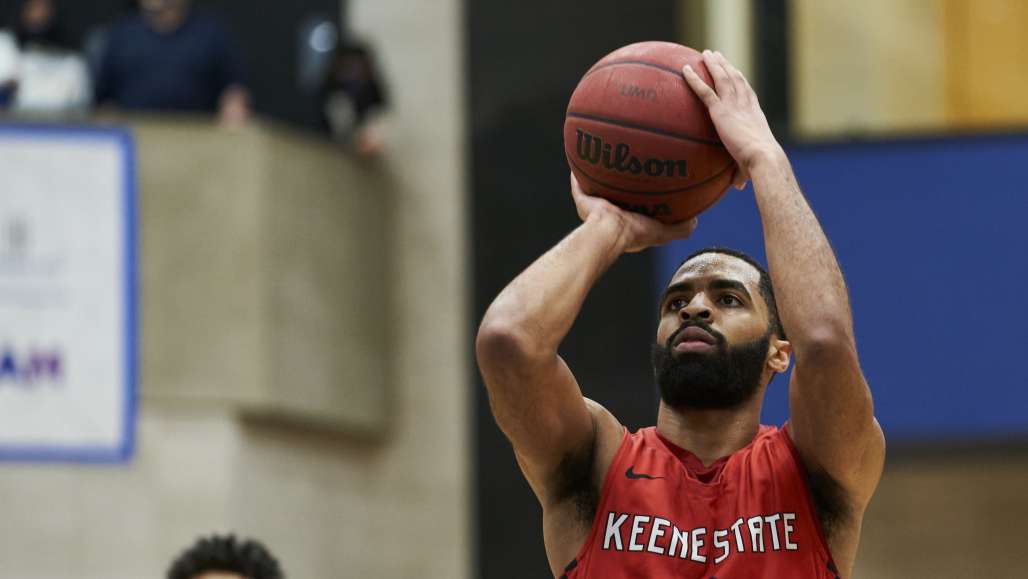 For all the buzz surrounding the fast start of the Keene State College men's basketball team – seven consecutive wins and a national ranking in the latest D3hoops.com Top 25 poll – Coach Ryan Cain is quick to note that it's "now 0-0" as far as he's concerned.
His Owls squad could not be hotter, but with the beginning of conference play just three days away, it really is, he said, a new beginning.
A day after vaulting into the Top 25, at No. 14, the Owls laid some hurt on another non-conference foe, dispatching visiting Albertus Magnus 82-71, Nov. 29, at Spaulding Gym. It was more of the team's dynamic duo, Jeff Hunter and Octavio Brito, who combined for 51 points. But seven of the eight Owl players who saw time contributed points.
Brito's 32 points, bolstered by 7-for-12 marksmanship from behind the 3-point line, matched a career-best, set earlier this season. Hunter, the squad's do-it-all big man coming off back-to-back United States Basketball Writers' Association National Player of the Week honors, dropped 19 to go with 13 rebounds – his fifth straight double-double – and a pair of steals.
Hunter will go into Saturday's conference opener at Southern Maine 13 points shy of his 1,000th career point. Most remarkably perhaps, Hunter is shooting 72 percent from the floor for the season.
He stands to become the 38th Keene State player to reach the scoring milestone, and the first since James Anozie '21, who finished his career with 1,344 points.
The team's attention-getting start includes a pair of victories at the Great Lakes Invitational at Crawfordsville, Ind., when the Owls defeated Marietta (Indiana) and Maryville (Tennessee). The team then returned East and beat Springfield College and MIT, going over the 100-point mark in both wins.
"With all the returners; the addition of our new guys; and the IQ they have as basketball players, concept-wise, we're in a good place, Owl Coach Ryan Cain said following Wednesday's streak stretching win. "We're playing well at both ends, we have great leadership across the board, and the value every single person brings every night … I'd say it's as good as it's been." Cain described Hunter's performance in the invitational as "a true showcase of his talents. In Indiana, Hunter averaged 25.5 points and 17 rebounds for the two games, with another gaudy shooting percentage – 63 percent in this case – from the floor.
There is all of that, Cain said, and "there is the unique leadership and character that make Jeff such a privilege to coach. His growth physically, the effort that he plays with, his rebound radius, it's incredible. It's rare to see a guy make this kind of jump as a senior."
Following Saturday, the Owls will close the semester with back-to-back home conference contests, against rival Plymouth State Dec. 7 and R.I. College Dec. 10.
It's a different kind of grind, Cain said, of Little East play. He said the Top 25 national ranking is something to savor, but it can cut both ways.
"From a program standpoint, it's good or bad if we make it good or bad," he said. "What I mean by that, is when you're ranked opponents look at you differently. I think it's good for us. We will have to be at our best each night. The bad part is if you let the outside noise get in the way, you can quickly forget what made you good."
"From a college and community standpoint, it's beneficial in a couple of ways. The community and campus support we get is as good as any other team. That kind of recognition only enhances your program, and it's good buzz for recruiting."
A focus that is anything less than one game at a time can bring about a quick shift, the coach said, and that will be a mantra at practice to be sure.
Click here to read more about Ryan Cain's high-flying Owls: https://keeneowls.com/sports/mens-basketball
Related Stories