Communicorps Students Design Vocational School for Haiti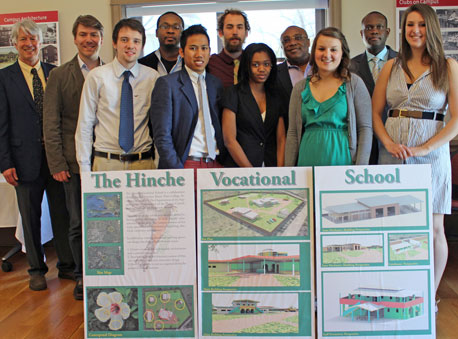 One of Haiti's problems stems from a severe lack of skilled construction workers, a need that became woefully apparent following the 2010 earthquake. For most construction projects, workers are brought in from the Dominican Republic, a somewhat absurd solution in a country suffering from high unemployment. But education in Haiti is not free, making it an impossible dream for many citizens. The drop-out rate is high, leaving many with little education and few prospects for employment. These often travel to the capital city where their lives can rapidly disintegrate.
When Peter Temple, associate professor of architecture, learned through contacts at the Boston chapter of Architecture for Humanity (AfH) that a Boston-based Haitian group, the Organization of Support to the Development of Plateau Central (OSDPC), had hopes of building a vocational school in Haiti's Central Plateau, he realized that this presented a perfect opportunity for his Communicorps students to step up to a real-world challenge and provide an architectural plan that should offer long-lasting benefit. The OSDPC been given a building site near the Haitian city of Hinche and had begun the necessary fundraising, and the Communicorps students spent the semester designing a vocational school to teach construction trades and auto mechanics. The plan is actually for a small campus of buildings that will include the main school building, a working auto garage, residential housing for teachers and staff, an administration building, and a separate large dining facility, all within a walled compound. With adequate funding, the school will be able to train Haitians in needed job skills that they otherwise could never afford.
Since this school will be the first of its kind in Haiti, the Communicorps students' biggest challenge was getting a sense of the project. "When we came to our client, they didn't really know what they wanted or needed," said Jason Abram, one of the student team members, "so we had to guess. We looked at similar schools here in the States and then adapted the design to the climate and local environment. It was hard to get started, but now the ODSDPC is excited about our design." Since commercial construction materials can be expensive and difficult to obtain in Haiti, the architecture students paid special attention to including sustainable, local building materials in their plans. They've been exploring alternative construction materials that can be created on site, such as compressed-earth blocks. The buildings will need to stand up to earthquakes and hurricanes, and the school is intended to serve as a refuge during national disaster.
The Hinche Vocational School offers real hope for the future for many of Haiti's young and unemployed. "This project is very important for the people of Haiti, where there is a lack of skilled builders and auto mechanics," explained Jacques Parent, the executive secretary for OSDPC. "Training people in these trades is especially important to help us rebuild after the earthquake, and it will create opportunities for Haitians to gain the skills they'll need for good jobs. The architecture students' design is far beyond what we originally hoped for."
"For many years, I have been working towards creating a project like this where students are doing design work in a developing country," Prof. Temple said. "Ever since the earthquake in Haiti, I have been hoping to pull together the right organizations to make this happen." Now, the Hinche Vocational School is the fulfillment of that hope. And it should be just the first of such international projects, offering practical professional experience to KSC students and invaluable economic and educational opportunities to the people of Haiti's Central Plateau.
Read the story in the Keene Sentinel
Related Stories