More Than 650 Earn Degrees at Keene State Commencement; 'Navigate Us Well,' Grads Told
Commencement is a day when celebration comes first. At Keene State College on Saturday, for the Class of 2023, that truth didn't disappoint. And neither did the weather.
In the packed, sun-splashed, and decked-out center of campus, colored in red and white and the familiar hues of regalia, a throng of students, faculty, staff, families, and friends shared in a traditional ceremony of academic attainment marked by the deferring of degrees.
In this case, more than six hundred and fifty undergraduate and graduate students walked across the stage to receive their scrolls.
On Friday, in separate events, graduating nursing students were recognized during a Pinning Ceremony, an Honors Convocation was held to acknowledge and congratulate graduates who performed with academic distinction in the college's Honors Program, and 33 students who earned master's degrees were presented and feted.
Students representing 18 states and four countries comprised this year's graduating class.
Keene State, part of the University System of New Hampshire, offers undergraduate degrees across more than forty areas of study, master's degree programs, and post-master's certification programs – all in the liberal arts.
In her keynote remarks, President Melinda Treadwell '90, drew on a message framed in themes of hope, admiration, and gratitude.
"You have managed rough waters, no doubt. And you have reached the other side. Safely. Capably. Confidently," she told graduates. "You are better and more resilient for having had that experience, and I am in awe of your grace and the hope you have shown us."
She encouraged the graduates to be kind, to stay humble, and to be forces for change in the world through their respective pursuits and talents.
"Navigate for us well, graduates. Lead us – sensibly – and steer us – intently – toward a more promising future," Treadwell said. "That is your final assignment on this end."
Abby Cohen '23, Senior Class President, took students back to the orientation process, the early days marked for some by uncertainty, but reminded them all of the powerful journeys they took and their amazing accomplishments.
"We laughed, we cried, we stressed, we studied, we thrived," she said. "I'm proud to be graduating among the next doctors, nurses, educators, businesspeople, artists, musicians, and so many others. I promise we're ready; each of us with bright futures."
Excitement and anticipation were palpable.
Graduate Victoria Thompson '23, a communications major, said she was plain "thankful," for seeing campus come alive again as it was Saturday, and that "Keene State ended up being a great place for me. I came here not the leader I am today and I'll be ready to take even more charge in grad school."
Chris Wilson '23, who earned a degree in safety & occupational health applied sciences, said he will miss the friendships that he has made, but on the other hand said that "these are friends I will see until we're all 60, 70 years old. I fell in love the day I first set foot on campus and I'm walking straight into a safety job."
Chris' three sisters, father, mother, and grandparents were in attendance Saturday.
Four individuals received special honors during the ceremony. College leaders:
Conferred U.S. Congresswoman Ann McLane Kuster, with an Honorary Doctor of Humane Letters degree. Congresswoman Kuster is serving her sixth term in Congress representing the N.H.'s Second District.

Awarded Dr. Don Caruso, Cheshire Medical Center President and CEO with the Granite State Award.

Recognized Julio Del Sesto '07, professor of journalism, with the Alumni Association Distinguished Teacher Award.

And surprised graduate Dominic "Dom" Lynch '23 with the Leo F. Redfern Outstanding Citizenship Award, the highest honor bestowed to a Keene State College student.
Dominic excelled as a student leader on campus, serving as a Community Assistant; an area leader, volunteering for the Office of Transitions & Community Living and in Admissions as a tour guide; as president of Keene State's a cappella group, Chock Full of Notes; and as the University System Student Board Representative for Keene State on the USNH Board of Trustees.
Congresswoman Kuster called the graduates' resiliency, hardened by a pandemic, an inspiration for future generations. She encouraged them to "be willing to rock the boat and to stand up and be heard when it comes to what they are passionate about.
"You are worthy, your voices are powerful," she said. "You are going to do amazing things."
Dr. Caruso, in a recorded video, said to the graduates that our times and challenges "require special people, like you. It is not for the timid…but it is also incredibly exciting to help effect meaningful change in the world".
Professor Del Sesto was on stage to accept his award, spoke briefly, then shared a moving message to graduates in a video, describing his life story of perseverance and overcoming long odds and doubters in his life.
Born six weeks early, with brain damage, and having battled dyslexia, depression, panic attacks, and assaults on his confidence that more than once "brought me to my knees."
I thought about giving up, but in a way, I woke up," he said. To the graduates, his message continued, "It's okay to fail, to have a bad day, to make mistakes, to feel sad. The most important thing is not to give up. Make your reality; don't let others decide it for you. Make yourself proud."
Congratulations to all the graduates and best wishes for future success.
Commencement 2023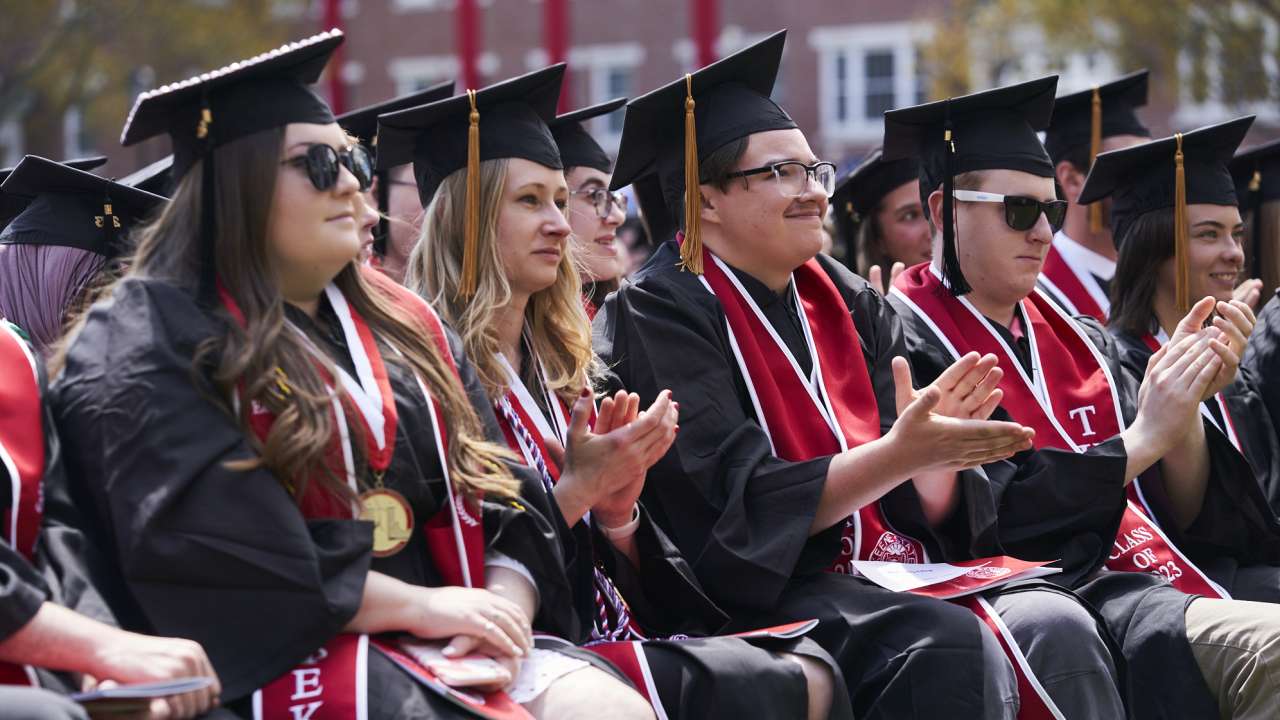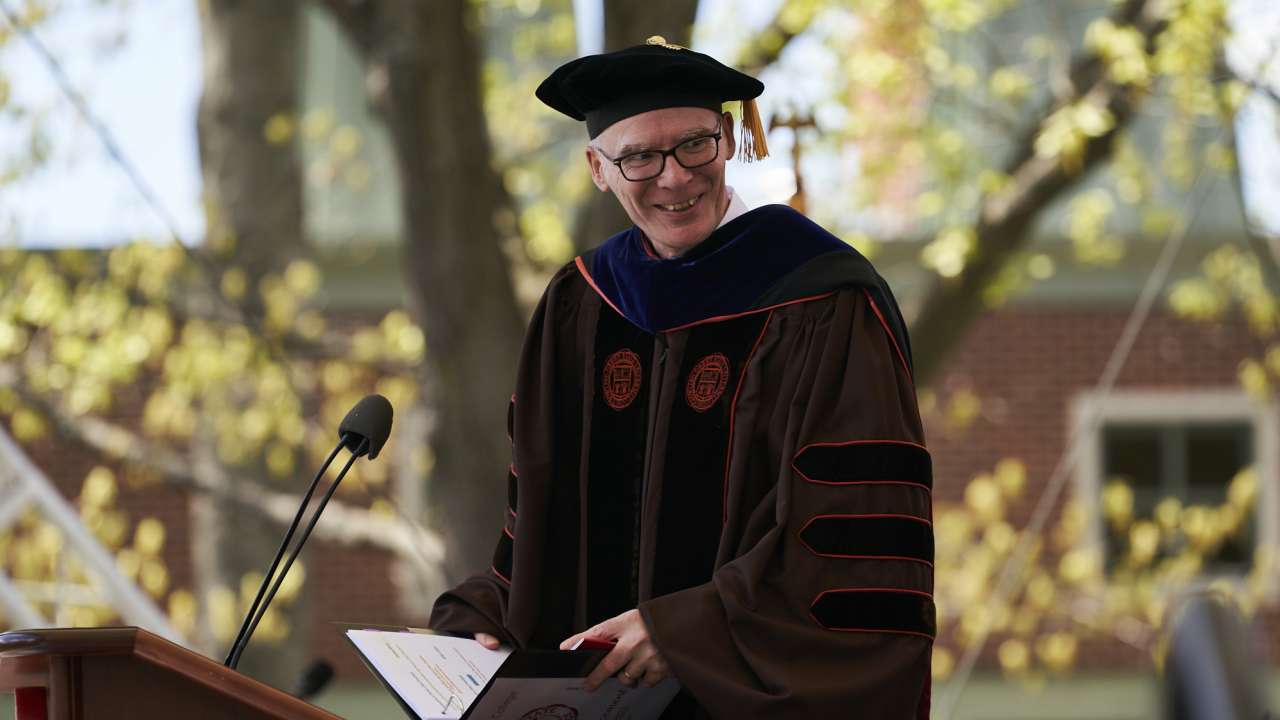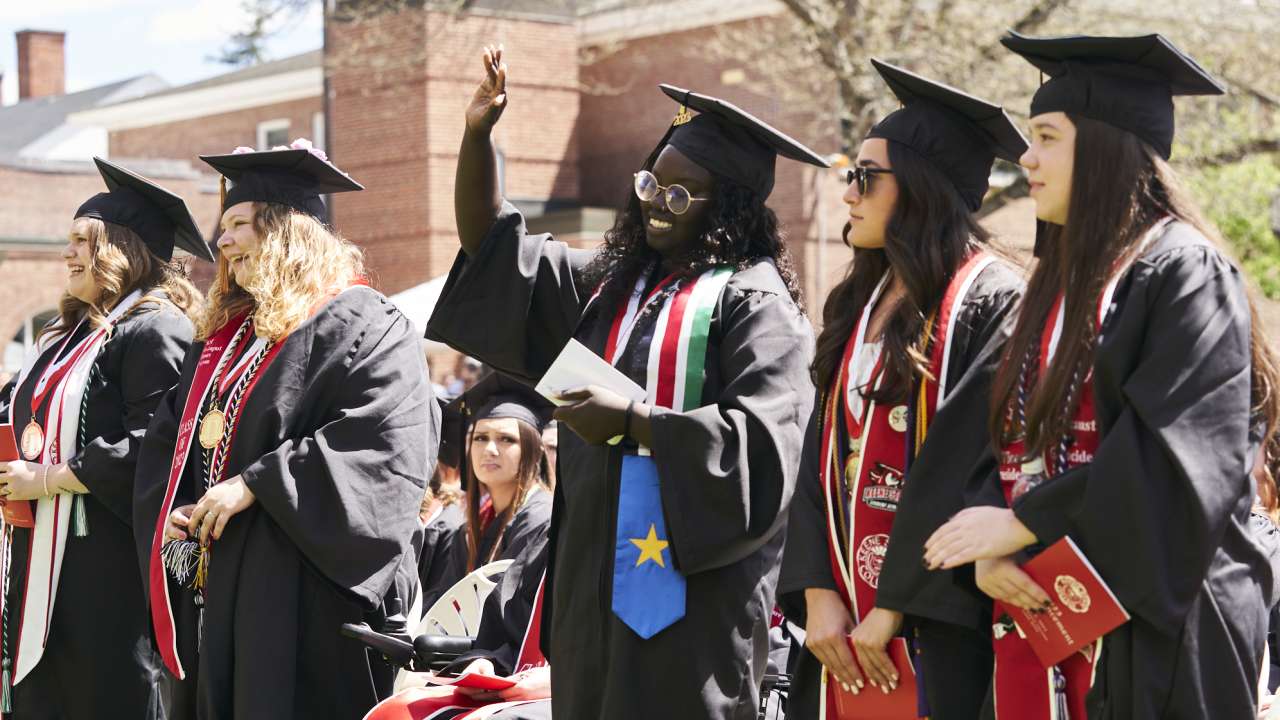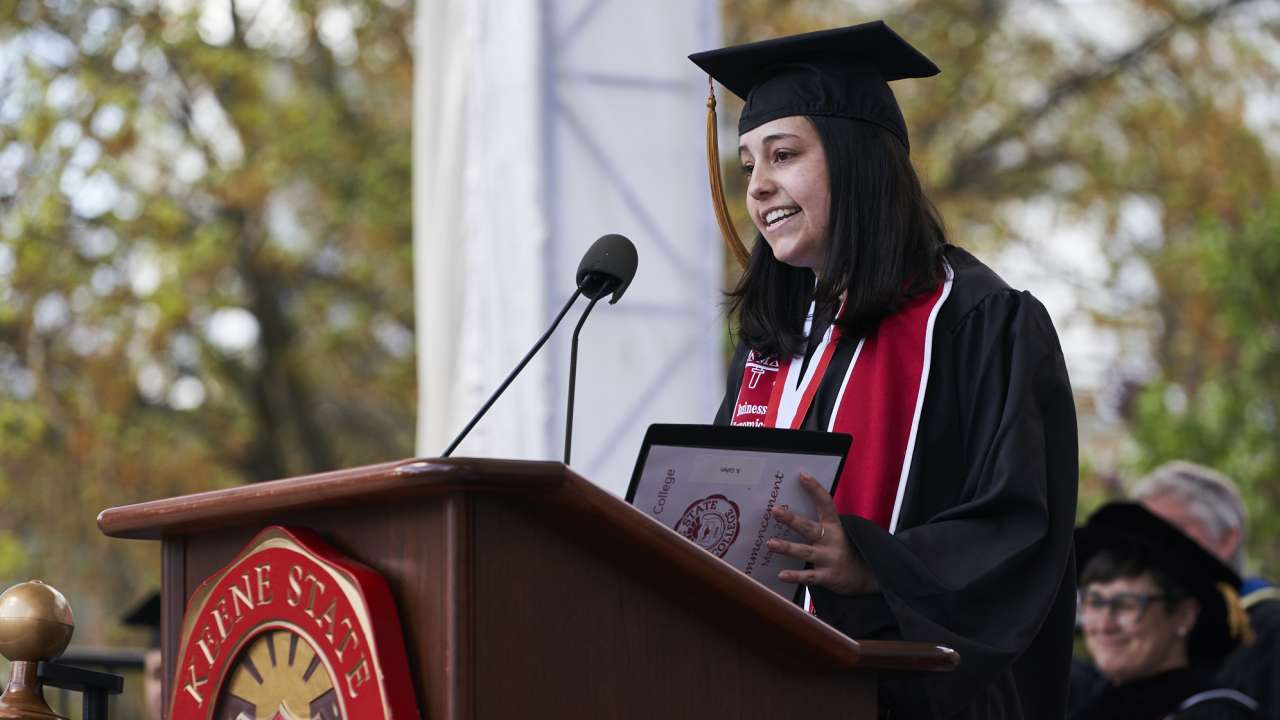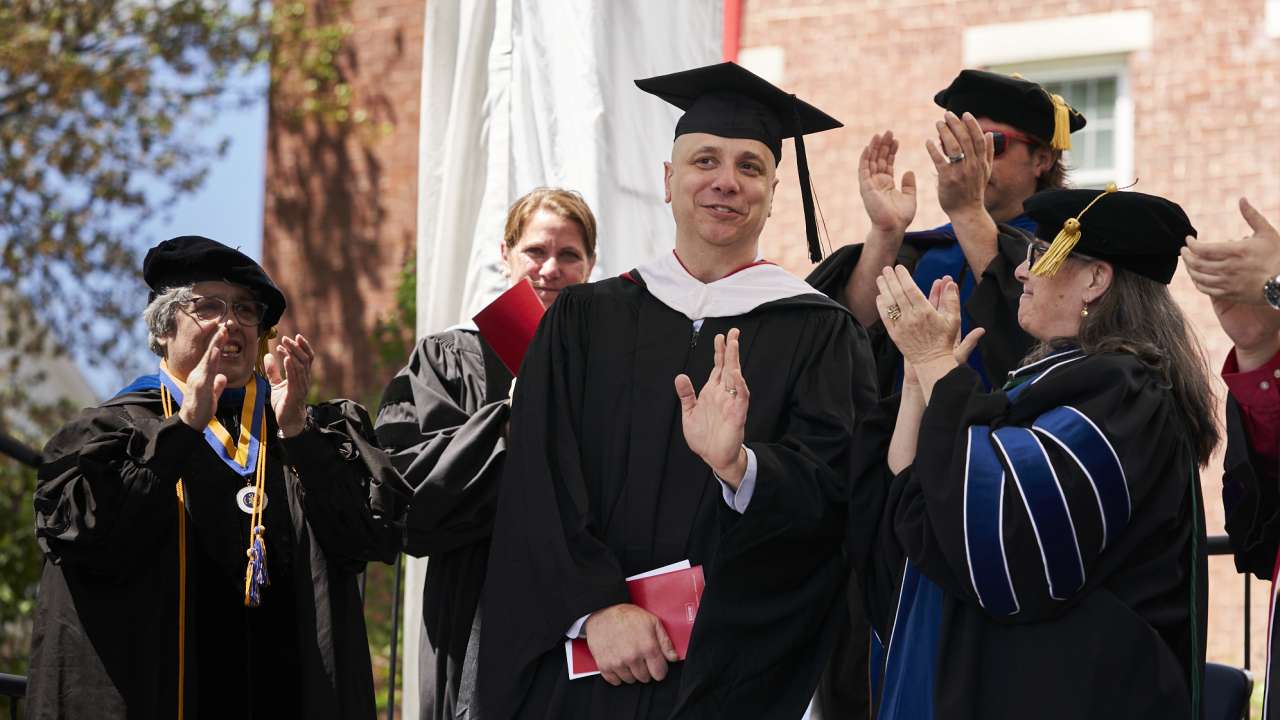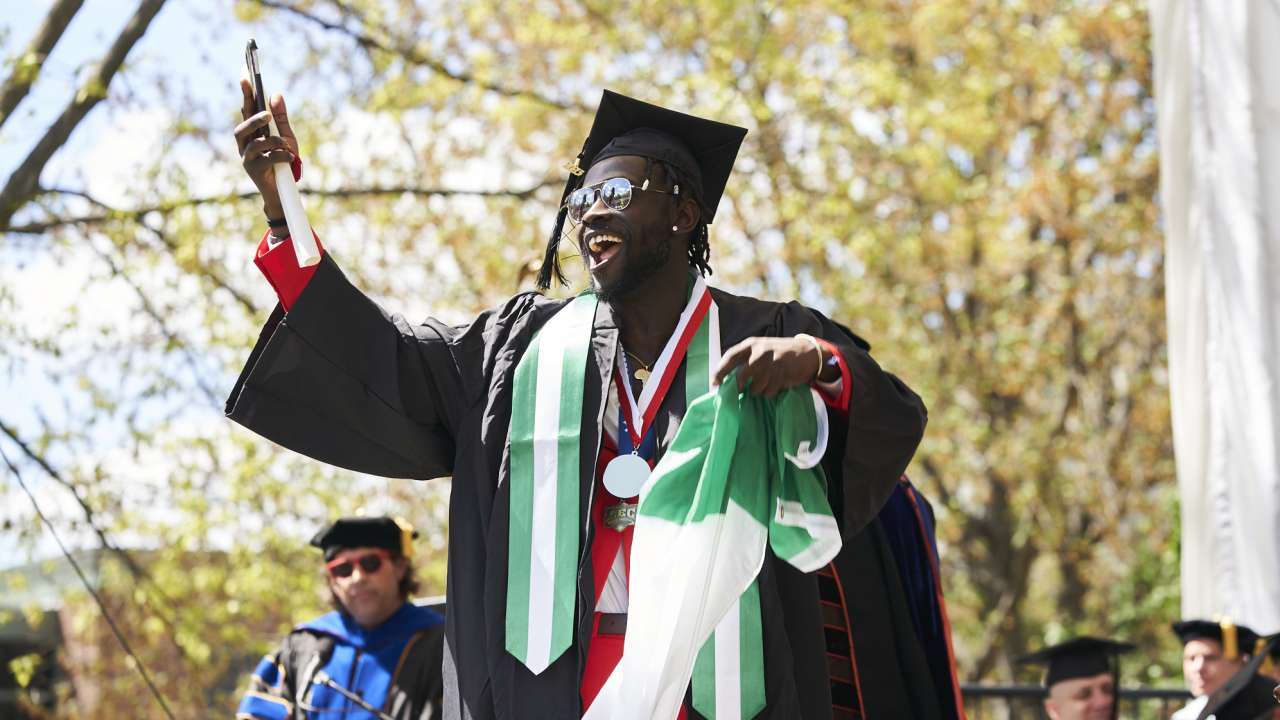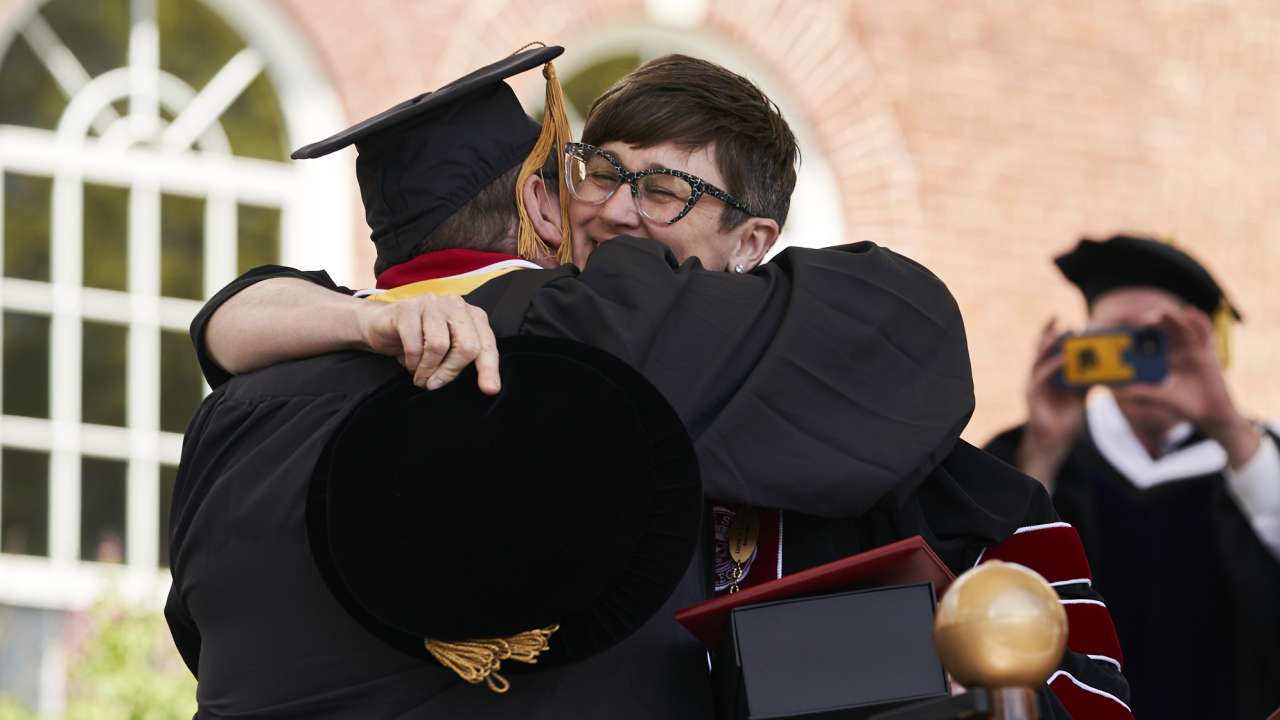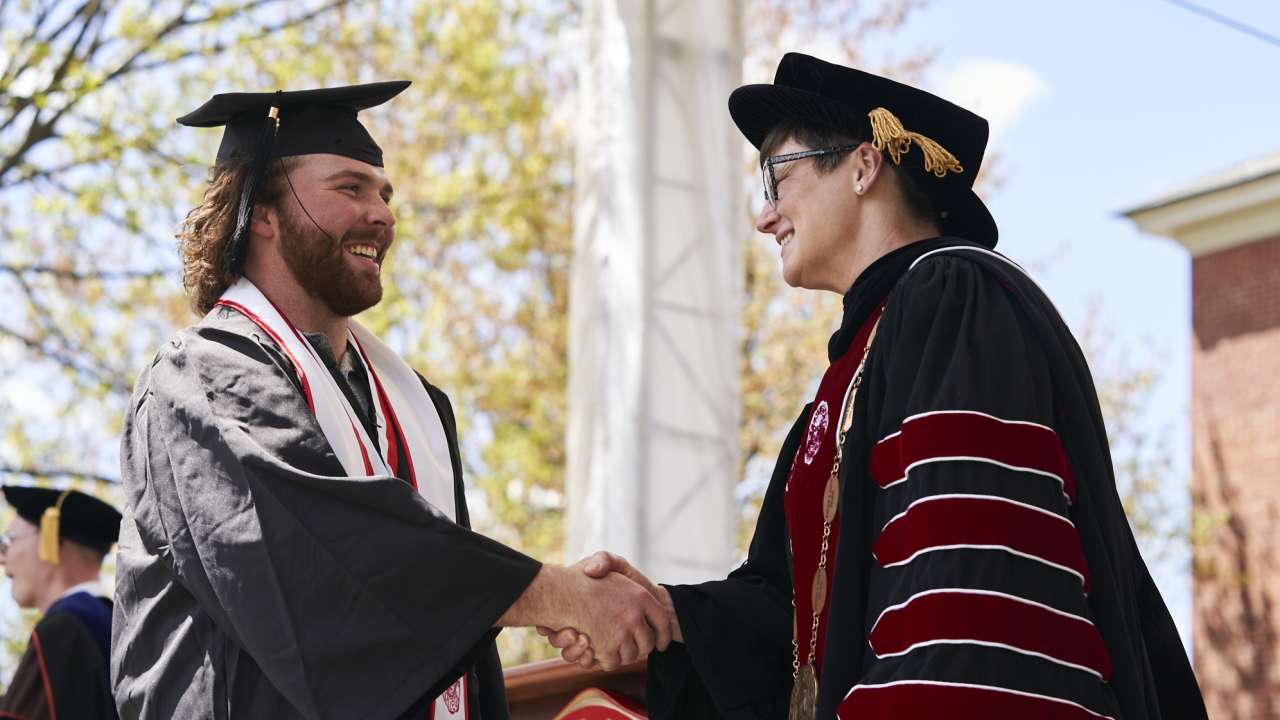 Related Stories