College Recognizes 4 Grads, Business For Difference-Making Contributions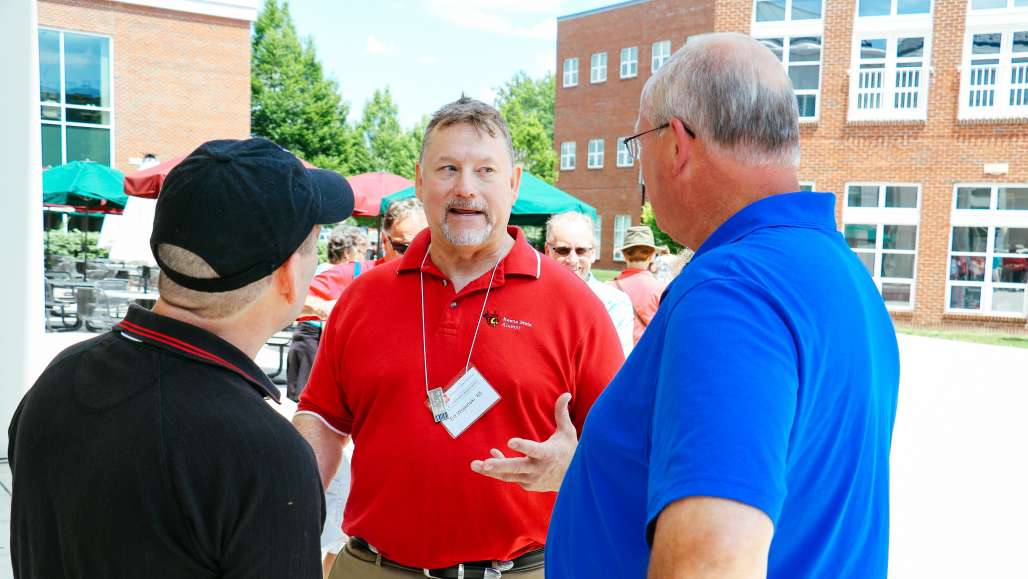 The Keene State College Alumni Association is pleased to announce its 2022 Alumni Award recipients. The college this year recognizes four graduates and one business that are making meaningful contributions – professionally and in service – to improve quality-of-life outcomes where they live and work, and in the process helping to build stronger communities.
The college is proud to recognize Ed Wojenski '85, Ian Kaplan '19, Lauren Caulfield '86, and Justin Deflumeri '11 M'21, as well as Keene-based Electronic Imaging Materials, Inc.
The recipients will be feted during Alumni Awards Luncheon on October 1, during Homecoming Weekend.
"Our alumni continue to make the college extremely proud, living our motto "Enter to Learn, Go Forth to Serve," said Andrea Vickers-Sivret, the college's interim alumni director. "Ed, Justin, Lauren, and Ian are amazing examples of giving back to things they are passionate about, and Electronic Imaging Materials has been an incredible partner. EIM goes out of its way to build a relationship between the college and the community that benefits our students during their education and after earning their degree."
Sprague Drenan Award: Ed Wojenski '85
Ed wears his Keene State pride on his sleeve, always has. That, coupled with his participation in, and support of, alumni activities and events make him more than a worthy selection for this prestigious recognition.
As with most all recipients of this award, Ed's involvement with and support of the Keene State College Alumni Association is long, consistent and hands-on.
Ed and his wife, Jenny '87, have attended and supported alumni events and programs on campus for three decades; early on they were often joined by their young daughters.
Whether it is Reunion, Homecoming, a holiday reception, or one of the other regular programs or events the college hosts, Ed, or Ed and Jenny, could be counted on to be in attendance to lend their advocacy and to inspire others with their spirit and enthusiasm.
About 20 years after graduating, Ed served on the Alumni Association Board of Directors, bringing to that governing body a wealth of banking and business experience.
More recently, Ed serves as a member of the Keene Endowment Association Board of Directors, a role in which his knowledge and understanding of investments have been invaluable. Among other things, the Board oversees donations that benefit Keene State College and its scholarships.
Red, we have to believe, is surely Ed's favorite color. His long history of involvement with alumni events and programs, and his volunteer service to the college exemplify everything the Sprague Drenan Award stands for. Keene State is grateful for his enduring friendship.
Award Criteria: Given to one whose participation in and support of alumni activities and events is worthy of recognition.
Outstanding Alumni Teacher: Ian Kaplan '19
This first-time award recognizes the roots of the college and the importance of the role of teachers in our communities. Through COVID, teachers were critical frontline workers as they helped children to navigate new routines and prolonged challenge.
A 6th-grade reading teacher at Keene Middle School, Ian is among those special educators.
He is described as a go-to person that works tirelessly not only in the classroom but in helping to develop curriculum and running extracurricular activities for "his kiddos."
Said one of the parents that nominated Ian:
"I would like to recognize Ian for his tenacity and caring during remote and hybrid learning. He spends extra time with my stepdaughter when she needs it and is always there to answer her questions. She is not an avid reader, but he has turned his Reading class into something she absolutely enjoys and looks forward to. I would like to extend a huge thank you to him and to all the teachers for everything they have done and continue to do for our kids."
Ian, it was also noted, is an important advocate and resource for LGBTQ+ students in the school.
Teachers have always been heroes, and the past two years served as a good reminder for why that is the case.
Alumni Achievement Award: Lauren Caulfield '86
Lauren is co-founder of Pink Revolution Breast Cancer Alliance of NH.
Known for her contagious energy and compassion for others, Lauren is a cancer survivor who, along her journey, vowed to help others facing the same battle. Consequently, she has touched hundreds of lives since.
From the Alliance website:
"The Alliance was founded by Lauren and her dear friend, Ronda Chrystal. After being diagnosed with breast cancer in 2017, Lauren completed 12 months of chemotherapy and six weeks of radiation. … Lauren relied heavily on her own support system to pull her through. While she was in chemotherapy, she met cancer patients who didn't have a lot of support. Some were going to chemotherapy treatments alone, skipping sessions because they didn't have transportation, or couldn't afford the cost of getting to treatments.
"On the last day of treatment, she vowed that she was going to find a way to better support cancer patients and look for the silver linings of her journey. Lauren and Ronda attended a Pink Revolution event in Massachusetts and on that day, they decided to bring a similar approach to their home state. …They decided to make a list of items that could make chemotherapy treatments more bearable. They formed a committee made up of fellow cancer survivors and other warmhearted people that wanted to give back. After finding volunteers and donors, they started an annual Chemo Care Package event focused on helping cancer patients in New Hampshire, Massachusetts and Vermont.
"The struggle for cancer patients is only increasing. Due to COVID, patients have lost jobs and are having trouble paying for mounting medical bills. As a result, patients are having to make the decision to put food on the table for their families or go to treatment. … Fast forward to our latest program, Gas/Grocery Gift Cards for patients in need."
Lauren is, simply, a force of nature and a caring soul, and Keene State is proud of the difference her compassion and her work are making for so many.
Award Criteria: Given to one whose professional achievement in his/her chosen field brings honor to him or herself and Keene State College. Recipients must be bona fide alumni of Keene State College.
Alumni Inspiration Award: Justin Deflumeri '11 M'21
Say this much for Justin: He sure prefers to stay busy, especially if it means helping others.
Consider this small sampling of all that he does.
Justin launched a mentorship program for Keene State safety students. Among other things, he would have seniors come to his workplace, where he and KSC Professor Brian Bethal would help to advise and prepare them for what to expect when transitioning from college to a new career job and how to prepare for job interviews.
His efforts were the topic of a story in the college newspaper, The Equinox.
Justin volunteers with the Big Brothers program of New Hampshire to be a presence for children who do not have male role models in their lives.
He recently took notice of an abandoned baseball field in Westgate Village in Nashua, New Hampshire, and took on the task of leading an effort to repurpose it for the community. That effort included raising money for equipment and establishing a Board of Directors to make sure the project was not short-lived.
Justin started his own safety consulting company that specializes in teaching First Aid and CPR, and recently graduated with his master's degree in safety from Keene State.
He is already a Rising Star Award and Safety Professional of the Year recipient, a lofty combination of major awards, to be sure.
Remarked one nominator: "I don't know where he finds the time to volunteer for kids, build community events and raise money to build a new field for the town, win safety awards. He really is the definition of an alumni who went above and beyond and represents the college with all he has done. He also sits on the American Society of Safety Professionals."
Want more? Justin also helped to develop research to reduce the risk of Sick Building Syndrome, or symptoms a person can get while in a particular building or office. This was also the topic of his master's thesis at Keene State.
Award Criteria: This honor, established in 2002, recognizes the exceptional accomplishments of an alumnus/na who graduated from Keene State College not more than 15 years prior to the year of the award. In addition to recognized accomplishments, the recipient must show promise for continued success.
Outstanding Service Award: Electronic Imaging Materials, Inc.
Electronic Imaging Materials, Inc. (EIM) is a family-owned label manufacturing company. Dubbed "The Label Experts," the firm specializes in made-to-order solutions. That problem-solving reputation has made EIM an internationally respected supplier. Its products ship to more than 100 countries.
EIM customers work in a range of industries, including industrial and manufacturing, warehouse, and laboratory markets.
As a leading partner for almost 10 years, EIM has hosted numerous paid Keene State interns, resulting in full-time employment; the development and support of students in classroom projects; resume and mock interview practice; and presentations in the college's Career Speaker Series.
The college honors EIM for its support of Keene State students, for finding new and creative ways to engage and be involved with the campus, and for making available a variety of student-centered activities over many years.
Award Criteria: Given to an individual or organization that has provided outstanding service to Keene State College through leadership, commitment, and influence in programs and activities of the College. Recipients may be alumni, staff, faculty, friends, or associates of KSC.
Find previous Alumni Award recipients here (https://www.keene.edu/alumni/association/awards/)
Related Stories