Through The Decades: Rick Scott's Long Career as KSC Player, Coach Comes to End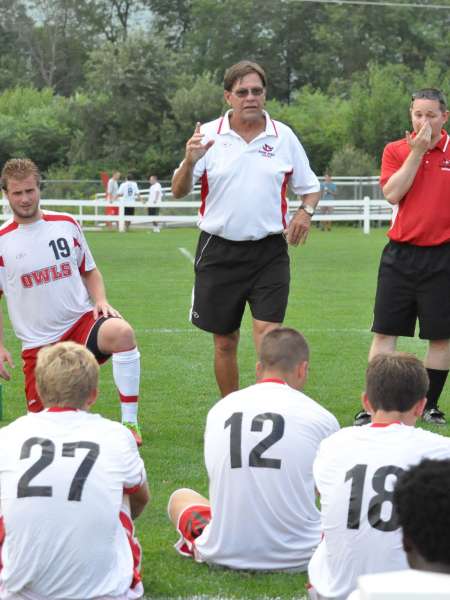 Rick Scott's coaching foundation – simple in so many respects – stood the test of time. Parts of five decades to be exact.
And now, amid his retirement, Scott's impact is emerging in stories and remembrances of those who played for him, and in reflections of his own.
Scott '77 stepped down as head coach of the Keene State Men's Soccer Program recently, citing an unforeseen health issue. He was a part of the program as a player, assistant coach and head coach. He is highly respected among the state and regional soccer coaching fraternity.
Scott called the decision "incredibly difficult and emotional." The job, he said, requires more attention and energy than he can give, and added that the college, the program and the student-athletes deserve nothing less than a fully engaged leader.
"I came to the college in 1972, on a GI bill, to get a degree in health and physical education," Scott said. "I wanted to teach and coach; I had no intention of playing soccer. But I got to play for a great coach, Ron Butcher, who also became a mentor and who is now one of my closest friends."
"I am so thankful to everyone at this time and to all the incredible support I have received over the years from so many people. And I want to thank my partner, Gail Cray, for supporting this lifestyle for 15 years."
His coaching successes all started with a simple but unwavering investment in youth players and programs. Such foundational work was never beneath Rick, his brother Billy, his coaches, or his older players."

– Hutch Stone, who played for Scott at Keene High School
The college has yet to name a replacement for Scott, but Director of Athletics Phil Racicot said that assistant coaches Matt Schmidt and Matt Caron will provide program leadership on an interim basis. The team opens its season in early September.
Scott and Keene State are synonymous. A fullback and centerpiece for Keene State as a player, Scott helped the Owls 57-12-6 record in his four years, which ended in 1976. He captained the squad his final two seasons. The college's 1973 team advanced to the NAIA District 32 Northern Championship.
Two seasons later, the Ron Butcher-led Owls shared the NESCAC title and garnered a berth in the ECAC Tournament, defeating Brandeis (1-0) before falling to Springfield College (2-1 in overtime) in the second round.
After graduating from Keene State, Scott took the coaching helm of the Keene High School boys' soccer program, leading the varsity team to two Class L titles in the mid 1908s, and a 126-35-12 record over his 11 years.
In 1994, Scott started the popular Cheshire Youth Soccer Club, which became hugely popular and an important feeder system for soccer in the Monadnock Region. For more than 20 years, Scott organized and was a part of soccer touring trips to Italy for area middle and high school boys and girls teams, and hosted teams from that country.
That same year, his formal coaching career veered back to Keene State, when he became assistant coach for the Owls, joining forces with Butcher for 22 seasons. When Butcher retired in 2013, after 43 years and 594 victories, Scott stepped into the lead role.
Scott and Butcher are members of the N.H. Soccer Coaches Hall of Fame.
Fundamentals, team chemistry and work ethic were hallmarks of Scott's teams over the decades. Scott said he will miss the sideline, the competition, and the student-athletes that he recruited, mentored and coached.
"As a coach, especially in college," Scott reflected, "you are helping young men get ready for life. They are going to be in the same situations in jobs and the workplace as they are on the field."
"It is about more than just soccer. You want to help them, you feel like you should help them, and it all turns out good in the end when you help to solve a problem and send a player in the right direction. That is why you coach. The work of a coach is reciprocal because we get so much back, too."
Scott said he has zero regrets about his career path.
"I have never said I wish I had done this, or I wish I had done that," said Scott, a Vietnam War veteran. "I have been so fortunate to do something I love and that is such a part of me. As coaches we are teachers, but my life has been a learning experience for me the whole way."
Hutch Stone was a tough and talented fullback on the Keene High '83 and '85 state championship teams and noted that the Birds' '84 squad may have been the deepest of those three Scott-led teams of which he was a part. Only a "fluke overtime loss at home to Nashua" derailed a title quest in '84, Stone recalled.
Stone, like so many Keene High soccer alums, he suspects, draws still today on vivid remembrances and meaningful life lessons borne from his playing days under Scott.
Coaching was an all-in proposition for Scott, Stone said; his keys to success were simple and consistent over his full career: preparation, toughness, culture.
"His coaching successes all started with a simple but unwavering investment in youth players and programs," Stone said. "Such foundational work was never beneath Rick, his brother Billy, his coaches, or his older players."
Stone called Scott "an institution" in the local, regional, and state soccer community at the high school and college level.
"Beyond the lines of the soccer field," he said, "Coach Rick has countless hundreds of players that will always think of him as a loyal friend. Those bonds do not fade. Coach Rick's players speak with one voice and thank him for creating some of the best friendships, memories, and lessons of our lives."
Mike Pilot, who is a member of the University System of NH Board of Trustees, played for Scott at Keene High, calling him "One of the most impactful people in my life. He was that father and big brother figure to so many young people. And soccer lit the scene in Keene when Rick took it over.
"He touched hundreds upon hundreds of young lives, teaching us life skills like how to recognize your personal potential and how to set goals to achieve it, how to thrive as a member of a high-functioning team and how to be an effective leader. And through it all, he would absolutely drop everything, do anything, to help any one of us who needed him.
"Over my adult life, in personal and professional situations, I've found myself asking 'What would Scotty do here?'" That question continues to guide me to this day."
A commitment to international and refugee players marked the later part of Scott's coaching career. Promise Kpee, a refugee from Nigeria, was one, recruited by Scott in Scott's first season as head coach at Keene State, 2014.
Kpee and his family endured years in refugee camps in their homeland after escaping war and violence and eventually resettled in New Hampshire. Kpee attended high school in Manchester and graduated from Keene State in 2018, after a scrapbook career, and works today as a safety engineer in the Northeast.
"My relationship with Rick is like father and son," Kpee, the conference Rookie of the Year his first season, said. "He was my soccer coach, he was my life coach, too. He always said, 'If you're 15 minutes early, you're never late.' I live by that still."
"He's a true professional and a hero to so many of his players," Kpee added.
Scott attributes the success he has enjoyed – including his first NCAA Tournament appearance and first Little East Conference title, both in 2019 – to his deep Keene State roots.
"Being a part of this program since 1972 has made such an enormous difference," Scott said. "It keeps you connected to alums, and we have and always have had one heck of a network of contacts. I have alums who can go watch a player for me and recommend talent, for example. Last year, I had three players on the team whose fathers were Keene State alums."
He added: "As a player, I tried to outwork everyone," Scott said. "I expected that same approach from my players. I knew the hard work required to bring them success on the field."
He recalled a soccer-related visit overseas where he got to witness practice sessions of European teams, including Arsenal Football Club in England.
"I went there with notebook in hand," Scott remembered, "and my goal was to come back and be the best coach in New Hampshire. I didn't take any notes. Practice was so basic, so repetitive, so simple. I learned a good lesson there, which is do not overcomplicate things; do the little things right and big things will come easier."
Scott said he will never forget his extended soccer family and good fortune of being able to go to work every day doing the one thing that he loved most.
"I am lucky for the people and friendships in my life that coaching made possible."
Related Stories