Climbing to Study Climate Change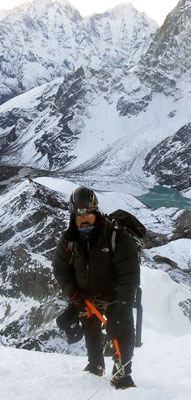 As a kid, Jake St. Pierre '03 snuck out of his bedroom window and climbed the roof of the house. As a teenager, he took his first solo car trip to the White Mountains, where he climbed Mount Washington. He's still climbing the Whites, and in other parts of New Hampshire, but in recent years he's expanded his mountaineering territory to the Himalayas.
At the end of March, he's heading to Nepal for the third time in five years. But on this trip, he'll have scientific instruments in addition to climbing gear in his backpack. St. Pierre has been invited to participate in the Lhotse Snow Science Expedition, a project of the American Climber Science Program and Black Ice Himalaya, a research organization associated with the University of Colorado, Boulder.
He'll be joining a group of six to eight climbers, scientists, and Sherpas – all volunteers on an expedition to undertake climate change research on Lhotse, a mountain adjacent to Everest. "The science climb will be amazing," says St. Pierre, who hopes to summit Everest on a future trip – perhaps one planned for 2016. This year's trip will include a weather-permitting summit attempt of Lhotse, the fourth-highest mountain in the world, in addition to gathering information and collecting samples of snow and ice at various elevations.
"We'll be doing a lot of research on the glaciers – the melting rate of the ice, which could lead to flooding that will cause problems for the local population, and pollution levels at extreme altitude," he says.
The expedition will take just under three months, including a 10-day trek into Everest Basecamp, a week of acclimatization and data collecting, then climbs to higher camps shuttling gear and collecting environmental data and snow samples. The researchers will be connected to each other via climbing ropes and connected to the world via iPhones and laptops. After their summit attempt, they'll process samples at the base camp for a few days before trekking back to the town of Lukla, where they'll catch a flight to Kathmandu.
What's the appeal of mountaineering? "I love the challenge of it," says St. Pierre. "It's a personal quest that I find extremely endearing, and it's just you and the mountain. I'll be climbing as a member of a team – I'm excited about it, just the camaraderie amongst the climbers, and the trust factor. Knowing you're watching their back and they're watching your back, and your life is in their hands, basically. It's a kind of camaraderie that you don't find much."
At Keene State, St. Pierre majored in psychology and took numerous science courses. He works as a police officer for the town of Bow, New Hampshire, and also runs a gym and personal trainer service, Juggernaut Summit Performance in Bow. "I love helping people do things they never thought they could do," he says.
For now, he's preparing for his trip, visiting elementary and middle schools to talk to students about the upcoming journey (including the students of his fiancée, Sarah Pike '04, a fourth-grade teacher in Concord). He's working to find corporate sponsors and individual donors to help offset his costs of $10,000 for the expedition.
To learn more about the science climb, visit the Lhotse/Everest page at St. Pierre's website.
Related Stories