Alum Christopher Mallon Stays Path; Marine Officer Called A 'Natural-Born Leader'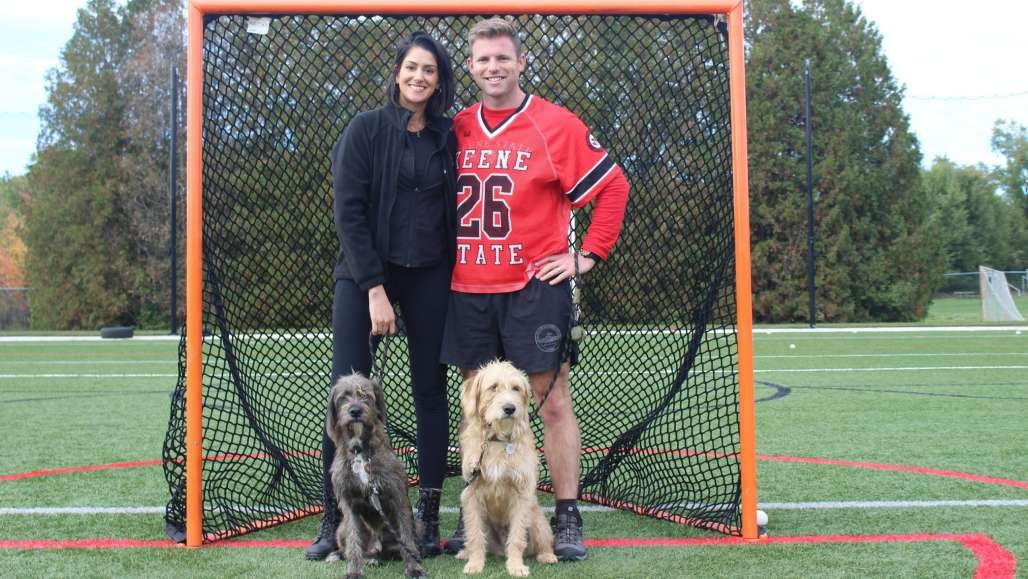 Christopher Mallon '12 walked off the Keene State commencement stage 10 years ago and directly into the U.S. Marine Corps, as he had planned since he was a young boy.
"Most kids grow out of that phase and realize they want to do something else in life, but it never went away for me," Chris, now 32, said. "I knew that I wanted to go to college and get my education, but I was also dead-set on joining the Marine Corps after graduating."
Chris was a middle schooler on September 11, 2001, the day the deadliest terrorist act in history took the lives of nearly 3,000 U.S. citizens. "I never forgot how that day made me feel," he recalled recently, the intensity of that long-ago sentiment still strong all these years later.
His resolve cemented, Chris wasted little time seizing an opportunity he had waited for and imagined. He has scaled lofty heights in his time as a Marine.
"I have been put in the most difficult situations in my life, but I would not change anything from my career," Chris said. "I have traveled to new countries, new environments, combat deployments, ships on the Pacific Ocean, and accomplished things that most other people could not imagine in a lifetime. My time in the Marine Corps has shaped me into the person that I am today and taught me the most important life lessons."
A product design major and a standout lacrosse player when he was at Keene State, Chris is an Infantry and Reconnaissance Officer based in San Diego, Calif., where he lives with his wife, Michelle, and their young, well-mannered rescue dogs Waylon and Willie.
In the Infantry, Chris oversaw a rifle platoon tasked with conducting foot patrols while on deployment. He was also platoon commander of a Combined Anti-Armor Team, which featured vehicles mounted with heavy machine guns and anti-armor missile systems designed to destroy enemy vehicles and tanks that threaten foot troops.
Four years into Chris' career, he switched to Reconnaissance – or Recon – where he earned Special Operations status and trained with special insert platforms like military freefall and combat diving. Recon Marines insert well forward of the Infantry to gather information on enemy positions to then share with field commanders.
"It's one thing to be a Recon Marine, but he has led these elite warriors as a platoon commander in deployments and operations around the world," Colin Barnett '11, a close friend and former Keene State lacrosse teammate said of Chris. "There are a lot of things Chris won't tell you that he has accomplished in the military, that's how he is. He has always been that natural-born leader, and those that know and respect him look up to that."
Colin and Chris met in September during Keene State Homecoming, where the lacrosse program celebrated its 25th anniversary. Colin was also there to present Chris with the first Kyle Barnett Alumni Award, named in honor of another lacrosse alum. Kyle Barnett was just 31 years old when he passed in 2020 from a heart condition. Kyle and Colin are not related.
"Kyle was one of the best players that has ever come through this program," Colin said while presenting the award, "but for as good of a player that he was he was an even better person. Kyle was a winner, he was a leader, and a person that everyone wanted to be around."
"Chris, too, is a person we look to for guidance when we are in a tough spot," Colin went on. "He has represented his family, his friends, and this program in a way that we are all extremely proud of and that represent this award."
Colin told the gathered Homecoming lacrosse family that he reached out to one of Chris' military superiors to find perspective on Chris' career.
"This," Colin said, "is what that person told me."
"To understand Chris Mallon from a military perspective, I will share a few stats: Of the U.S. population today, less than 1 percent serve in the military; of that 1 percent, just 14 percent are U.S. Marines; and lastly, only 1 percent of all Marines have what it takes to become Recon Marines. They represent the best of the best that the Marine Corps has to offer. They have special training as combat divers and military para-jumpers, and they are relied on for the most difficult missions."
A native of New Fairfield, Connecticut, Chris said Keene State was everything he envisioned and hoped for when he first visited campus as a high school student.
"I saw the campus on a beautiful fall day," he said, "and I could just see myself going to school at Keene. I applied later that month and was so excited when I got the acceptance letter."
Life, Chris said, is not about individual pursuits. His wife, family – including parents Mike and Debbie – and friends are what he is most grateful for.
"My parents are the reason I am the man, Marine, and husband that I am today. They raised me to be a hardworking, caring, and thoughtful person. My parents have always instilled the importance of family and being there for each other. "
Both of his grandfathers served in the military and extended family have dedicated their lives to service, as firefighters, paramedics, police officers, nurses, and medical professionals.
The Marine officer is thankful, he said, that he found in Keene State "the perfect fit."
His advice for anyone thinking about going to college?
"Pick a major that you are truly interested in," he said. "Learning about things that make you excited or happy will make your college experience very enjoyable. Don't be afraid to take risks. Sometimes you are going to have to step out of your comfort zone, and that is okay. When you are young and in college you will have plenty of time to recover from things if it doesn't go the way you planned."
Chris enjoys hiking, woodworking, building projects, dirt bikes, water sports, and spending time outdoors with Michelle, Waylon and Willie.
Keene State is named a top regional college for veterans by US News and World Report: https://www.keene.edu/news/stories/detail/keene-state-named-one-of-top-regional-colleges-in-northeast-by-us-news-and-world-reports/
Related Stories