Chapter of National Society of Collegiate Scholars Holds Induction Ceremony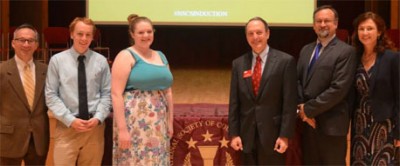 by Dr. Margaret Walsh
Keene State College's chapter of the [National Society of Collegiate Scholars (NSCS)[(http://www.nscs.org/) held its celebratory induction ceremony on Friday, September 20. Dr. Jay Kahn was honored as a distinguished member for his outstanding contributions to the College as KSC's interim president for 2012–2013. He inspired the students with examples of involvement in academic and community service on and off campus. Dr. Patrick Dolenc delivered the keynote address, encouraging students to find their own place in the evolving commons, which will be the focus of KSC's Eighth Biennial Symposium on Nov. 3–8.
In addition to recognizing students who do well academically, NSCS provides social media connections, face-to-face networking, career development, leadership training, and service opportunities. First- and second-year college students who earned a grade point average of 3.4 or higher were invited to join KSC's chapter. Over 120 students and family members attended the event.
The induction ceremony was led by student president Bailey Albert and vice president Erik Radermacher. Officers Michelle Lefbvre, secretary, and Meghan Shaw, treasurer, read the names of the new inductees. The organization has 344 current KSC student members. KSC film student Bill Sicbaldi photographed the event.
Professors Margaret Walsh and Robert Kostick serve as faculty co-advisors to the NSCS. Members can stay informed of events and opportunities on our Facebook page.