Catching a Star: SURF Grant Winner to Pen, Illustrate Children's Book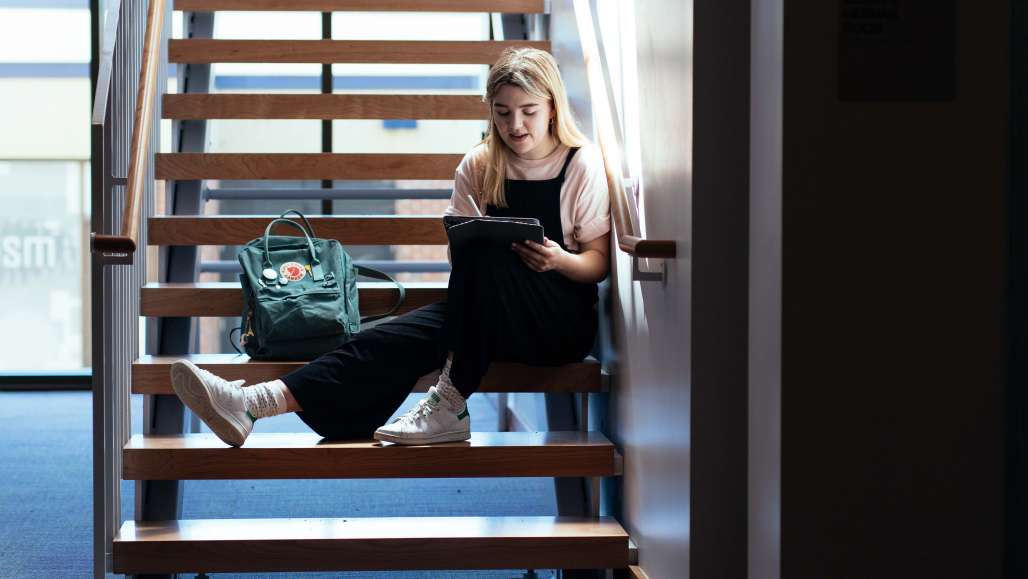 A boy gets a fishing rod for his birthday. Playing with it in his room, he reels it back a little too far and accidentally catches a star. Soon, he's catching all manner of heavenly bodies – stars, sun, moon – and reeling them into his bedroom. Of course, things soon start to go wrong.
That's the premise of the children's book that senior Ashley Rollins is writing this summer, supported by her second $4,000 SURF grant from Keene State's Center for Creative Inquiry. Last summer, Ashley was awarded her first SURF fellowship to write Blackbird, a collection of fabulist prose poems and artwork, which she published as a hand-made book.
"There's a lot of moral responsibility to being a children's book author," says Ashley, who is interested in exploring the ethical aspects of writing for kids and the obligation to help shape their values. In addition to writing and illustrating her book about the boy who catches a star, she'll be reading essays on children's literature and talking with parents, teachers, and writers.
SURF grants – Summer Undergraduate Research Fellowships – provide stipends for students to conduct research or undertake creative projects. The SURF grants that Ashley received were specifically funded for students in the Morris-August Honors Program, in partnership with the College's Center for Creative Inquiry.
Ashley, who is majoring in English with concentrations in both literature and writing – with minors in studio art and management thrown in for good measure – found that her first SURF project helped her figure out the direction she wants to take in life.
The 15 poems in Blackbird look at "the feminist reality through an absurd lens," as Ashley describes it. She explored relationships by applying out-of-the-box metaphors to her own life and the lives of the women around her. "It ended up being a really awesome project," she says, "and I made a lot of connections through it."
She gave readings on campus in the fall, and also attended the Council of Public Liberal Arts Colleges' undergraduate research conference, where she gave a presentation about her project and met student poets from other colleges. She also took first place in a local poetry slam.
The art component of Blackbird, primarily paper collage, awakened an early love for creating artwork and prompted her to add a minor in studio art. It also played a part in her decision to study abroad in Florence during the spring semester. "There really is an artists' culture there," says Ashley, whose artwork was selected for an exhibition at Lorenzo de Medici's Art in the Square 2019 in Florence. She took courses in literature, art, and Italian language, and traveled around the country and Europe.
The back-and-forth between art classes and English lit classes in Florence inspired her to apply for a second SURF grant to take on a project that would include both writing and artwork. "I would go from sketching Cyprus trees to analyzing great works of literature," she remembers, "and it made me realize that I enjoy thinking in both of these ways."
Ashley, who hails from Litchfield, New Hampshire, plans to go on to graduate school in creative writing, and would eventually like to teach at the college level. "I'm happiest in a classroom," she says. "I love talking about writing, listening to people talk about writing, editing people's work."
Here's Ashley's poem "Homeland":
HOMELAND
She peddles food across the kitchen table,
A table that stretches from her hips to the hips of her great-granddaughter,
A table made of wood and reinforced with the spines of women.
She stomps over mice carcasses and the empty shells of bullets,
Spins gunpowder into yarn and weaves herself a shawl.
She peddles furniture in front of the palace,
Wheeling around a cart that stinks of wood polish and wine,
Her back a fish hook curved closed.
She stares through windows made of butterfly wings
And prays for a rain that will strip her bare,
Leaving nothing but bones and charred feathers behind.
She peddles hopes and dreams to children on the streets,
Their eyes black buttons and their hands made of stone.
Pebbles fall from the corners of her mouth like waves from the ocean,
And she watches the children skip them across pools of blood.
She peddles her body beneath the screaming moon,
Her shadow a spider crawling across the bricks of the alleyway,
Her smile a tearing seam on your mother's wedding dress.
In her home town, a concrete city that's still drying,
She leaves footprints on the doorways of preachers and loan sharks alike.
Related Stories