Author Roya Hakakian Talks About Growing Up Under Political Suppression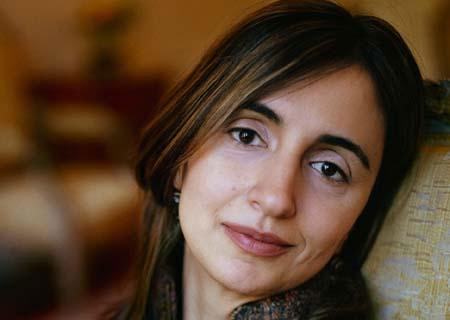 James D. Ewing World Affairs Lecture Explores Experiences from Memoir "Journey from the Land of No: A Girlhood Caught in Revolutionary Iran"
Keene State College and the Ewing Lecture Committee is hosting award-winning author and activist, Roya Hakakian. Born and raised in a Jewish family in Tehran, Ms. Hakakian came to the United States in May, 1985 on political asylum after living under political suppression in post-revolutionary Iran.
Event location and time: Wednesday, February 5, 2014, 7pm, Mabel Brown Room, L.P. Young Student Center
The event is free and open to the public.
Roya Hakakian is an author, poet, and activist whose opinion columns, essays, and book reviews appear in Anglophone outlets such as The New York Times, The Daily Beast / Newsweek, and The Wall Street Journal, as well as NPR's "All Things Considered." Ms. Hakakian is the author of two collections of poetry in Persian and is listed among the leading new voices in Persian poetry in the Oxford Encyclopedia of the Modern Islamic World. Her poetry has appeared in numerous anthologies, including La Règle Du Jeu and Strange Times My Dear: The Pen Anthology of Contemporary Iranian Literature. She serves on the board of Refugees International.
Ms. Hakakian's most recent book, titled Assassins of the Turquoise Palace, is about Iran's terror campaign against exiled Iranian dissidents in Western Europe. Her memoir of growing up as a Jewish teenager in post-revolutionary Iran, Journey from the Land of No: A Girlhood Caught in Revolutionary Iran, was a Barnes and Noble Pick of the Week, a Ms. Magazine Must Read of the Summer, a Publishers Weekly Best Book of the Year, and an Elle Magazine Best Nonfiction Book of 2004. It was also named "Best Memoir" by the Connecticut Center for the Book in 2005 and was translated into several languages, including German, Dutch, and Spanish. Ms. Hakakian is a recipient of the 2008 Guggenheim Fellowship in Nonfiction.
About the James D. Ewing World Affairs Lecture
The James D. Ewing World Affairs Lecture was named in honor of James Ewing, who owned and published The Keene Sentinel, an award-winning daily newspaper for the Monadnock Region, from 1954 to 1993.
The endowment has been established to bring speakers to Keene State College and the Keene community to address current public or world affairs issues.
During his years as publisher of the Sentinel, Mr. Ewing successfully campaigned for a wide range of local and state causes, including environmental protection, freedom of information, and public services for the poor. His lifelong dedication was to raise the standards of journalism at home and abroad, to advocate for strong news coverage, open-meeting laws, and fair reporting. His newspaper philosophy was "to help make the Sentinel a force for progress in all senses, and to make a contribution toward a richer life for every person within our reach." Mr. Ewing was active in civic and cultural organizations and supported many causes in Keene and beyond. He founded the New Hampshire Humanities Council in 1973 and served as director for the MacDowell Colony, Yankee Publishing Corp., Keene Regional Industrial Foundation, Greater Keene Chamber of Commerce, and the Monadnock United Way. He helped launch the International Center for Journalists, a Washington, DC-based training institute for journalists from around the world. For three years, he served as a judge for the Pulitzer Prize in Journalism. Mr. Ewing's wife, Ruth, continues to pursue the couple's strong interest in the world community.
Related Stories