At Lakes Region Summer Camp, Alums Help Young Imaginations Take Flight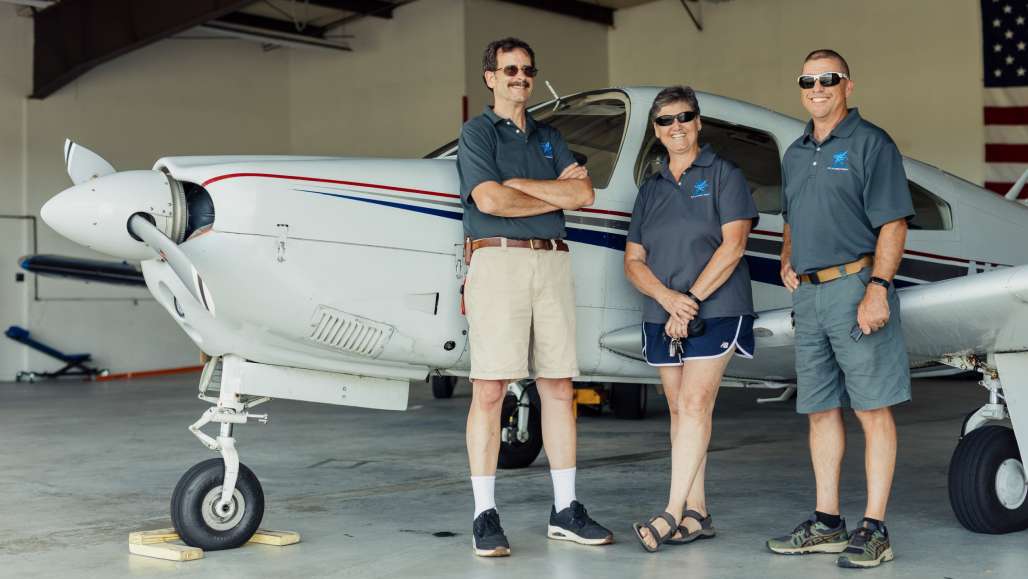 Three Keene State alums have turned their passion into flights of imagination and wonder for students across the state.
Dan Caron '79, Christine Landry '78 and Paul Gelinas '93 are instructors at the Aviation and Aerospace Educational Center, known better as WinnAero, where for two weeks each summer the nonprofit's ACE Academies expose camp-goers to the fundamentals of flight and aerospace in the context of a better understanding of science, technology, engineering, and math (STEM).
It is hands-on. It is interactive. It is as much fun as it sounds.
Based in Gilford in the Lakes Region, WinnAero offers two week-long ACE Academies open to elementary, middle school and high school students.
This summer, both camps featured an introductory flight for each student aboard an UH-60 Blackhawk helicopter from the NH National Guard. High school students in Week 2 camp also had an introductory flight onboard a small helicopter.
The lessons I learned from my professors about being dedicated to expanding my own horizons, to being open to learning new things have followed me throughout my teaching career."

– Christine Landry
Another highlight was the US Coast Guard flying one of its C144 CASA search-and-rescue aircraft into nearby Laconia from Cape Cod. Students were able to walk through the C144 and ask questions about the aircraft's instrumentation and equipment.
The combined camps drew 81 students, Dan said, just shy of capacity. Eight current or recently retired STEM teachers comprise the Academy staff, and all pilots who fly with students are certified flight instructors.
Also offered are six one-day teacher workshops designed to share and inspire aerospace-related STEM activities: Aircraft Systems and Airports and Air Environment and Meteorology are topic examples.
Dan is WinnAero's Director of Education Services & ACE Academy Director. He is also a teacher of technology and engineering education at Gilford High School. Camp students, he said, have gone on to pursue flight-related degrees and one earned acceptance into the U.S. Naval Academy.
"Participants during our first few years were mostly middle school and those students are just graduating from colleges now," Dan said. "We love to hear about the accomplishments of our alumni, and I email parents each year to update us on their children's goals and objectives."
At last check, he said, 20 students had joined the Civil Air Patrol (CAP), two had been hired as pilots/1st officers in commercial aviation, seven had a private pilot's license, four joined the military and six were employed in other STEM-related professions.
Brendan Drew was in the 2011 ACE class, when he flew in a small plane for the first time. He joined CAP, attended Norwich University, and enrolled in its ROTC program. He recently earned his Naval Gold Wings and will soon be flying a P8 Poseidon for the US Navy, Dan said.
Jacob Marshall, too, flew in a small plane for the first time at ACE and decided then what he wanted to do with his life. He still has another year at Averett, a private university in Virginia, and has already earned his commercial pilot's license, Dan said. "I believe," Dan added, "he'll be enrolled in airframe and powerplant courses with the plan to be a mission pilot to undeveloped countries."
For camp-goers this summer, highlights included field trips, including one to the NH Dept of Safety Aircraft Rescue Fire Fighting training facility and another to the US Space Force Tracking Station in New Boston; activities to demonstrate Bernoulli's Principle and Newton's Laws of Motion; seat time in flight simulators; designing an electric plane that would lift a payload while flying around a power pole; building a drone; and listening to presentations from guest experts.
Christine majored in Physical Education, Recreation and Health at Keene State from 1975-78, but earned her bachelor's degree from SUNY Brockport, NY, in Sports Management. She returned to KSC in 1988 for two years to complete her teacher certification in Industrial Arts Education. Also, she received a fellowship promoting women in non-traditional teaching careers and worked simultaneously on her Master's in Education.
She was a member of the women's basketball and softball teams at KSC.
She taught industrial education at middle schools in Franklin and Salem up until her retirement in 2018.
Paul earned a bachelor's degree in Industrial Arts Education from Keene State. He joined the ACE staff about eight years ago. At the time, he was teaching 8th graders at Woodbury Middle School in Salem, NH, where he began teaching the same year as he graduated from Keene State, 30 years ago.
"It's been a good fit ever since," he said. "I am happy to be part of enlightening our students with all the possibilities that are out there in aviation. It feels satisfying to help them figure things out."
Paul said he began teaching with Christine at Woodbury; their shared program was Technology Education.
Christine called her involvement with ACE "A labor of love."
Dan chose Keene State because he wanted to swim at the collegiate level and remain in New Hampshire, and the Owls' swim program at that time was better than UNH, he said.
"My freshman year roommate was in the two-year tech program and the projects he was working on were very cool," Dan recalled. "I switched my major to Industrial Education so I could learn those skills and still swim for four years."
Dan graduated with a BS in education and in 1985 earned a Master's in Occupational Education, also from Keene State.
His passion for working with youth to promote aerospace careers was a slow, unintended evolution.
Earlier in his career, he taught physics at Nashua High School, taught biology at DuVal High School in Lanham, Maryland, and taught a variety of technology and engineering courses at Kingswood Regional in Wolfeboro, New Hampshire. It was during that teaching stint that he wrote a space technology course.
Said Christine: "Dan deserves all the recognition. He is an incredibly talented teacher and leader in our profession in the state and beyond."
"Like the young people in this program," Christine added, "I have become the lifelong learner that was preached about when I was an education major at Keene State. The lessons I learned from my professors about being dedicated to expanding my own horizons, to being open to learning new things have followed me throughout my teaching career."
Related Stories