As Transitions Go, This Was a Natural: KSC Alums Part of School Principal Torch-Passing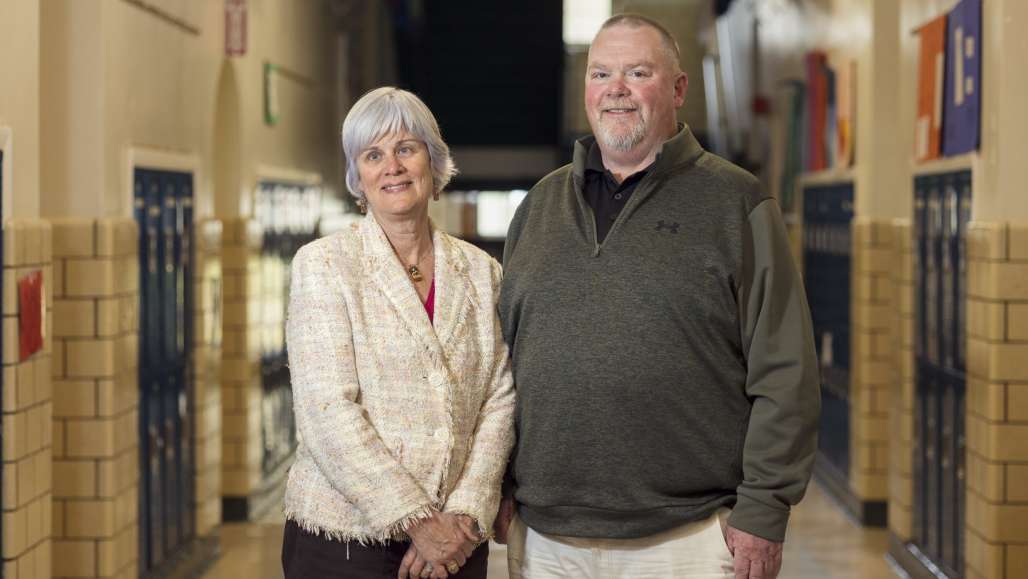 When Kevin Hicks '93 reflects on his long career in education, thoughts turn to the power of connections.
This summer, Kevin will step into a new role as principal for the Alstead Attendance Area (AAA), which serves Sarah Porter School in Langdon, Alstead Primary School, Vilas Primary School and Acworth Center School. The schools are part of the Fall Mountain Regional School District.
Kevin has worked for 28 years, or since graduating from Keene State, at Alstead Attendance Area as a PE teacher. He is set to replace another Keene State graduate, Gail Rowe '75.
It is an ideal situation, says Gail, who is rounding out a "fulfilling" 34-year career in education, the past 14 years as principal for the AAA.
"It's kind of cool when you think about where we both came from, and that we both had as our role models such strong educators," Gail says. "Kevin has natural negotiation skills from being in the union so long, and he has roots here. I can't say enough about how ready Kevin is for this role. It makes me happy to know I'm leaving the school in such capable hands. Kevin's smart and he's very caring."
---
I can't say enough about how ready Kevin is for this role. It makes me happy to know I'm leaving the school in such capable hands. Kevin's smart and he's very caring."

– Gail Rowe
---
The torch will be passed July 1.
Kevin, 53, who has served as union president for the Fall Mountain Teachers' Association for the past 12 years, is excited for what's ahead.
"I probably started thinking about this possible opportunity 15 years or so ago," he says. "I do a lot of the discipline anyway. I figure I have another 10 or more years, so this is a chance for me to switch gears and take on more of a leadership role and spread my wings that way." Kevin earned 33 graduate credits this past year at the Upper Valley Educators Institute in Lebanon to complete his masters in principalship.
"In my job I get to be with the students from pre-K to grade 8," Kevin says. "Watching them grow in front of my eyes, watching them turn into young adults — personally, behaviorally, academically — that is the most rewarding part of what we do, when you actually reach a kid who may be struggling and help them turn it around."
Kevin and Gail both are quick to credit their Keene State education, and some of their teaching mentors. For Kevin, it includes Charlie Beach, Linda Millard, Beverly King and Donna Smyth. For Gail, it includes Fred Fosher, Janet Grayson, and Harold and Susan Nugent. And so many others, they both said.
Gail and Kevin also come from families with deep roots in education. Gail's mother, Virginia Symonds Garlow, was a 1937 graduate of Keene Normal School, which would become Keene State, and was a music teacher for more than 50 years. Gail's daughter Maureen is a teacher in Vermont. And Gail's grandparents, she notes, were teachers in the era of one-room schoolhouses.
Meanwhile, Kevin's mother, Dianne, a 1965 Keene State graduate, was a former principal at Fall Mountain Regional High School. Also, Kevin's partner, Lynda, has worked for more than 20 years as a para educator in Charlestown, and Kevin and Lynda's daughter, Murphy, teaches at Alstead Primary where she will have her dad for a new boss in a few months.
"My mother instilled in me many of her values — treating people the same, that actions have consequences, and the importance of developing relationships," Kevin says.
Kevin knows the collective bargaining ropes, to be sure, and he will soon bear new leadership responsibilities and burdens, but he said his focus will stay trained squarely on students.
"The biggest change in education and coaching from when I was growing up is that you have to treat every single kid individually. Making connections today is a lot harder … connections with kids, parents, community. Basic overall needs of students have increased."
He adds: "Our fifth graders sometimes are really struggling with relationships; how to make them strong. Those students missed two and a half years of critical development in that area because of the pandemic."
Kevin says he has been a sponge, in all his experiences, including 14 years working for and alongside Gail.
Says Gail: "Our roles as education administrators, really, is to grow our profession, make new teachers better, and encourage others who show strong leadership qualities, as Kevin did, to take the lead. I don't think either of us would have done what we have without Keene State."
Related Stories