Artist Shawn Huckins '07 Featured in Huffington Post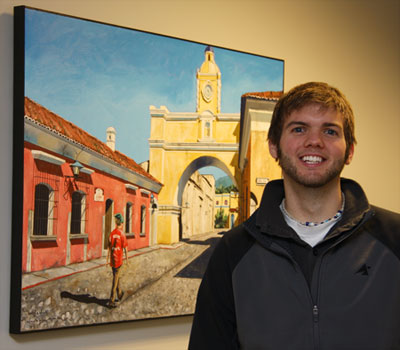 Since he graduated with a degree in Studio Art at KSC, Shawn Huckins '07's work has appeared in galleries around the country. He has won the Award for Excellence in the 2007 Ridgefield Guild of Artists 30th Annual Exhibition, the New Haven Paint and Clay Club Prize, and the Thorne-Sagendorph Student Exhibition People's Choice Award, as well as the Thorne's Biennial Regional Juror's Choice Award. And his latest series, "The American ____tier," was recently featured in the Huffington Post and will be in a solo exhibition at Design Matters in LA in September.
For the series, Huckins accurately reproduces early American paintings and photographs, and then superimposes the kind of slang, tweets, hashtags, and bad spelling and grammar modern Americans are likely to see on cell phones and social media. "Each work is meticulously replicated from the original painting," Huckins explained. "The lettering on top is also hand painted. Nothing is photoshopped and/or digital. All of my works are original acrylic on canvas paintings."
Huckins, who graduated magna cum laude, credits KSC with creating many opportunities for him. "What's great about Keene is that there isn't one methodology to their teaching practices in the arts," he recalled. "The faculty comes from a diverse background, which is great in showing students various perspectives on tackling a goal or vision. It allows the students, as cliché as it is, to think outside the box and to broaden their thought process."
Related Stories