Architecture Students Design Destination Spa and Education Center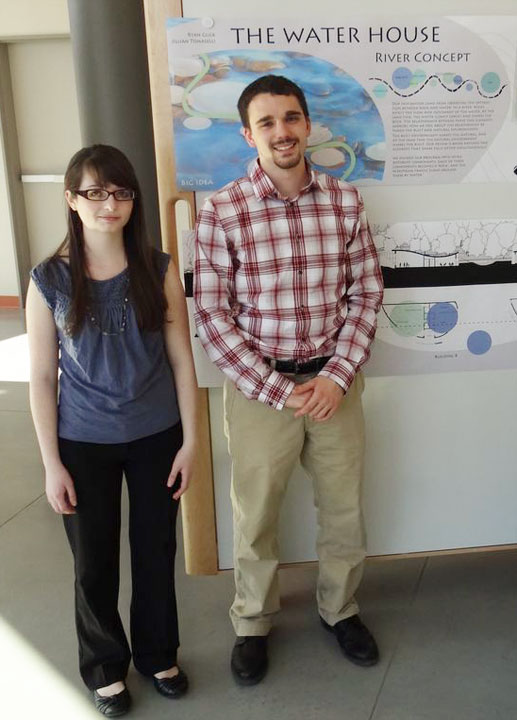 Students Awarded Architectural Tour, iPad, and Design Book for Work
Late last week, Keene State College Architecture students presented designs to Water House Natural Pools for a destination spa and education center. Eighteen students participated in the myMarvin Design Studio, a capstone course designed to deliver real-world experience by teaming up with real clients to work on projects and learn directly from industry professionals. The presentation included a competition for prizes. Six finalists presented to a panel of 12 judges that was made up of architects and engineers from New Hampshire and Connecticut. The project was sponsored by A.W. Hastings. The student winners are as follows:
First place prize: Architectural trip with12 architects to Minneapolis and Marvin Windows factory tour - sponsored by A.W. Hastings
Winners: Jillian Tomaselli and Ryan Glick
Second place prize: iPad sponsored by A.W. Hastings
Winner: Adam Nicastro
Third place prize: Architecture book
Winner: Austin Harris
"I have come to find that the average age of the architects and builders in the construction industry has been 55 and older. We will soon be in great need of young architects and designers, so I asked myself what I could do to engage younger generations. My thought was to create a challenge that would hold their interest while at the same time advocate for architecture. By bringing this idea to students we could also help them in their search for that coveted first job," said Patrick Gordon, product and services consultant with A.W. Hastings. "This idea allowed me to develop my current professional relationships with local architects. In addition, it provided me the opportunity to create relationships with soon-to-be architectural graduates. Win, win, win. I am blessed to work for a company that allows me to invest time into a project like this. This project is something I am personally very proud of and I can't wait to do it again next spring."
Note to journalists: Photos of the designs and student winners are available upon request.
Related Stories