Alumnus and Former Equinox Sports Editor Silverfarb Covers Super Bowl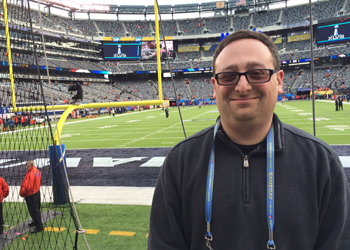 Paul Silverfarb has accomplished a lot during his still-evolving sports journalism career. Since graduating from Keene State College in 1999, the Trumbull, Connecticut, native has worked for a couple of weeklies in the Constitution State, most recently the Greenwich Post, where for the past seven years he's served as the paper's sports editor.
In addition to covering the local sports scene, including four high schools, an ambitious Silverfarb occasionally likes to spread his journalistic wings a bit and delve into the national sports scene, covering athletes like Mark Messier, the former Edmonton Oiler and New York Ranger hockey star now residing in Greenwich.
"I'm a diehard Ranger fan and Messier is my sports hero," said Silverfarb.
As much as Silverfarb enjoys covering the athletic accomplishments of the Greenwich High Cardinals and the Tigers from the Convent of the Sacred Heart, he couldn't pass up the opportunity to try and get his hands on media credentials for this year's Super Bowl, taking place an easy train trip away in Met Life Stadium at the Meadowlands Sports Complex in East Rutherford, New Jersey.
"I applied for credentials in late October and I forgot about it, because I figured there's no way they'd give one to a weekly paper," Silverfarb said. "A week or two after Thanksgiving, I got an email saying my credential had been accepted."
Although his favorite team, the Tampa Bay Buccaneers, had long since been eliminated from the Super Bowl discussion, Silverfarb anxiously awaited his chance to cover the big game.
His first assignment came the Tuesday prior to the game, covering the infamous media day. "It was a zoo," said Silverfarb. "You're fighting with everyone from ESPN to Entertainment Tonight for a chance to interview the players and coaches."
Silverfarb got a chance to talk with the several players as well as both coaches, the Bronco's John Fox and Pete Carroll of the Seahawks. What was Silverfarb's best question?
"I asked Caroll if his No.1 defense was ready for Denver's No. 1 ranked offense," said Silverfarb. "He quickly replied, 'You bet it is.'" (And he wasn't kidding).
Silverfarb also got his few minutes of television fame when he was spotted behind the ESPN set by his mother and a friend, who quickly texted him the picture.
After covering the Rangers-Islanders NHL game at Yankee Stadium the following day, Silverfarb rested up for Super Bowl Sunday.
His 22-hour adventure began at 8:50 a.m. Sunday morning, when he boarded the train for Grand Central Station. Knowing that he would be seated in an auxiliary outdoor press box in the end zone, Silverfarb dressed appropriately for the occasion, wearing jeans, a pullover, and a fleece jacket. Equipment was kept to the bare essentials: an iPhone, charger, iPad, notebook, and a couple of pens.
After picking up his credentials at the media hotel, Silverfarb made his way to the stadium. Getting into the game wasn't simple. Like the fans, media members were thoroughly searched going through the tight security. "It was probably the safest place in America," said Silverfarb. "Everyone understood they had a job to do." Once inside, Silverfarb made his way to his seat, 41 rows up from Seattle's end zone.
Covering the Superbowl places him in a distinct group of sports journalists – the few who can say they've covered both the Little East Conference (LEC) and the National Football League (NFL).
Silverfarb, who always knew he wanted to write sports, signed up for four years of duty with the Equinox, the student newspaper at Keene State, serving as sports editor in his senior year. "Working for the Equinox was probably the greatest decision I ever made," Silverfarb said. "It gave me a chance to cover real-life events and learn the stuff you need to know that books and classes can't teach you."
Like most aspiring journalists on the Equinox staff, Silverfarb paid his dues, consuming large quantities of pizza and staying up late to proof pages and deliver the disc to the Concord Monitor for printing. "Working for the Equinox was a blast," he said. "But I couldn't touch a slice of pizza for several months after I graduated."
Not only did Silverfarb earn his journalism degree, but he also found a wife at KSC. He met Elizabeth Hornsberger '01 as a junior, and the two married in 2003.
Getting set for the big game, Silverfarb took out his iPad and began to blog. But he had to stop due to the heat. Yes, the heat. Expecting historically cold temperatures for games, the NFL had heat lamps installed for the media in the auxiliary press area. The heat from the lamps not only fried his iPad, it had him peeling off the outer layers of his clothes. "I felt like I was tanning at South Beach," he said.
Silverfarb said it was very refreshing when they shut off all the lights for the halftime extravaganza, which featured one of his favorite groups – the Red Hot Chili Peppers.
Unfortunately, there was nothing red hot about the game. The highly anticipated battle between the league's top offense and defense never materialized. Like everyone else, Silverfarb never expected a 43-8 blowout win by the Seahawks. Fed well and given a goody bag that consisted of a seat cushion, hand warmers, and gloves, Silverfarb had no reason to complain.
Arriving back home at 2:15 in the morning, he posted a summary and video before calling it a night. "The whole week was a borderline dream come true. It was a once-in-a-lifetime opportunity to cover the Super Bowl," he said.
Despite the perilous future of a newspaper industry that, due to dwindling readership and advertising revenue, has been hit harder than a collision between Bronco receiver Wes Welker and Seahawk cornerback Richard Sherman, Silverfarb says he's happy he went into print journalism. "Absolutely," he said. "It's truly what I love to do."
Related Stories