Alum Osheyack Named Sports Information Director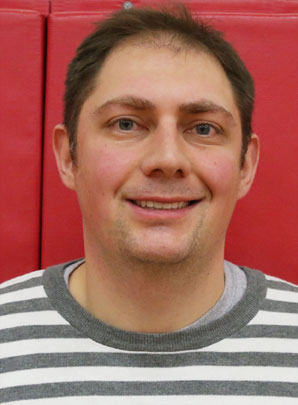 A 2006 graduate of Keene State, Abe Osheyack, is returning to the college as its sports information director. He takes over the position from Stuart Kaufman. Kaufman, who spent the past 21 years in the role and was the first full-time SID at Keene State, will move to a writer/editor position in the college's Marketing and Communications Department.
"I'm unbelievably thrilled to be coming back to Keene State College. Not many people get the chance to return to their alma mater, and for me, it's a humbling and exciting prospect," said Osheyack, who will assume his new position on Monday, Jan. 27. "I'd like to thank (Athletic Director) John Ratliff, (Director of Marketing and Communications) Kathleen Williams, and the members of the search committee for giving me this opportunity, as well as Stuart Kaufman for leaving me a quality office to take over. I'm looking forward to working with the administration, coaching staff, and student-athletes."
"We look forward to Abe returning to Keene State," said Ratliff. "Replacing a person of Stuart Kaufman's stature would be hard for anyone, but Abe has the experience and the affinity for Keene State that make him the perfect fit for Keene State Athletics. With Abe at the helm, our sports information office will continue to be a leader in the field."
"Having known Abe when he was a KSC student and seen his progression in the profession of sports information, I truly look forward to working with him in his new role as SID at his alma mater as we continue to move forward in the area of social media to recruits, alumni, current players and parents," said Keene State baseball coach Ken Howe, who served on the search committee for the SID position.
Osheyack comes to Keene State from Smith College, where he's been the sports information director since August 2010. While at Smith, Osheyack revamped the office of sports information, bringing in live statistics and online broadcasts of home athletic events. He also oversaw several areas of game management and departmental publications, and serves as part of the department's administrative team. He was also a member of Smith's Hall of Fame Committee and is a voter in the d3hoops.com Top 25 poll.
Before joining the Pioneers' staff, Osheyack served as sports information director at Northwood University in West Palm Beach, FL. Prior to relocating to South Florida, Osheyack was an intern in the Athletic Communications Office at Embry-Riddle Aeronautical University in Daytona Beach, FL, where he was the primary contact for the women's soccer and baseball teams and helped coordinate video streaming for the 2006 NAIA men's soccer national championship tournament.
Osheyack lives with his wife, Anne Marie, who is the 2014 Massachusetts State Teacher of the Year, and their dog, Truman.
Related Stories