Jason Beckta '08 MD, PhD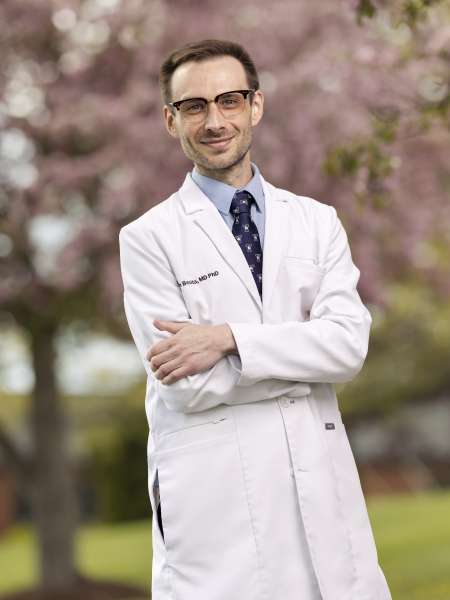 "KSC Changed the Course of My Life"
Jason Beckta was born and raised in Keene, and when he finished high school, he felt like a directionless teenager. "I went to Keene State because that's what it seemed like I was supposed to do. I had zero plans," he says.
Today, he's an MD/PhD on the faculty at the University of Vermont and medical director of radiation oncology at Rutland Regional Medical Center. "It's all because I went to Keene State."
Jason had a job scrubbing pots in the cafeteria at Cheshire Medical Center, and he liked working in a hospital. But as a first-generation college student, he didn't think he could be a doctor. He enrolled as a nutrition major, since he felt like it was the only subject he really knew after losing 80 pounds as a teenager.
Conversations with doctors at the hospital and professors in his classes opened his eyes to the possibility of a career as a physician, and he connected with Dr. Susan Whittemore, a pre-med advisor. She assured him it was an attainable goal, helped him craft an individualized major in behavioral biology, and connected him with a KSC grad who was enrolled in medical school. "The faculty and staff at KSC changed the course of my life. They gave me the tools and support I needed to pursue a career that seemed impossible," he says.
Financial support helped Jason pay for his KSC education - he was awarded the Winona Hubbard Scholarship and a research award for academic excellence, both from KSC, and a scholarship from the Keene Police Department where his mother worked.
By studying in the summer and earning college credit by taking CLEP tests, Jason was able to graduate in 2008 after three years and continued his education at Virginia Commonwealth University, where he earned his MD/PhD. He plans to continue his engagement with Keene State to ensure that the "directionless teenagers" of future generations find the same opportunities that brought him success.
Related Stories