Goldsberry, Nderitu among honorees at Keene State Commencement on May 7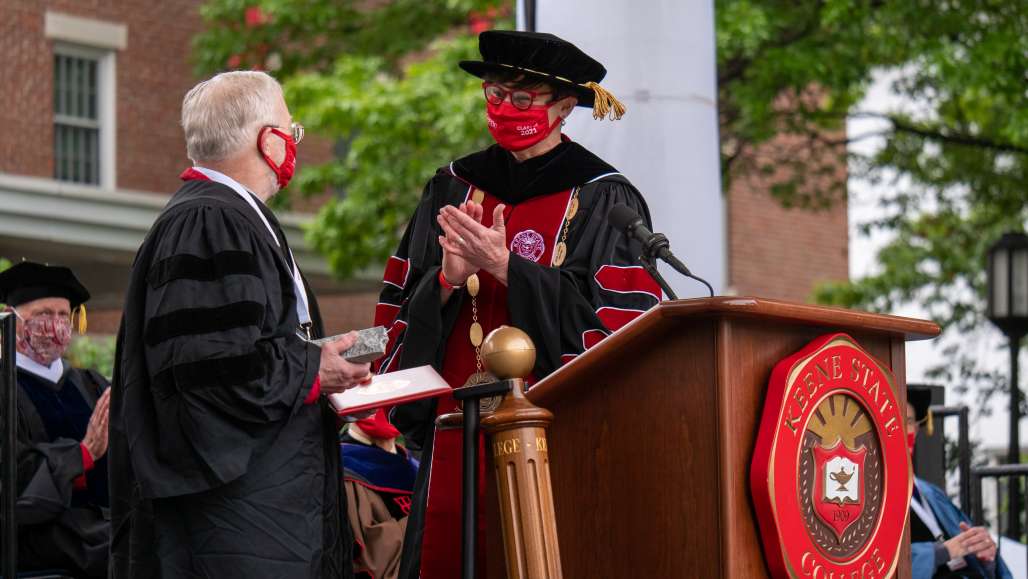 Keene State College is returning to its traditional annual commencement on Saturday, May 7, at 1 p.m. on the Fiske Quad. Commencement is open to the campus community and to guests. Tickets are not required.
More than 700 students will receive undergraduate degrees.
Also, the college will bestow two individuals with special awards and another with an Honorary Doctorate of Humane Letters.
The college will confer Alice Wairimu Nderitu, special adviser on the prevention of genocide to United Nations Secretary General Antonio Guterres, with the honorary degree.
The degree recognizes Nderitu for her distinguished career dedicated to peaceful conflict transformation and innovative approaches to mediation. Her work with the United Nations, the National Cohesion and Integration Commission, and the Uwiano Platform for Peace are well chronicled, but taken together with her other achievements and service highlights the range and impact of her life-changing efforts and advocacy worldwide.
Nderitu's introduction to the field of Holocaust and genocide studies came through a 2014 weeklong seminar in Poland taught by Dr. James Waller, Cohen Professor of Holocaust and Genocide Studies at Keene State. She delivered the keynote address at Keene State's 2021 Summer Institute on Genocide Studies and Prevention and has agreed to do so for future seminars.
The college will honor Dr. Yvonne Goldsberry, president of Endowment for Health in Concord, with its 2022 Granite State Award.
Keene State acknowledges its commitment to the cultural, economic, social, and educational life of the region, and recognizes how much it benefits from the contributions of others. In appreciation, it bestows the Granite State Award on individuals and organizations who have made exemplary contributions to the people of New Hampshire.
Dr. Goldsberry is recognized for her difference-making work to improve the health and well-being of N.H.'s citizens, especially underserved and vulnerable populations, not just in her current nonprofit leadership role but over the course of a long and distinguished career marked by similar focus.
A resident of Walpole, Dr. Goldsberry's personal and professional local roots are deep. She has been a voice, an advocate, a leader, a coalition-builder, and a compassionate executive committed to bold visions and life-changing outcomes. Her world is one of possibility and optimism.
The college will also recognize a student with the Leo F. Redfern Outstanding Citizenship Award. The recipient's name is confidential until announced.
The Redfern Award is the highest award bestowed to a Keene State student. Honorees demonstrate a commitment to, and engagement with, the college community and the local community.
Masks are not required for events held outside on campus, including commencement, at this time. The college's COVID Risk Mitigation Team continues to monitor local cases as well as federal, state and local guidelines, however, so please be sure to check the college website for updates.
Related Stories