Winter Celebration Gets a COVID-Friendly Transformation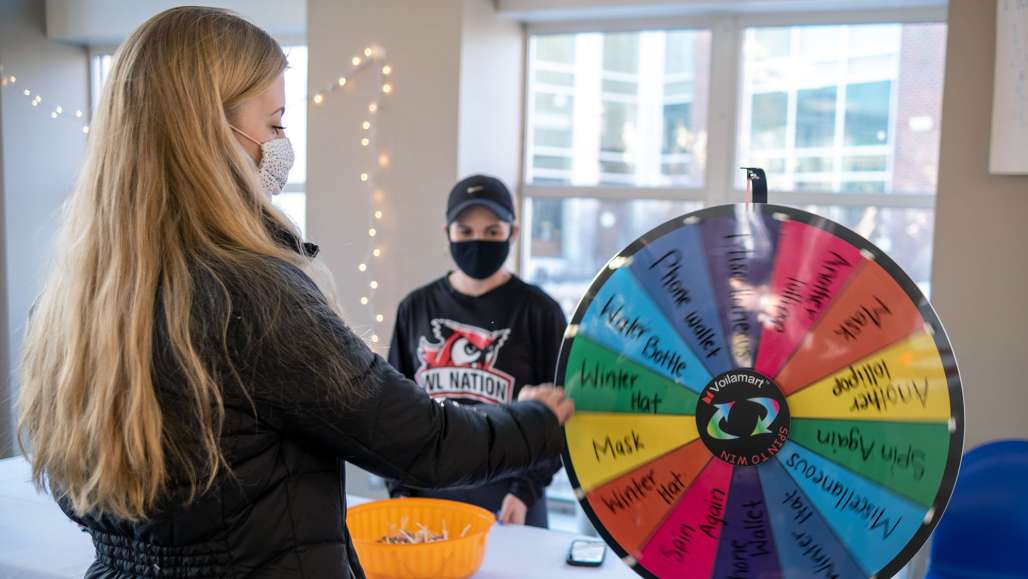 Friday, February 26, hundreds of students gathered at the Lloyd P. Young Student Center for Keene State's 16th annual Winter Celebration. "The tradition of Winter Celebration is synonymous with fun, relaxation, and coming together as a community," said Director of Student Involvement Jessica Gagne-Cloutier. Traditionally held at the end of the fall semester as a way for students to destress before finals, the event was moved to the start of the spring semester due to the campus shifting to full remote delivery after Thanksgiving.
A range of activities was available for Owls, including roller skating in the Mabel Brown Room, glow-in-the-dark seesaws and swings in the Flag Room, and spinning steel wool on the front lawn. The event's signature chocolate-covered strawberries were also available. Student clubs and organizations participated by setting up physically distanced activities and giveaways.
"We tried to create a COVID-safe version of Winter Celebration, where there's just as much fun. We've lengthened the event and spread activities across all three floors of the Student Center and outside so there are more opportunities for folks to be here in a physically distanced way," added Jessica.
"I definitely participate in activities like roller skating because they're great ways to meet new people and also hang with your friends," said CJ Trudel '23 while rollerblading. Ashleigh Garrity '24 could hardly contain her laughter while seesawing with her roommate. The energy was high and students were clearly excited to take advantage of the opportunities that the Student Involvement Office and student organizations provided.
Want to see a glimpse of the fun? Check out the video to hear directly from students about what they enjoyed most at Winter Celebration.
-Story and video by Sam Henry '23
Related Stories