Keene State Conducts More Than 33,000 COVID-19 Tests with Employee Support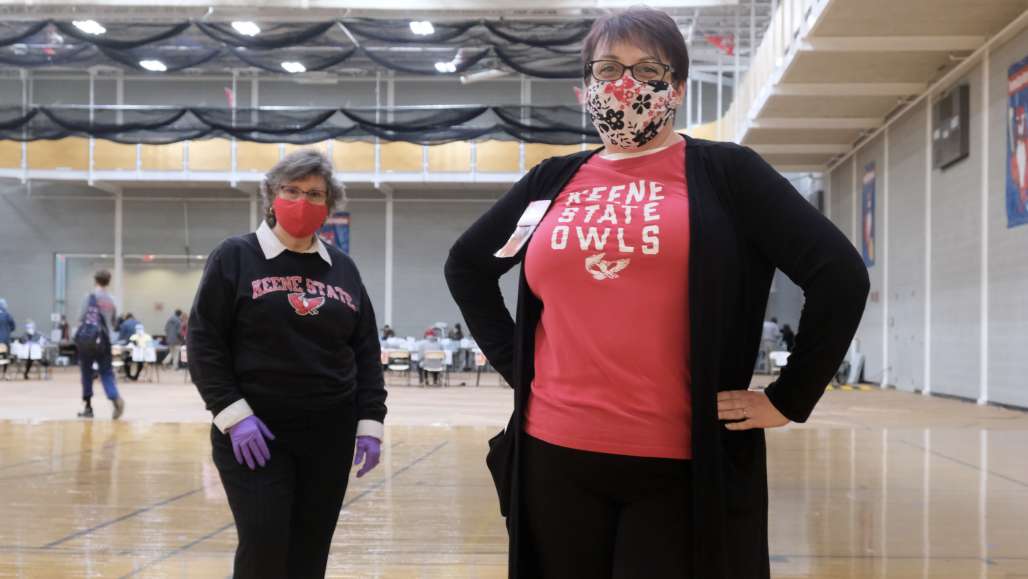 Weekly COVID-19 testing for every Keene State student, faculty and staff member who comes to campus is required to keep the college, and surrounding Keene community, safe during the pandemic. While some schools hire businesses to manage the logistics of planning and carrying out thousands of regularly-occurring tests, Keene State's faculty and staff have voluntarily stepped up to take on much of the work in collaboration with testing partners.
College employees led planning and organization of testing logistics, and they are managing on-site data entry, and distribution of wristbands that serve as a visual cue to clear entry to campus buildings – through it all, Keene State has pulled together with community spirit. As of mid-November, more than 33,000 weekly surveillance COVID-19 tests have been conducted.
Weekly surveillance testing is working. The incidence rate of COVID-19 at Keene State is very low. Positive cases that are found are managed rapidly and effectively by faculty and staff who serve on the Rapid Response Team.
Several staff members from departments at the college recently assisted at the test site. A few offered their thoughts on the experience:
Pat Wright, who works in Mason Library at Keene State, said, "It boils down to why I want to work at Keene State - it's community. I'm proud of our community and the way we've dealt with COVID-19, and I want to support our efforts."
Michele Kuiawa, with the Cohen Center for Holocaust and Genocide Studies, said, "I think everyone has been doing a great job with the organization piece of it - shout out to Michelle Wood and Colin Burdick for getting everything together. The reason for doing it is for community, and we have to take care of each other. Giving a couple hours of my time and helping people get through the process or making it less scary is my way of giving to the community."
Director of recreational and intramural sports, Lynne Andrews, said, "The volunteering experience has been awesome. I have been putting the new testing bands on our students, faculty and staff. The campus-wide testing process is a huge undertaking. We all need to help out in any way we can, and a few hours one day a week is a small sacrifice in the bigger picture of the how weekly testing is keeping the entire campus community safe."
"It was important for me to see how I could help. I am so amazed by our students and our community and how everyone is doing their best for one another. I just want to help our college get through this, and I've missed seeing everyone's friendly faces," said Kim Harkness, with the Office of the Provost. "It is so nice to be around people, and I won't take that for granted again!"
Related Stories