Students Win Journalism Awards from New Hampshire Press Association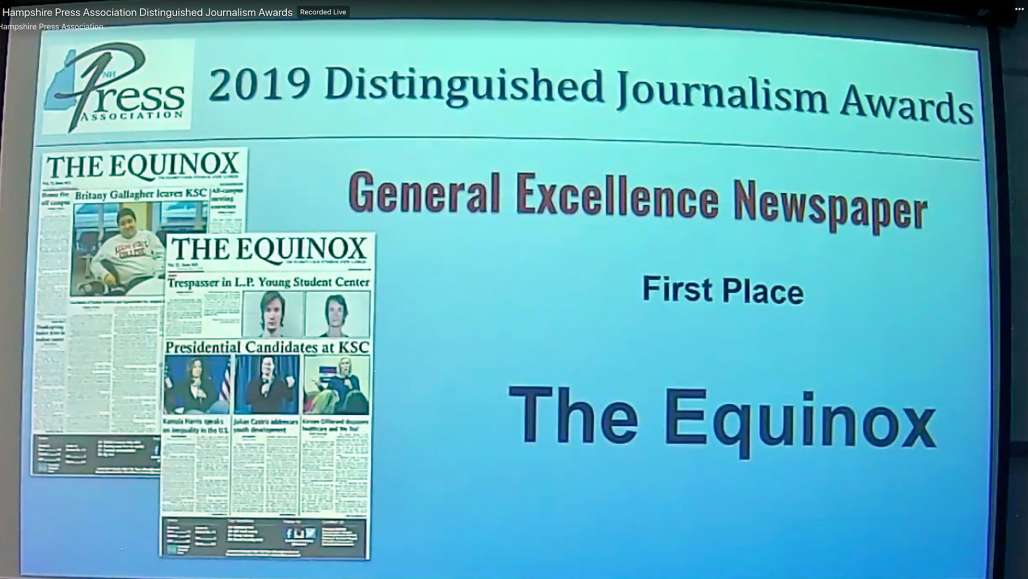 Keene State students dominated in a virtual ceremony for New Hampshire Press Association's 2019 Distinguished Journalism Awards. This annual contest recognizes professional and collegiate reporters, as well as media outlets that deliver news to New Hampshire readers. The Equinox, the college's student-run newspaper and eponymous website, and the student staff were recipients of numerous awards for outstanding journalism.
Fifteen students won first place in 15 individual categories in the college division, including general news story, investigative series, feature page, entertainment/arts, columnist of the year, sports news, sports feature, sports page, general news photo, feature photo, graphic/cartoon/illustration, front page, and best use of video in news, feature, and sports. In addition, The Equinox won three organizational awards for Overall Excellence – Newspaper, Overall Excellence – Digital Presence, and Overall Excellence – Social Media. The Equinox students also won twelve second place awards and twelve third place awards.
"The Journalism, Multimedia, and Public Relations Department is exceptionally proud of our students' success in the New Hampshire Press Association Awards," said Dr. Chad Nye, professor and chair of the department. "The number of awards and the range of the awards show how talented and capable our students are. To have our students and our campus newspaper, The Equinox, rewarded by New Hampshire's journalism professionals affirms the quality of journalism taught and practiced at Keene State College."
The competition was judged by three retired managing editors of New England newspapers with more than 30 years of experience. They were not affiliated with any of the colleges whose students and media outlets were nominated.
Notes from the judges provided by the New Hampshire Press Association:
• Claire Boughton, Jake Radermacher, Connor Crawford, winners of the investigative series category for "Vaping: The Series": "A well-intentioned effort to explore the issue of vaping on campus, although it inexplicably omits any comment from students who admit to vaping" • Claire Boughton, winner of the sports news category for "Players from Around the Globe": "A really good feature with an eye-catching lead sentence. Solid interviews with several interesting athletes. Well done." • Oliva Cattabriga, winner of graphic/cartoon/illustration category for "Campus Climate Survey": "Good information provided in this survey about attitudes on campus. Might have been stronger if some of the colors hadn't been so similar. Overall, good job." • Tessa DesMarais, winner in entertainment/arts reporting category for "Listening for Meaning": "This writer takes on a daunting challenge: addressing the links between mental illness and pop culture. This feature could have been stronger if professional viewpoints had been added to students' voices, but it is an ambitious attempt to deal with a serious issue." • Theresa Derry, winner of the columnist of the year for "Time Capsule": "This writer took on an unusual challenge: teaching her fellow students how her working family's history has been intertwined with the growth of their college. She did this with interesting detail and with obvious pride." • Jack Hanson, winner of the general news story category for "No More Plastic Bags at KSC": "A well done story expressing the efforts and results of a plan to limit plastic bags from the campus trash. Readers will get a clear representation of the proposed project and its success as the effort evolved. Good job." • Sebastien Mehegan, winner of feature photo category for "Hell of a Season": "Great shot. Conveys a lot of emotion, which helps to engage readers. Capturing moments like this is what photojournalism is all about. Bravo!" • Cailla Prisco, winner of the sports page category for "Brought the Fire": "Great graphic presentation. Love the fire coming off her bat. The artistry of the page and headline are clever and compelling entry points for readers." • Benajil Rai, winner in the best use of video – news category for "Candlelight Vigil": "The video was moving, creating an emotional connection to the content. The most effective tool was alternating between the young woman/organizer and the photos of the people who committed suicide."
The full recording of the awards ceremony can be viewed here. (The college division awards appear in minutes 14:20 – 27:20.)
Related Stories