Student Teachers, Graduate Interns on the Job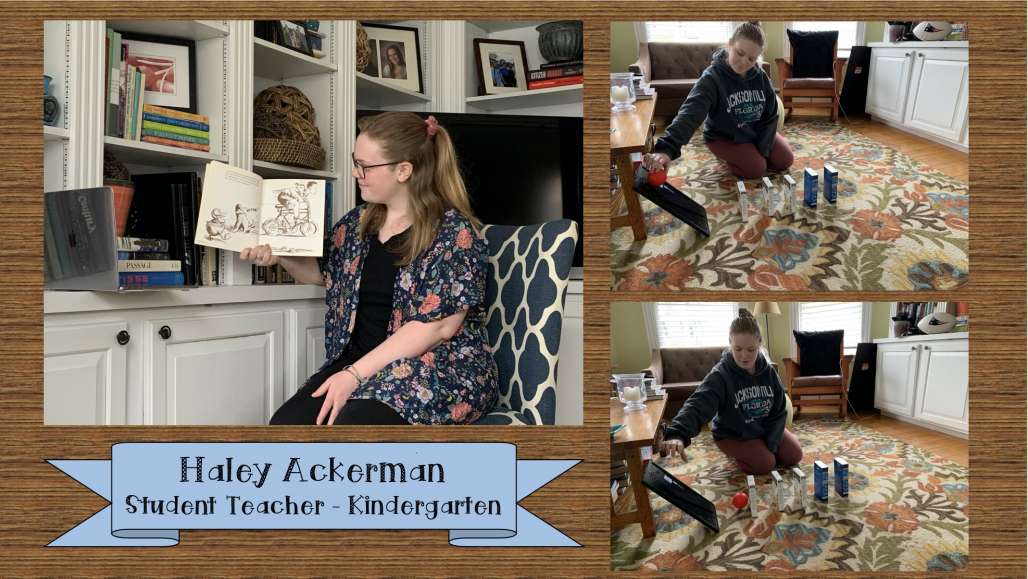 Keene State's student teachers and graduate education students are still working virtually with elementary and secondary school students while public and private schools are teaching remotely. Here's a sampling of what they're up to on the education frontlines of the COVID-19 pandemic.
Elementary and Middle School
Haley Ackerman, a kindergarten student teacher, has learned that getting creative with what she already has in her home has helped her to connect with the children in a new way. She has shown children that they can all use household items to play games and learn together even though they are apart. Haley's cooperating teacher recently reported that Haley is a "professional dream come true" because she has been a true teammate as everyone has learned how to navigate remote teaching and learning.
Madison Clement, a grade four student teacher at Cutler Elementary School in Swanzey, feels lucky to have had this experience with the fourth-grade team at Cutler. Madison has taught a variety of science lessons on animal adaptations and held small virtual math groups, teaching students all about fractions and decimals. She finds she really has to differentiate the lessons to meet student needs and also the technology they have available.
During the school's shortened vacation week, Madison shared a list of virtual field trips with her students and with other Cutler teachers. Students were able to "travel" to places such as Fenway Park, Yellowstone National Park, and NASA.
"This is certainly not how I imagined student teaching would go," Madison says, "but I know that I am not alone in this. I have had so much support from so many people, including students. One of my students emailed me and said, 'Science is so cool, Ms. Clement!!!' Things like that make teaching worth it, whether it's in the school or at home."
Whitney Wyman, a student teacher in a kindergarten classroom at Walpole Primary School, has found remote teaching to be an experience like no other. She and her cooperating teacher, Keene State alumna Allegra Pickering, have found they needed to realign their expectations and focus on engaging their students for short periods of time.
Recently, Whitney recorded a science lesson using Screencastify: she created a short PowerPoint presentation on the life cycle of a flower and recorded Pickering teaching using the visual. Another activity she shared on her Class Dojo page was a "move and groove" sight word practice video. Whitney decided to encourage students to study their sight words while dancing. In the video, she challenged students to dance and spell along with her. She picked five random dance moves out of a bowl and five different sight words to practice – then danced! She received a lot of parent feedback saying students danced right along!
Physical Education Student Teachers
What do videos, physical activity logs, hill sprints, and indoor obstacle courses have in common? They are all activities that Keene State physical education student teachers have helped plan and implement with their cooperating teachers to keep students engaged in physical activity during remote learning.
At Chesterfield (NH) School, Greg Deger has been able to co-teach and solo-teach classes using Google Classroom. The younger children have been creating indoor basketball, bowling, and obstacle courses, then sharing them during class time. The older students have been given hill sprint, hiking, and biking challenges, and they record what they do in physical activity logs.
Winchester (NH) School transitioned to remote learning when James (JJ) Tinney was in the middle of his track and field unit for grades three to six. To be able to finish the unit, JJ created a standing long jump video, a shot-put video, and a skill review video for students to learn, practice, and review the skills he was planning to teach. He also designed and audio-taped a worksheet that students completed as evidence of their knowledge of track and field. He is now in the process of creating videos for his middle school lacrosse unit.
During remote learning, the focus at Keene Middle School has been helping students stay physically active and continuing to develop the components of health-related fitness. To assist them, David Wiedenfeld researched videos and workouts students could access and use as part of their daily activity routine, after which they could record what they did in their physical activity logs. To have a closer connection with his students, David also developed his own 25-minute workout circuit for them to access, use, and record.
Graduate School Administrative Interns
Kate Abbott (Franklin School, Keene) is mentoring teachers and staff in transitioning from in-person to remote learning.
With the principal on leave, Nicole Gordon assumed a leadership role working with the SAU 29 Central Office in the transition to remote learning at Chesterfield School.
As the teacher/administrator at Washington School, Kelli Colarusso was instrumental in leading the planning and implementation of remote learning while continuing the school's vision of place-based learning.
Jennifer Course assumed the lead role in coordinating online learning resources for Dummerston School, Dummerston Vermont.
Related Stories