Students Awarded Innovation Grants for Virtual College Projects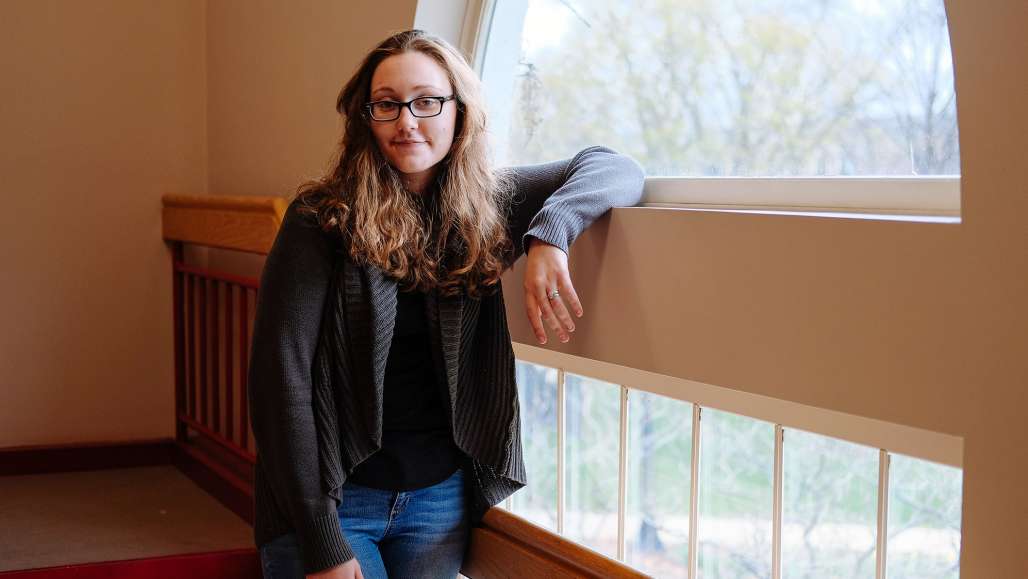 During this time of physically distancing from one another, Keene State College encourages creativity and innovation among students, faculty, and staff. Now, ideas are being created to imagine new virtual Keene State programs. Students take the lead in developing ideas and to make their ideas come to life, the college introduced a new Virtual KSC Innovation Grant opportunity to help fund these ongoing initiatives.
The Virtual KSC Innovation Grant Selection Committee chose and approved the following grant-funded projects. Congratulations to the students who are leading these efforts!
1. Virtual Art Gallery with bi-weekly themed competitions
The Thorne-Sagendorph Art Gallery in Keene is a way for students and teachers to connect and interact in a beautiful space. KSC student Stacey Willett intends to develop and manage an online art gallery platform for current and incoming students to showcase their talents. The gallery will include change in themes with competitions to encourage participation. Each topic will include a new media type in order to display a variety of artistic styles. The gallery would involve artwork submitted for the pubic to view and vote on with a winner of each week's topic. The site will be open to the public and advertised in a way that keeps the community and alumni involved and students engaged. Veronica Rosa, vice president of advancement and constituent relations, is the project sponsor.
2. Virtual Concert Band Rehearsals and Concerts
As the assistant conductor of the KSC Concert Band, student Madision Shimko works in collaboration with the ensemble director Jonathan Hart to provide concert band members with instructional videos for rehearsal of repertoire and continued instruction in a remote setting. The goals for this project are to continue Concert Band rehearsals as close to an in-person setting as possible, and to compile a final performance of their repertoire. Madison will share a video of herself rehearsing certain sections of the music each week to continue to provide her peers instruction. She will also discuss the story behind the music, and the musical implications based on the story. Concert band members will improve their personal performance and record a final "performance" recording, which will be compiled into one big virtual ensemble performance that will be available to the greater Keene State community.
3. Owl Assist Chatbot
Owl Assist is a virtual assistant, or chatbot, that is developed by and for Keene State College. The project, led by student Matthew Pittendreigh and Computer Science Professor Meenalosini Vimal Cruz. will primarily function as an assistant used for acquiring information. It will guide students to enroll in the college, engage in college events, and recall important deadlines. Its secondary function is as an advertisement, representing the college's ability and motivation to adapt to technological innovation. The system will encourage students to apply, assist them in completing the application process, and guide them to pay their deposit and enroll to Keene State. Keene State students will apply artificial intelligence techniques to create to create a virtual assistant system to aid the KSC community and to make its users feel connected and supported.
4. Keene GIS Co-Op: A Mapping Resource to Support College-City Partnerships During the Coronavirus Pandemic and Beyond
The Keene Geographic Information System (GIS) Co-op will provide a place for citizens to access data. The Co-op, led by students Bryanna Weigel and Will Schoefmann and Geography Professor Chris Brehme, will be a platform for coordinating partners who use GIS to share data for the benefit of students, faculty, community members, and decision makers. As COVID-19 advances, it exposes issues of environmental justice in our community. The proposed project will focus on gathering and presenting data pertinent to the current crisis. An interactive map of Monadnock towns will show the locations of vulnerable populations, including nursing homes, clinics, and schools. A dashboard will highlight the demographics of these communities using US Census data to develop a town-level schema. By building the KGIS Co-op around the coronavirus pandemic in an easy to understand format, this project will strengthen community connections and demonstrate the feasibility of a data sharing platform (similar to that of the John Hopkins COVID-19 World Map*) for a rural region.
Related Stories