Lacrosse, Academics, and Photography Keep Paxton Blanchard Active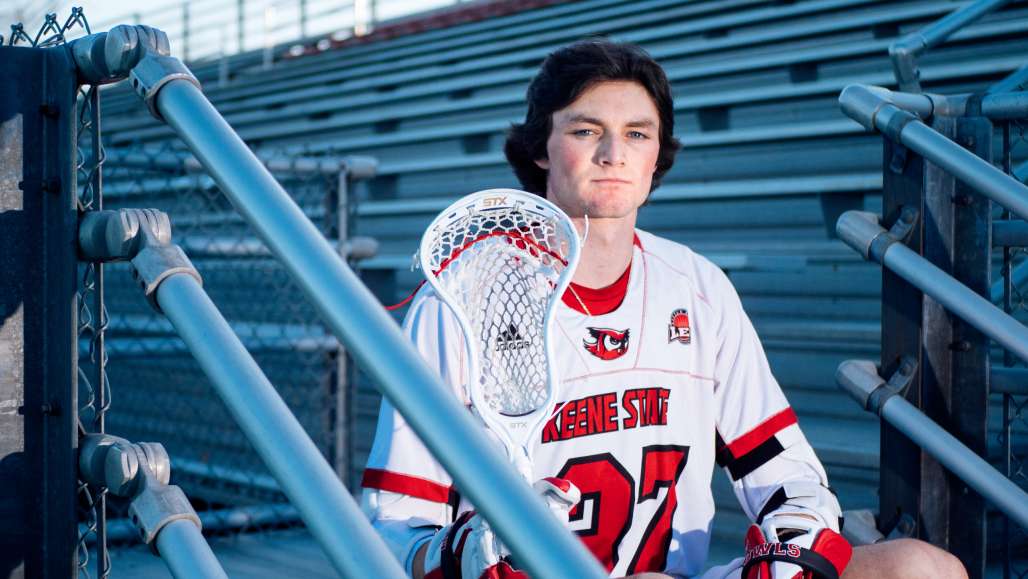 Paxton Blanchard knew he wanted to play lacrosse at a college that was close to home but far enough away that it was in a new area to explore. When Coach Mark Theriault reached out to initiate the recruitment process, Paxton, who's from Norwell, Massachusetts, ended up finding the perfect place to develop his interests and play the sport he loves. Now in his junior year, Paxton spends his time off the lacrosse field double majoring in safety & occupational health applied sciences and business management while pursuing photography as a hobby.
During recruitment, players are encouraged to visit campus to meet their future teammates. "Everyone is so nice and outgoing. You really feel like part of a community. When I came to visit, coach had me meet a bunch of the guys on the team and they were all outgoing and welcoming," said Paxton.
"As soon as I stepped on campus, I instantly knew this was the place I wanted to go. It had that New England feel that I was looking for and it was the right size, not too big and not too small, which can be hard to find, especially when you want to play on a varsity team," he continued.
A lot of the players on the lacrosse team are majoring in safety & occupational health applied sciences and they encouraged Paxton to try a class. "They said the program is nationally recognized, there are lot of resources and connections because of that, and it's really fun, so I gave it a shot and ended up declaring it as my major," he said. Subsequently, Paxton was inspired by his father to double major in business management.
Time management, motivation, and creating balance is the name of the game for Paxton. "I have days where I wake up, go to class and practice, come home, and do homework for hours, but there are plenty of days where I can hang out with my friends and teammates. Some days it can be a lot, but you just put your head down and grind through, which you also learn to do as an athlete. I know it's all preparing me for the rest of my life," he said. He suggests writing out a weekly schedule that includes when assignments are due and setting reminders on a phone to stay organized.
For Paxton, the best part of being on the lacrosse team is the brotherhood feeling. His teammates' schedules are similar so they do a lot together. The bonds with Paxton's coaches are also strong. "Coach T and Coach Carmean have been unbelievable coaches and mentors. I often stop by Coach T's office during the day to touch base and run ideas by him," he said.
In the off season, Paxton is the head sports photographer for the Athletics Department and can often be found shooting games in season if they do not conflict with his class, practice, and game schedules. He's always had an interest in photography and started photographing athletics games for fun. "I've met so many more athletes and people through photography, which I never expected to happen. It's been a really educational and enlightening experience," he said.
This summer, Paxton will be coaching youth lacrosse with the King's Club Lacrosse Program on the weekends and interning with the Turner Construction company in Boston. He found the opportunity by attending the fall Safety & Occupational Health Applied Sciences Career and Internship Fair. "There are so many different companies looking to connect with students for internships or jobs. I brought my résumé and talked to a lot of different representatives. I had heard great things about Turner Construction, and fortunately, it worked out," said Paxton.
For prospective students who are curious about playing on one of the varsity athletics teams at Keene Sate, Paxton's advice is to speak with current students as well as the coaches. "Reach out to the student athletes. Everyone here is willing to help out. A lot of the time, you'll get an inside perspective that can help you make a decision."
Related Stories