Virtual Environmental Studies Presentation at the Academic Excellence Conference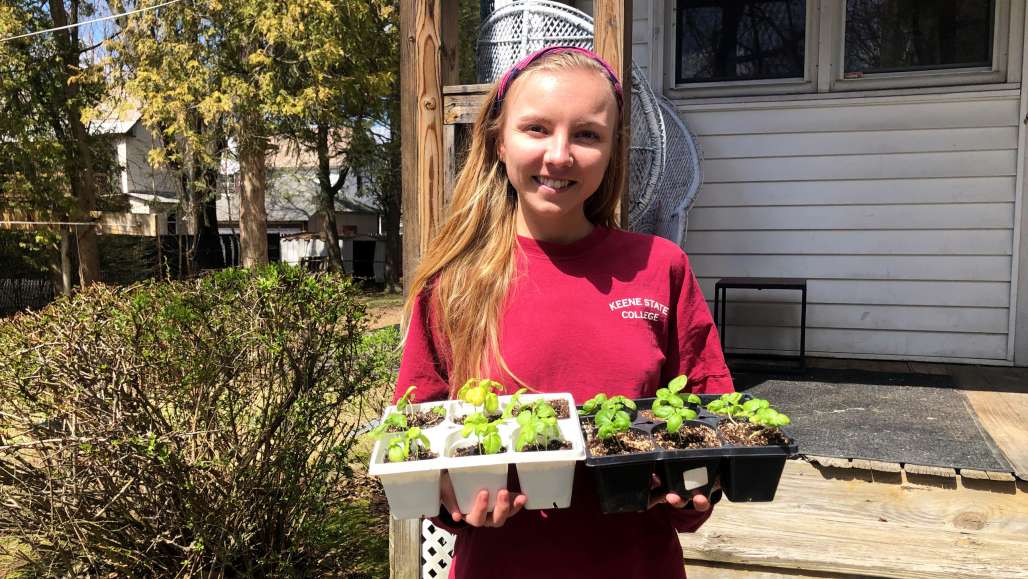 The Academic Excellence Conference allows students to present their academic research and this year the conference is going online. Senior Madelyn Thomas from Winthrop, Maine, will showcase her project, "Benefits and Drawbacks of Incorporating Biochar on New Hampshire Farms," with Carlee Schettino '20 and Maria Tenore '21 during this year's twentieth celebration of academic research at Keene State.
Madelyn is working toward a dual degree in environmental studies and health science with a focus in community health. She has thoroughly enjoyed her classes and professors throughout her studies. "In both majors I've had many of the professors for a couple different classes. I think it's awesome that you get to know the faculty here. They actually care about how much you get out of their class, and want you to succeed," said Madelyn.
Madelyn has been working on this project for the last two semesters for her Environmental Seminar class. Madelyn, along with Carlee and Maria, researched whether or not it would be practical for farmers in New Hampshire to use biochar. "Biochar is similar to charcoal; it's organic matter heated to high temperatures in a low oxygen environment. Farmers started using biochar thousands of years ago in the Amazon to help hold nutrients in their soils," said Madelyn.
Their project consisted of two parts. "Part of our project was talking to farmers in New Hampshire and Vermont, some who used biochar and some who did not, and asking them about the benefits they've seen or any barriers to using biochar on their farms. The other part of the project is an experimental study on plants. We grew basil plants in four different soils: one with biochar, one with compost, one with biochar and compost, and one with neither. Then we compare the plants in the different groups to see which group grew the most successful plants," said Madelyn.
Madelyn and her team came across a few challenges, mainly in the past few weeks due to recent events. "The pandemic made it impossible to grow the plants in the greenhouse, so we had to move more than 100 basil plants to my house. We were also planning on using the labs for some of the measurements at the end of the study, but we had to improvise and come up with measurements we can do without special equipment. We've also had trouble with the response rate of farmers, but the few who did talk to us gave us a lot of insight into our project," said Madelyn.
Throughout this project, Madelyn has overcome challenges and needed to come up with some creative solutions. She was able to keep the 100+ basil plants alive and she is proud to see all of the information and data put into one solid project.
This project will help Madelyn with her future career. "I knew virtually nothing about biochar when we started this project. Since then, I've learned a lot about soils and local farming, which I believe is important for people to know even if we don't plan on being a farmer for a career. Next year I'm hoping to go to law school, so working with our group to design our own project, analyze the research, and present it has helped prepare me for that," said Madelyn.
The 20th annual Academic Excellence Conference will take place online Saturday, April 18. To learn about the results of Madelyn's study, watch "Benefits and Drawbacks of Incorporating Biochar on New Hampshire Farms," which will be available on demand on Saturday. Information and video recordings for all student presentations can be found here.
-By Mackenzie Crump '20
Related Stories