Keene State College Launches New Programs to Meet Student and Workforce Demands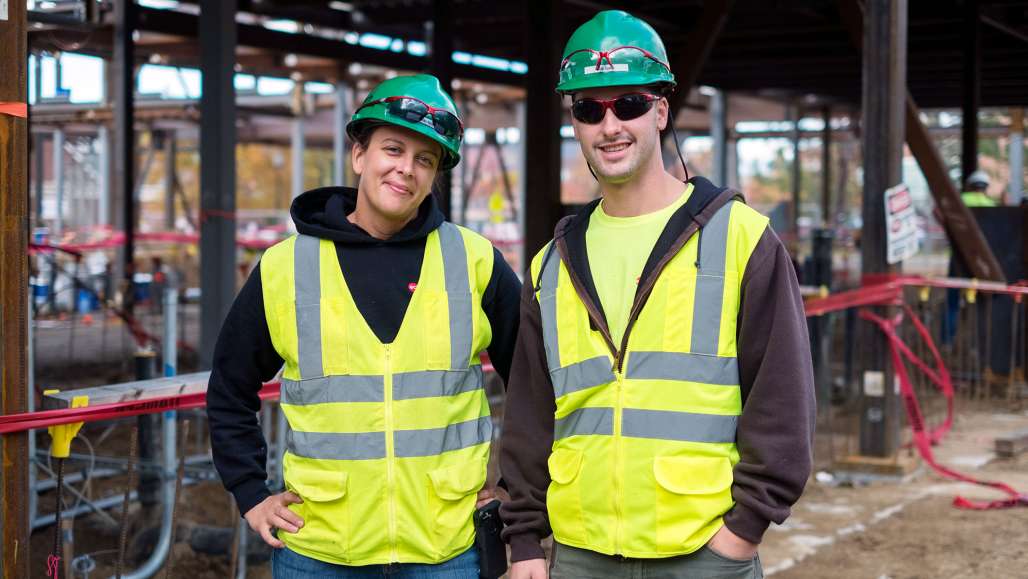 Keene State College announces new academic offerings for students to prepare them for a broader range of career opportunities. New programs to be offered starting fall 2020 include bachelor's degrees in legal studies, public health in the area of addiction, sustainability studies, construction management, STEM for educators, and neuroscience.
Bachelor of Science in Public Health Addiction and Pre-Professional Mental Health Option
This degree provides public health majors with a foundation for further studies in either the addiction or mental health fields, as well as skills that prepare them for entry-level employment in addiction. Courses are taken in several disciplines, including the sciences, public health, and psychology. The degree can be used in careers as an addiction specialist, mental health care worker, residential counselor, or for graduate school studies.
Bachelor of Science in Construction Management
Students will learn how to design, manage, and safely execute construction projects from conception through completion while learning and using technical, analytical, managerial, problem-solving, and collaboration skills. Courses that are taken include Intro to Architectural Design, Organizational Theory & Behavior, Prevention Through Design & Sustainable Building, and Construction Safety Standards. The degree may be taken with architecture, management, or safety options. It qualifies students for well-paying positions such as construction manager in commercial, residential, and industrial industries. It applies in the public, private, and government sectors.
Bachelor of Arts in Legal Studies
This degree provides a pre-law track with a combination of courses that develop skills necessary to understand law and its role in public policy and society. The degree teaches reading and interpretation of legal statutes and rulings, a study of ethics, public speaking, and logical argumentation as applied to law. It prepares students for successful application to law school. Courses include Lawmaking & Politics, Constitutional Law, International Law, and Human Behavior & the Legal System. It prepares graduates for law school, and careers in public policy, government, law enforcement, and as a paralegal.
Bachelor of Science or Bachelor of Arts in Neuroscience
Courses in biology, chemistry, and psychology form the foundation of this major. Upper-level courses and activities connect multiple study areas in neuroscience research and theories. The degrees prepare students for hands-on research experience through undergraduate research programs or courses. Classes include Brain & Behavior, Cognitive Neuroscience, Human Psychophysiology, and Genetics. Career paths for the Bachelor of Arts degree include neuroscience-based industry work and research. The Bachelor of Science degree prepares students for graduate school and medical school.
Bachelor of Science in Sustainability Studies
This degree focuses on sustainability related to food systems, energy, natural resources, and biodiversity. Core requirements address major themes of sustainability, including societal, economic, and environmental concerns. The final year of the program features a two-semester capstone project with an emphasis on either research or application. Classes that are part of this degree include Food, Health, & the Environment, Globalization, Culture, & Place, Ecology of a Changing Planet, and Sustainable Design and Building Science. Career paths from this degree include renewable energy development project management, city planning, fish & wildlife agencies, environmental impact analyst, and sustainable agriculture.
Bachelor in Science in STEM for Educators
This degree prepares students to bring STEM (science, technology, engineering, math) concepts into elementary- and middle-school classrooms as well as settings such as museums, nature centers, libraries, government agencies, or community-based organizations. Students double major in education to obtain teacher certification either in pre-Kindergarten through 6th grade or middle school science, or choose a STEM for informal educators option. Courses in this degree include STEM Explorations, Phenomenal Science, Meteorology, Geoscience Issues & Society, and Development, Exceptionality, and Learning.
---
New Minors
Campaigns and Elections
This minor prepares students for volunteer opportunities or careers in policy advocacy, consulting, or campaigns. The minor complements majors including political science, management, economics, communications, or those with advocacy as common career track, such as environmental studies, Holocaust and genocide studies, or women's studies.
Data Analytics
This minor serves as workforce preparation for data analytic tasks. Introductory data analytics skills, including statistical testing, computer programming, and the ability to explore and analyze concepts are included. Students build a portfolio of work from core courses and electives to produce samples suitable for job applications. The minor complements a wide range of majors from management to criminal justice studies.
Sport & Exercise Psychology
This minor is an interdisciplinary field that examines the performance of sport and exercise behaviors from the cognitive, emotional, psychophysiological, and social perspectives. Emphasis in this major is on applying cognitive-behavioral theories to improve performance, and examining the psychological health benefits of physical activity. It complements majors in exercise science, physical education, psychology, and others.
Related Stories