When Student Teaching Moves Online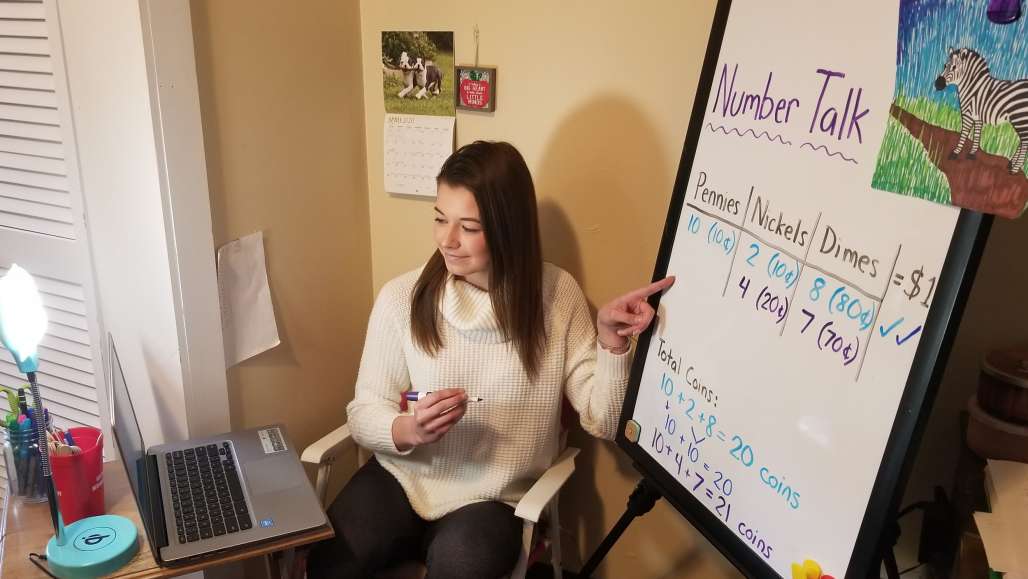 Senior Emma James Jumps into the Digital Fourth-Grade Classroom
Emma James's student teaching practicum moved online in mid-March, but that hasn't dampened her enthusiasm – or shortened her workday. Helping teach fourth-graders via the Google Classroom learning site wasn't what the senior elementary education and communication double-major signed up for when she started student teaching in Nicki Crank's classroom at the Symonds School in Keene, but she's adjusting quickly and enjoying the new experience.
"I find that I like it," says Emma, who hails from Tolland, Connecticut, but is taking part in virtual classroom activities from an off-campus apartment in Keene that she shares with a roommate. The fourth-graders miss going to school and seeing their teachers and friends, but they are finding things they like about remote learning – the mix of independent work with online sessions and meet-ups appeals to them, she adds.
What does life in a virtual school look like? Here are some of the activities Emma is involved with:
A daily morning online video meeting where the young students, the classroom teacher, a tutor and a specialist or two get together for 15 to 30 minutes to check in, touch base, and see each others' faces. "It's a way for us all to connect and just offer support," says Emma. The gathering also typically includes some sort of activity, like a "house" hunt (Find the smallest item in your house and show it to us!) or sharing session. Emma led one morning meeting that included a silly Mad-Lib fill-in-the-blank story.
Two 30-minute drop-in times, one in the morning and one in the afternoon. Emma is on hand virtually for one, and her cooperating teach for the other. It's an opportunity for students to pop in and ask questions about the individual activities they're doing via Google Classroom.
Number talks that Emma is running with small groups of students. The sessions are not math lessons per se, but a fun way to engage around one problem that can have multiple solutions. "It's a math brain exercise," she says.
A 15-minute read-aloud video that Emma records and uploads each day of a chapter book the class began reading before the physical school building closed. "I've received super feedback from a parent that her student looks forward to my read-alouds every day, and it is his reward for finishing his Google Classroom work," Emma says.
The students work on math, reading, writing and other assignments on their own, but when they have questions they are encouraged to either email a teacher (Emma and the other teachers are standing by at their computers every day from 8 a.m. to 3 p.m.) or come to a drop-in session.
The first week of remote teaching and learning was really difficult, Emma says, because of all the planning required and because everyone had to get comfortable with the new system. But now, things are falling into place and going smoothly. "It's flowing a lot better, so it's not as overwhelming," she says. "It's really good that we are able to interact with our students every day."
In April, she'll do her required solo week, planning all of the activities and sessions. She has plans for a science lesson that will involve Morse code and sound waves, among other things.
She also has plenty of support from professors in Keene State's Education Department, who are available to answer her questions and offer help.
Now in her last semester at Keene State, Emma is planning to return to the College in the fall to work toward a master's degree in special education.
But in the meantime, she continues to learn – and help her fourth-graders learn – as a student teacher. She's had great communication with her cooperating teacher, she notes, and all of the staff at the school are offering feedback and giving ideas for keeping students engaged using this unexpected new way of teaching. "It's been a great experience for me," she says.
Related Stories