Students Make New Connections and Stay Fit with Intramural Sports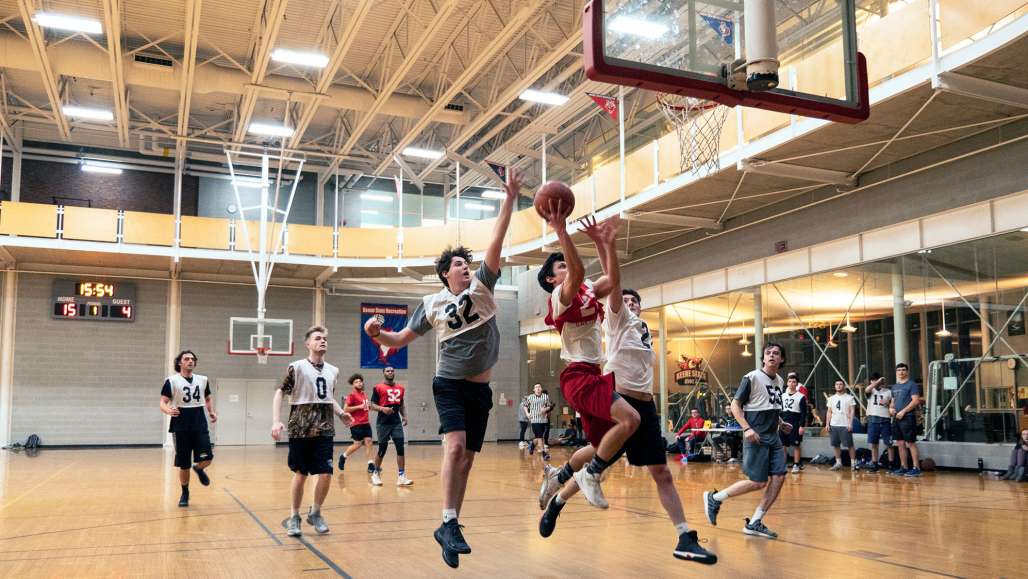 Many students seek out ways to stay active and meet new people on campus. The Intramural Sports Program allows students to do both. This popular extracurricular activity on campus is a great way for students to meet new friends and continue to play the sports they love, or try a new one. The Intramural Sports Program promotes wellness, fosters new friendships, and encourages students to be active.
Mike Power, a junior at Keene State who is actively involved in the Intramural Sports Program, plays basketball on the "Pigeons." Mike has always been an active gym member on campus. "I try and get myself to work out every day, but playing in intramurals is a great addition to that because it's a good cardio workout and keeps me in shape." It was early on during his first year when he noticed groups of students playing sports together in the Recreation Center and decided to join. Mike has now been playing intramurals all three years and explains how it has been a very rewarding experience. "Honestly, for me it's just about having fun with my best friends and with the friends I have met just from playing on the court. I like how you still have to take it seriously, but there's no coach calling the shots like a regular sports team and also no practices, which is nice."
Keene State offers team, dual, and individual leagues in which participants compete for the coveted champion t-shirt. "I found out this year that they are offering a co-ed Intramural Basketball League, so if anyone's interested and wants to play, they should just go for it. It's so much fun," added Mike. Students can organize their own team or utilize the free agent list to get added by a team with spots open.
Teams play on a set night, once a week at the same time depending on the league for either a 4-week or 5-week regular season. Being involved in intramural sports can be easily balanced with classes and homework. "It's absolutely manageable if your classes are scheduled during the day because games are later on at night but they don't go past 10 p.m. I haven't had any issues with getting my work done and attending my games," said Mike.
The Intramural Sports Program is open to all full-time and part-time students and Recreation Center members. Check out the Intramural Sports Calendar for a list of all the sports being offered this year. There is something for everyone in the Intramural Sports Program to enjoy with friends, while also staying fit and active on campus!
-By Hanna Quill '20
Related Stories