New Director of Cohen Center for Holocaust and Genocide Studies Announced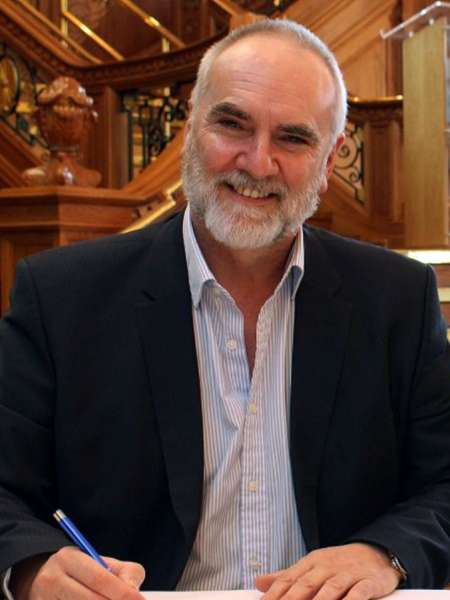 Keene State College is pleased to announce that Mr. Peter McBride has been appointed to lead Keene State College's Cohen Center for Holocaust and Genocide Studies. Peter will take on the role of endowed director of the Cohen Center for Holocaust and Genocide Studies on July 1, 2020.
After growing up in the context of "The Troubles" in Northern Ireland, Peter became a post-conflict mental health specialist with particular expertise in the traumatic impact of violence, genocide and atrocities on individuals, communities, and ethnic groups. Since the Good Friday Agreement peace settlement in 1998, he has been heavily involved in peace and reconciliation efforts, working at senior political, governmental, and community levels to develop a sustainable peace. He was the founder and chair of two civic initiatives, "Journey Towards Healing" and "Make It Work", and was a specialist mental health advisor for the first Northern Ireland Victims and Survivors Forum. Peter's expertise has also involved him in international engagements in Rwanda, South Sudan, Malawi, Israel, and Gaza.
"Peter is a visionary leader whose expertise in post-conflict trauma is one that will bring an expanded focus to the Cohen Center's mission and outreach. He has worked both on the ground with victims of genocide and mass violence, and at the highest administrative levels, with policymakers and government agencies, creating programs that allow victims of trauma and violence to live productive, dignified, and hopeful lives," said Keene State College Dean of the School of Arts, Education, and Humanities Dr. Kirsti Sandy. "He also brings significant fundraising experience and a strong record of public communication around the prevention of genocide and mental health post-trauma. He is a proven collaborator who will work closely with the department of Holocaust and Genocide Studies and with the entire college community and beyond. We are thrilled to welcome him to Keene State this summer."
Until May 2019, Peter was the group chief executive of Inspire, now one of the largest mental health charities in Ireland. He was CEO of Inspire from 2010 to May 2019. Beginning in 2001, he was the managing director of Carecall, Inspire's subsidiary organization focusing on workplace wellbeing. Over the space of nine years as CEO, Peter grew and developed Inspire from a small local charity to a large national organization with more than 1,000 staff, associates, and volunteers throughout Ireland. In 2017, he oversaw the rebranding of the organization, and a significant capital investment in a new central office and community resilience center in the heart of Belfast. This was officially opened by HRH Prince William, with whom Peter was connected through his work with BBC Children in Need and the Royal Foundation.
"I am delighted and honored to have been appointed as the director of the Cohen Center. I am passionate about this role because as I look around me, within living memory of the second world war, I see the same sinister components that became the cornerstones of the Holocaust, being re-laid as foundations for the justification of modern atrocities and genocide. In response to this, I believe it is more important and compelling than ever to understand and remember the atrocities of the past, and to learn from them," said Peter. "There is an urgent need for us to speak out, to challenge the normalization of hatred, division, and sectarianism, and to create havens for peace-building, reconciliation, and the creation of hope. Over the past decades, the Cohen Center has been such a haven by fulfilling its core mission 'To Remember… and To Teach'. The Cohen Center is now poised to have an even more significant impact, in increasingly diverse arenas at local, national, and international levels. I am excited and energized to be part of the community and this journey."
Peter earned an MSW in social work from Queen's University in Belfast in 1996. He earned an Advanced Diploma in the Management of Psychological Trauma from Nottingham Trent University in 1998.
Related Stories