Students Paint Campus Murals in Art Class for All Majors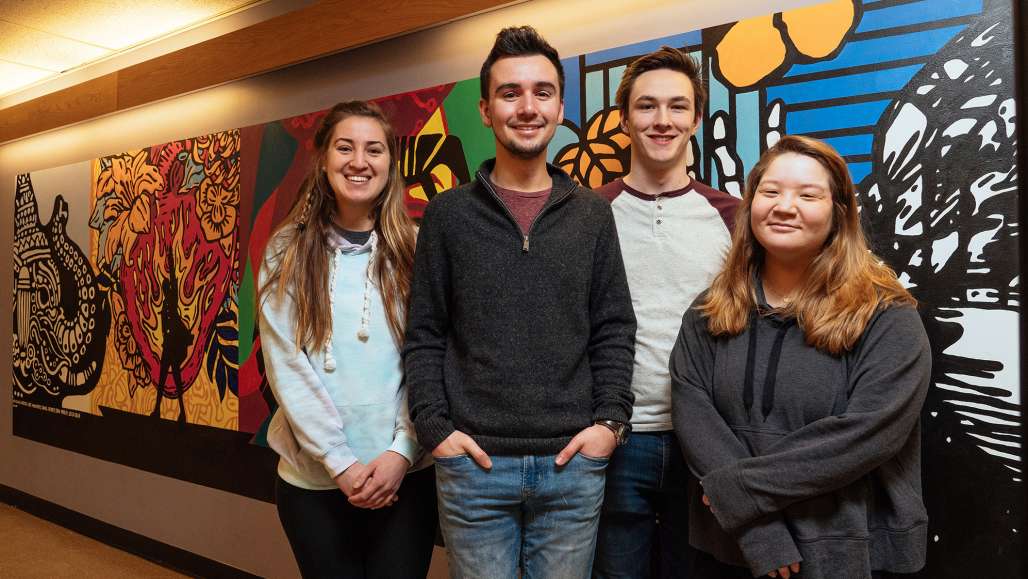 It's not every day that students are given permission to paint original designs on campus buildings, but that's exactly what happens in Color Design and Site-Specific Painting, an art course offered to both art majors and non-art majors. Murals in the Redfern Arts Center, Elliot Center, and Student Center are the newest artistic additions to campus and were painted by students in Art Professor Molly Fletcher's fall class.
Professor Fletcher spent the first half of the semester teaching the basics of composition and color theory before students divided themselves into three groups to focus on site-specific mural planning, sketching, and painting. The idea of having the students work in teams and find a location for their murals themselves was inspired by a class Professor Fletcher '07 took at Keene State when she was an undergraduate student. "I had to find a space to produce my own exhibit," she said. "When you're thrown into that experience, it tends to stick with you and you'll be able to recall those skills later in life."
"Getting the chance to paint a large-scale mural on a wall over a couple of months really interested me," said art and design major Emma Johansen '20, whose group painted the mural in Elliot Center. "I also enjoyed painting with other people who've never painted before. Some were hesitant to paint but it was nice to see them get out of their comfort zone."
Her group's mural is located on the first floor of Elliot Center in the Registrar Office. "Ian Horne came up with the idea of left brain/right brain because he's interested in how the brain works. Our group thought it was really imaginative so we each did our own sketches and merged them together into the final design. That way, each person had a little piece of the mural," added Emma.
The second group chose an 18-ft long blank wall in the Redfern Arts Center. "We decided on an over-arching theme of the first floor for the painting, so the design incorporates elements of theatre, dance, and music," said Niccolas Cardoza '20, a graphic design major. Passers-by will recognize imagery from Broadway musicals and astute viewers will see popular band posters blended into the design. "That collaborative process was really awesome because we all brought something different to the table. I met quite a few people during this class who I probably would have never met before," added Niccolas.
For psychology major Daniel Verney '20, taking this class awakened an interest in sketching and drawing that he didn't know he had. "I found myself wanting to do art outside of the classes. I've been trying to do different paintings on my own and working on some of the techniques I learned about in class."
The third mural is located on the third floor of the Student Center outside of the WKNH radio station. Color Design and Site-Specific Painting is offered both fall and spring semesters.
Related Stories