Keene State Staff Honored at Annual Gala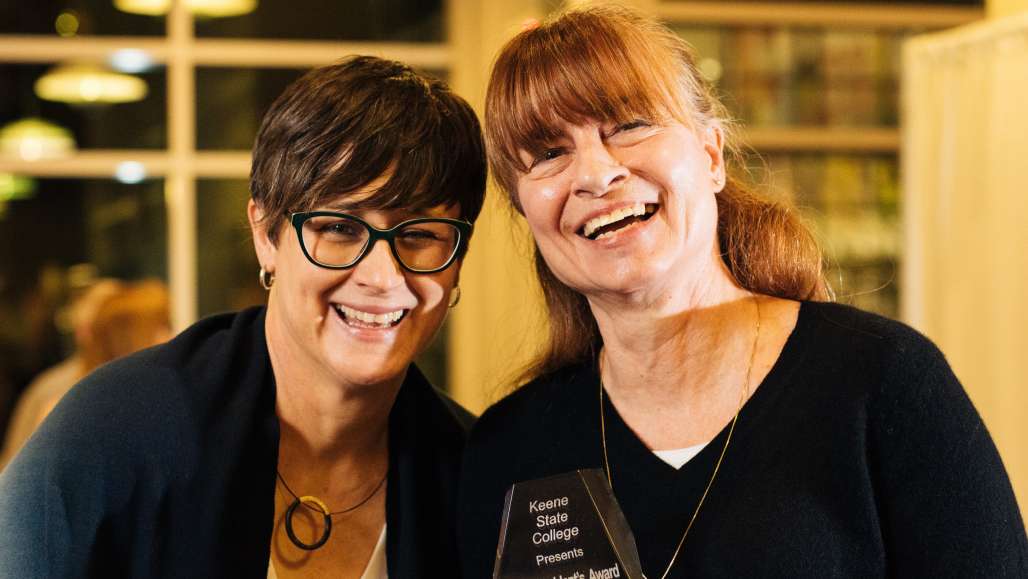 What's great about the staff at Keene State? Pretty much everything – including that, whatever their jobs, staff members are all about making the College experience the best it can possibly be for students.
Four people from across campus, along with the entire Grounds Department, were highlighted at the fourth annual Keene State College Staff Awards of Distinction Gala held January 8. Join us in congratulating:
Barbara Preston, executive assistant in the Office of the President, received the President's Award for Distinguished Service. The award, the highest staff distinguished service honor, is given to an individual who member who has exemplified service in all its forms and made the College a better place because of it. President Melinda Treadwell '90 wrote: "Barbara is a deep listener and a person committed to others. She models balance and poise and fiercely holds up others to shine light on their successes. She is the spirit behind Keene State Spirit Day! A deeply committed and dedicated member of the Keene State community, Barbara cares about all of us and seeks meaningful ways to celebrate each member of the team."
Kya Roumimper, coordinator for Multicultural Student Support and Success and Equity Education, won the Rising Star Award. The honor is given to an exemplary Keene State employee with one to three years of service who shows promise and potential. Kya is a Keene State grad who went on to earn a master's in community engagement. "Kya goes above and beyond for students of color. She makes sure that they feel heard on campus," reads the nomination. "And, she not only helps students, she educates them as well. Whether it's about life, school, or work, she is always helping students see the educational component in what they're doing." You can find Kya in the Office of Multicultural Student Support on the second floor of the Student Center.
Pat Halloran, senior director of the Student Success Center, received the Rebecca Dixon Collaborator of the Year Award. The award is given to recognize a staff member who has left their comfort zone and partnered with another individual or department on a project that helps the entire college community. Pat heads up the team of advisors who help students succeed in their classes, find internships, and land jobs after graduation. "Pat's enthusiasm, positive attitude and the desire to serve with passion and integrity embody her collaborative undertakings," wrote the nominator.
Grounds is the Department of the Year. The hardy Grounds staffers keep Keene State's flower beds blooming from spring through fall, keep walkways, entryways, and parking lots plowed through winter, and care for our trees all year long. "Our beautiful campus is so inviting and welcoming to all: students, families, employees, community members," wrote the nominator.
Lisha Hunter, a lecturer in mathematics as well as the Math Center testing coordinator and administrative assistant for the Mathematics and Management departments, received the Nate DeMond Service Award. The award was established in honor of Nate DeMond, a Keene State staff member who demonstrated pride, dedication, and loyalty in his 12 years at the College. Lisha was honored for her work with students: as part of a host family for international students, as a welcoming and supportive presence in the Math Department, and as a participant in the Office of Multicultural Student Support and Success's Crafternoon and Mentorship programs. "Without question the person and family that has gone above and beyond and has done the most with international and exchange students is Lisha and her wonderful family," reads one of three nominations for Lisha.
Related Stories