Victory for Men's and Women's Basketball Teams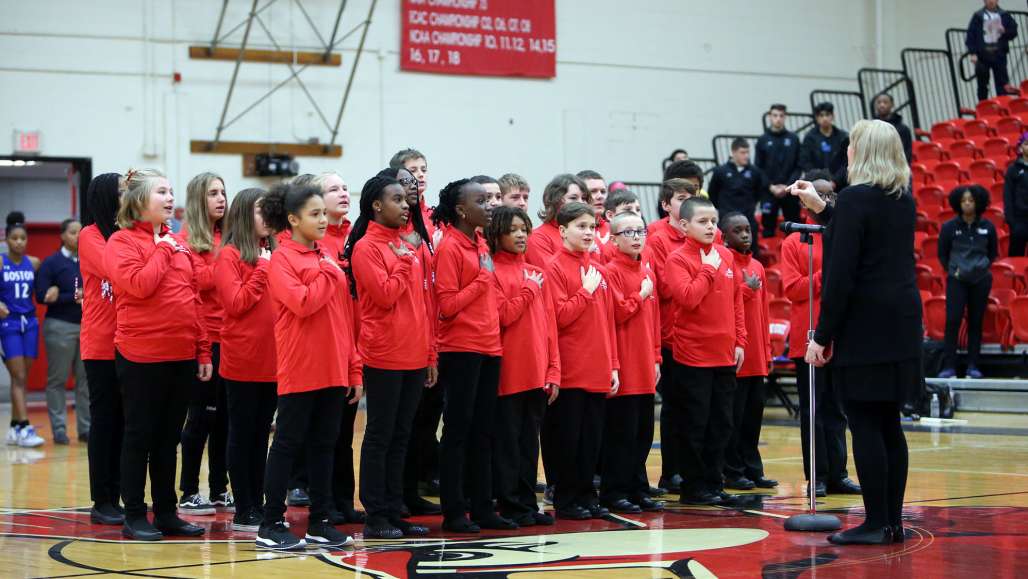 A special thank you to the Kurn Hattin Homes for Children's Acapella Choir for their performances at the Keene State College Athletics men's and women's basketball games on Saturday, December 7. These talented singers, led by Keene State College alumna Lisa Bianconi M'99, sang the national anthem and shared a Christmas medley during halftime. The Choir, from Westminster, Vermont, performs throughout the New England Area and beyond. Shout out to Assistant Men's Basketball Coach Nick Magyar '15 for making it happen.
Both games led to wins for the Owls. Men's Basketball fought in OT with UMass Boston, picking up the 50-46 conference victory. See how the final game of the 2019 men's basketball season at Spaulding Gymnasium went down.
Women's Baseketball players Jordyn Burke and Lilly Shlimon combined to score 34 points as the Keene State College women's basketball team trailed for just nine seconds and led by as many as 19 in a 66-49 win over UMass-Boston in Little East Conference action at Spaulding Gymnasium. Check out details of the game.
Congratulations, Owls!
Related Stories