Physics Major Takes His Research to International Conferences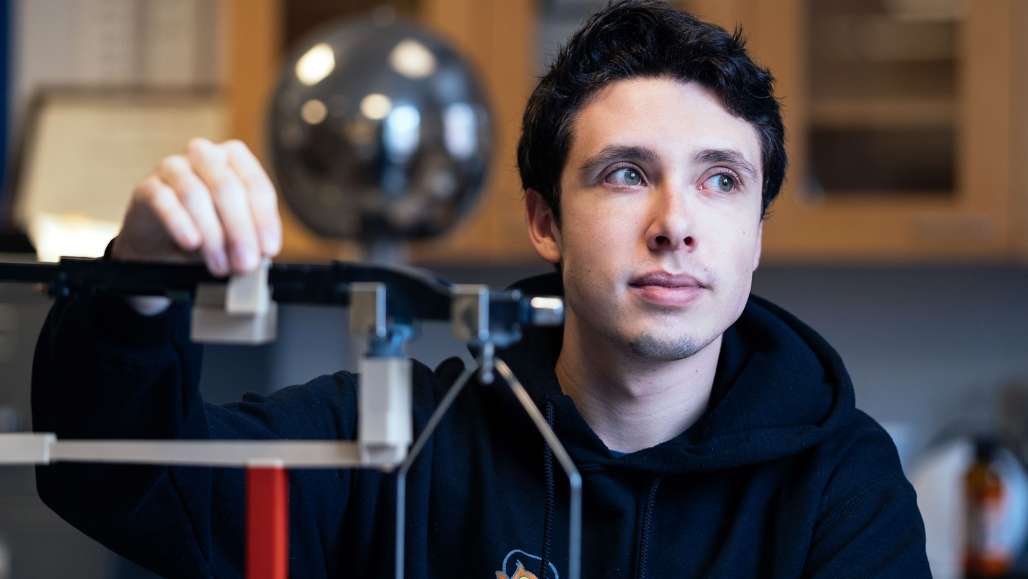 Michael Godzik, a senior at Keene State College, will not let the fear of math stop him from succeeding. From taking just one physics course prior to college, Michael now majors in physics, is president of the Physics Club, a member of the Math Club, and has presented his research at the Council of Public Liberal Arts Colleges Conference, as well as the Academic Excellence Conference on campus, twice.
After being accepted to all of the colleges he applied to, Michael chose Keene State College. He opted for Keene State not only because it made sense financially but because of the memorable connections he made with students and professors before he even enrolled. "My mentor, a professor, is interested in knowing more about me rather than just having me be another number," Michael said, "which helped solidified my choice about where I wanted to be."
As a first-year student, Michael took part in the STEM Living and Learning Community, which provided support from peer mentors and science professors. The students all shared a hallway in The Commons, Keene State's newest residence hall, so it was easy for them to study together. "That enhanced my experience," Michael said, "because I became friends with everyone in my hallway and it helped me come out of my shell."
He has formed strong connections with two physics professors. Associate Professor Steven Harfenist mentors Michael in his research projects. Associate Professor Sarah McGregor has been an important role model, as she holds a PhD in astronomy, which is the field Michael hopes to enter.
"Both professors are so energetic and sociable that it's really easy to talk to them and to get excited about different things. They both have an interest in astronomy, so it's very easy to connect on that," he said, adding that both professors have challenged him and helped push his work toward success.
Michael has presented his research on the binary star system at Keene State's annual Academic Excellence Conference, at a regional conference of liberal arts colleges, and at the 16th annual International Conference on Technology and Computer Science. He'll also present it this spring at a conference in Athens, Greece.
While he likes doing research, Michael's passion is to share an understanding of the world with other people. He's aiming to earn a PhD in astronomy and aspires to a career in public relations with a space exploration company. "I want to be able to help inspire people. I think of Bill Nye and the ways he's able to express how much he loves science and gets other people to love science, too," said Michael.
Michael really enjoyed his Electronics class; other required physics courses include Thermodynamics and Classical Mechanics – a fun class in which students use catapults to measure distance. He enjoys attending Keene State because students take courses in a wide array of fields including arts and humanities. "I really like having a diverse education," he said.
Physics is challenging, Michael admits. "I found success by finding other people to work with. I would have study nights with another classmate before exams. Also, I found it necessary to reach out to my professors. Their doors are always open, and they just want you to succeed."
When he's not in class, Michael is the head residential assistant for his residence hall, a job he's held for three years with the Residential Life Office. Being the head RA has enhanced Michaels experience at Keene State.
Michael expressed how physics can seem scary and daunting but encourages others to give it a try! "I recommend that people take a course even if they're not interested because being able to understand math, especially complex math, is becoming more useful as things move to being more computer based."
-By LeeAnn Spector '20
Related Stories