Human Rights Activist Offers Ideas and Experiences to Students and Community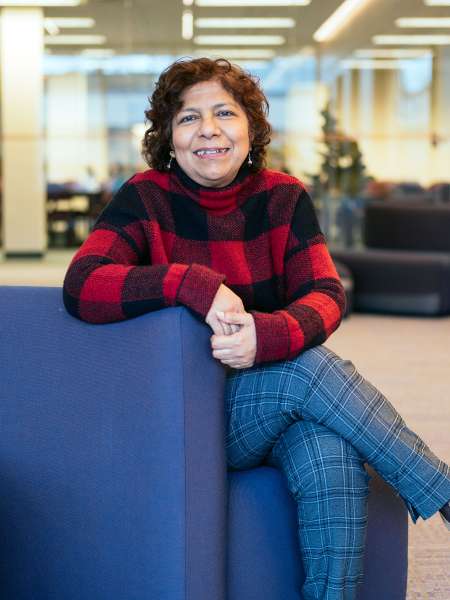 Each fall semester, Keene State welcomes an international scholar to campus as part of the Global Fellowship program, a joint initiative between the Department of Holocaust and Genocide Studies and the Auschwitz Institute for Peace and Reconciliation. The Global Fellows are selected from a pool of international alumni from AIPR's past programming. This fall, the Keene State community welcomed Braema Mathiaparanam to campus for the semester. Braema, a human rights activist, is a former Parliament member from Singapore. Her international perspective provided students, and community members beyond the college, with a new understanding of global issues outside our region.
"Keene State students are very interested and passionate about these topics, and they are engaged in what I have shared over the semester. I, too, am learning from the students. At Keene State, relevant and important conversations are always happening about how to shape our future through the Holocaust and Genocide Studies Program," said Braema. "I was motivated to help people here learn more about Southeast Asia. I will leave here after this semester feeling very welcomed and fulfilled. I am grateful to have been selected to join Keene State."
While on campus, Braema shared her research and efforts advocating for women's rights, migrant workers' rights, economic equality, among other pressing social issues in Southeast Asia. She brought her experiences as a teacher, journalist, and researcher to the college community to open a window into the lives of people in another region of the world. Braema found ways to apply her focus on human rights in many of Keene State's academic programs, including communication and philosophy, education, political science, criminal justice, and public health.
"We are so pleased that Braema could bring her ideas, experiences, and willingness to share to our community. She has reached many people, most importantly, our students, who will take what they've learned from her into their own futures," said Keene State Cohen Professor of Holocaust and Genocide Studies Dr. Jim Waller. "The Global Fellow program is proving to be a great way to provide our students and community with new perspectives from around the world. I am looking forward to continuing to welcome additional international scholars, like Braema, to campus."
Related Stories