New Art Collection will be Used for Student and Community Learning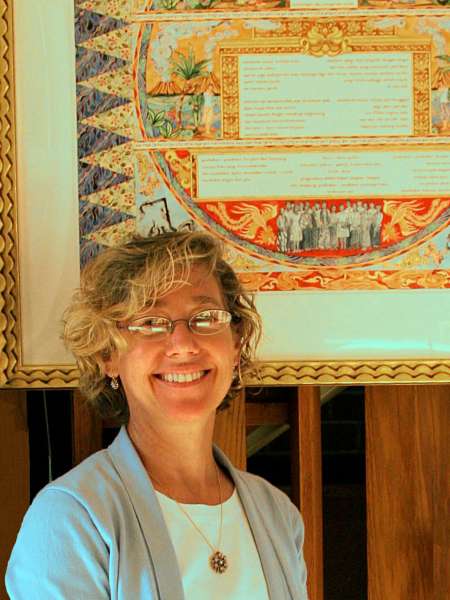 Soon, Keene State students, campus visitors, and the broader community will have access to another art collection that will inspire and educate. Amy Fagin, Massachusetts-based visual artist and author of Beyond Genocide, specializes in the traditional art form of manuscript illumination, which brings historical events to life through art. She is gifting her art collection to the Department of Holocaust and Genocide Studies at Keene State to provide the community with additional perspectives on global incidents of genocide and mass violence from the past, and to provoke more dialogue about these ongoing issues in today's world. The public is invited to an opening event for the collection in Mason Library room 142 on November 22 at 2 p.m. where Amy will be speaking.
Amy's involvement with Keene State began in 2016 when she attended the inaugural Summer Institute on Genocide Studies and Prevention. The biennial Institute, hosted by the Department of Holocaust and Genocide Studies, is a week-long program that brings educators from around the world to Keene State's campus to learn new ways to educate their communities about the Holocaust and genocide, with the goal of preventing future violence through knowledge.
"I am a life-long student of art expression as a vital form of human communication, which forms the cultural identity of groups throughout history, and is often a key target for genocidal campaigns," said Amy. "What stands out to me about the Keene State College program in Holocaust and genocide studies is the impeccable integrity and collegiality of the faculty, staff, and students. The vision of the program is one which I hope that many colleges and universities around the country and internationally can adopt for their own communities. Incorporating arts as a critical component of this discussion is an imperative that Keene State has fully embraced, and I am honored to help facilitate this development."
The collection will be used by professors in the Holocaust and Genocide Studies program to teach students in their courses, including Art and the Holocaust. Available to the public on the second floor of the Mason Library, in the new wing housing the Holocaust and genocide studies department, the hope is that student and community members alike will view the collection and share their thoughts with others.
"Art is an essential part of fully understanding a culture, its destruction or survival, and how we came to be where we are today. I am grateful for Amy's contribution, and looking forward to incorporating her work into the studies of our students," said Keene State Cohen Professor of Holocaust and Genocide Studies Dr. Jim Waller.
"I hope that this contribution of an artistic treasure will inspire future generations of students toward broadening their studies at Keene State College in cultural expression and genocide prevention. I am thankful that the college has accepted this wonderful gift, and given it a home and family," said Amy.
Related Stories