Summer at the Peterborough Players: Long Days and Lots of Fun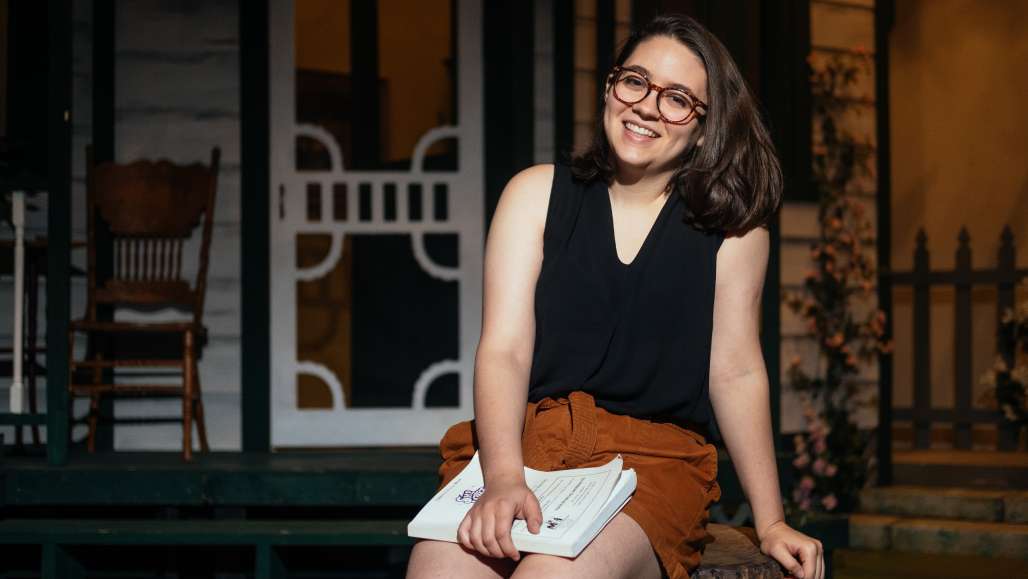 What's it like to work in professional theatre? Rising senior Emily Fitzgerald is finding out as a member of the Second Company at the Peterborough Players, a highly respected summer theatre located 30 minutes from Keene.
"A typical day," she says, "is really crazy." For Second Company members, mostly college students or recent grads, work starts at 9 a.m. and ends about 11 p.m. Emily is an administrative intern, so she spends most morning in the Players' business office doing marketing and other administrative work. A film major at Keene State before switching to theatre, she's creating promotional videos as part of her job. Acting interns spend the morning in rehearsals for the matinee children's plays they put on.
On some afternoons, Emily works in one of the Players' four "shops" – costumes, electrics, set-building, or props. From 5 to 5:30 she joins the other Second Company members in doing janitorial chores: cleaning the theatre, the lobby, the cabins where they stay. After a dinner break, some head backstage to crew for the evening's play while others head for "front-of-house" duties – attending the parking lot, ushering, greeting patrons, selling tickets, or working in the concession stand.
When the play is over, typically between 10 and 11 p.m., the Second Company members grab some shut-eye so they'll be ready for work again at 9 the next morning.
The Peterborough Players' professional company stages seven shows each summer, with each running nightly for two weeks. Second Company members get one day off, a Monday, every other week. The crazy schedule, says Emily, is part of the fun.
"I love it all, really," she says. "I get to do so many different things." That includes occasionally subbing for the Players' house manager – a job that involves flashing the lights to indicate the show's about to start (or restart after intermission), cueing the stage manager that the audience is seated and the curtain can go up, troubleshooting in cases when an audience member is injured or ill or the concession booth runs out of items, and generally handling any front-of-house emergencies that come up.
A resident of Hampstead, New Hampshire, Emily grew up in a community theatre family. Her mom was one of the founders of a local troupe, the Menagerie Theatre, and her parents met in the group. "I was kind of born into it," she says. At six or seven, she went along with her father to an audition and got hooked. She had her first walk-on part at nine or ten, when she was among a group of kids who "literally walked on and then walked off" the stage during one scene in Flowers for Algernon.
As a junior in high school, she landed a major role with the Windham Actors Guild, playing Olive in The 25th Annual Putnam County Spelling Bee, a musical comedy in which middle-school contestants are typically portrayed by adult actors. "It was really fun," she remembers.
She'd been studying video production in high school, so when she arrived at Keene State she began as a film major. As soon as she got involved in theatre at the College, though, she knew that was where she belonged. She switched to the Theatre & Dance Department, majoring in theatre with a dual specialization in technical theatre and acting. Since then, she's been active on and off stage with Keene State productions. As a first-year student, she was assistant stage manager for the play Euridice and the Dance Department's Evening of Dance recital. Her sophomore year, she was stage manager for Company and for Evening of Dance. Junior year, she got back on stage, acting in The Butterfly's Evil Spell and A Dream Play – in addition to taking on stage-manager duties again for Evening of Dance.
"One thing I like about the Theatre Department at Keene State is that it's aimed at making sure that everyone, no matter your specialization, does everything. You have to do tech stuff. You have to do dance things. You have to take an acting class," Emily adds. "And within the tech program, you learn everything – design for costuming and scenic work and lighting, stage management, crew positions, being a master electrician. It's really useful having all of that knowledge, and it helps with hireability, too."
Next spring, Emily plans to apply for work in the theatre world post-graduation. She'd like to settle in New York City eventually, at least for a while, and focus on nonprofit theatre – like the Peterborough Players. She'll be back on campus in a few weeks to begin her senior year. In the meantime, she'll be working 14-hour days at the Players, learning the ropes of summer stock and loving every minute of it.
Related Stories