Keene State Concert Choir Tours Vermont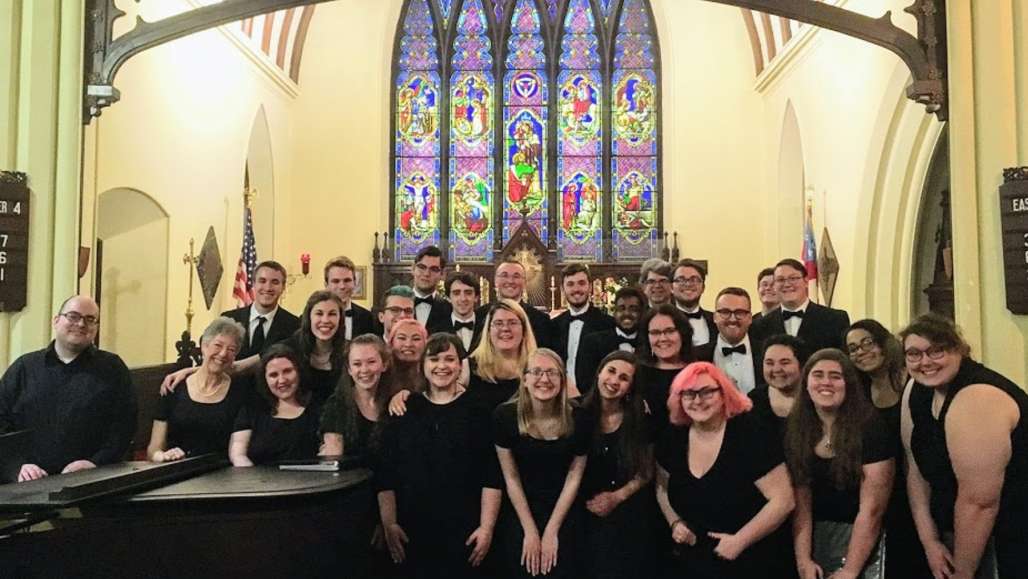 Keene State choral singers took to the road in May, performing at community venues and taking part in workshops with high school singers in three Vermont towns.
"The tour was a blast," says Dr. Matthew Leese of the College's Music Department, who conducts the Concert Choir and oversaw the three-day event. Twenty-six singers, including seven recent alumni, and three staff headed first to Fairlee, where they performed an evening concert as part of the Fairlee Community Arts series.
The next day, the group headed north to St. Albans, where the college singers met for a workshop with choirs from Bellows Free Academy, the local high school, and later performed as part of the Church Street Sounds of the Season music series. Day three brought more interaction with younger singers at Colchester High School and a performance for the students at Grand Isle School.
The Concert Choir performed a broad repertoire – "from Renaissance madrigals and Pentatonix to a piece composed by a student for the tour, and everything in between," Dr. Leese says. The singers sang in six languages, some a capella pieces and others in consort with Keene State's collaborative pianist, Christopher Evatt.
A spring tour is an annual event for Keene State choral singers. This year, says Dr. Leese, the focus was on performing, but the benefits go far beyond giving student singers an opportunity to experience a professional tour. Many are working toward certification as music teachers, and exposure to a variety of high school music programs was a valuable learning opportunity – as was working directly with the younger singers.
The tour also introduces high school choral members to a college program – and shows music audiences from our neighbor to the west about the great things happening in the Keene State Music Department.
"I'm so proud of them," says Dr. Leese. "They represented Keene State well. Everything that is wonderful about Keene State was demonstrated on the tour."
Related Stories