Geography Students Tackling Renewable Energy Resolution in Keene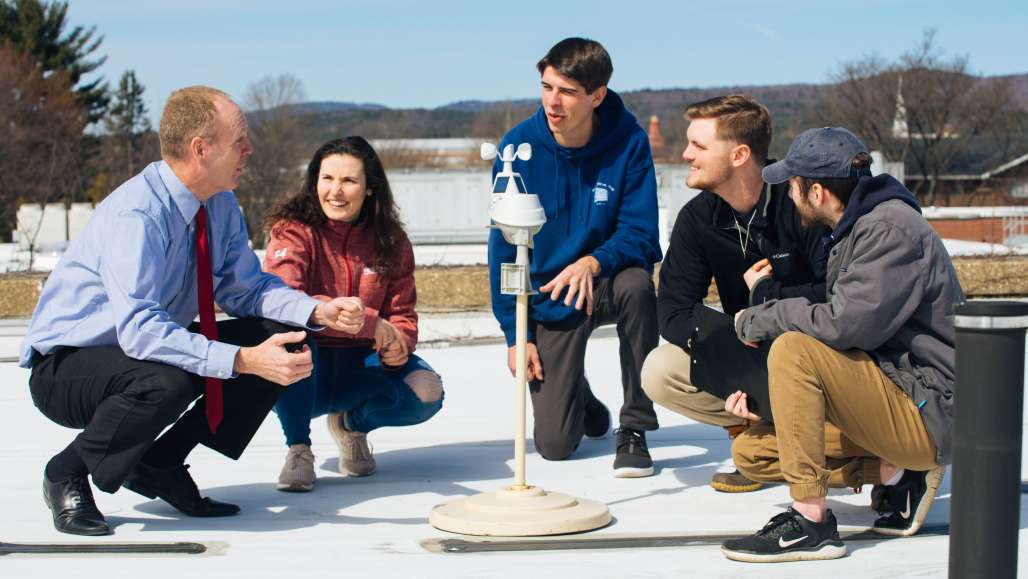 Doing research in conjunction with the City of Keene's resolution to move toward 100 percent renewable energy, geography students took flight – in a manner of speaking. Two groups in Professor Chris Cusack's Capstone Seminar made use of a drone in gathering data that will help the city move forward in reducing carbon emissions.
Keene is aiming to transition to 100 percent renewable energy by the year 2030 – an ambitious goal that may be helped along by student geographers armed with drones and other tools of the trade.
The idea, said Professor Chris Cusack of the Geography, Outdoor Recreation, and Planning Department, was to identify and map out the warmest areas of town as well as the homes most suited for solar panel installation. That could help the city as it looks into possibilities like tax incentives for alternative energy for heating and air conditioning, he says.
"It's also a way for the students to learn how to use the equipment and map out their results and formulate hypotheses," Cusack added. "I want to make sure the students can do a background literature review and think for themselves when they run into trouble. I try to be as hands-off as possible. This is real-world learning, working with the city's Community Development Department and the Energy and Climate Committee, and this is what they'll be doing as a real job in a year or two."
Seniors Nick Young, Alexandria Sabido, Jason LaPanne, and Zane Atwood examined a phenomenon known as Urban Heat Island Effect – in essence, cities are warmer because asphalt and buildings absorb more heat than natural environments.
In mapping out the parts of Keene that are warmer, the students set up weather stations throughout the city to collect data, and also sent up a drone that uncovered a temperature inversion; that is, the air got warmer rather than cooler as the drone ascended.
The group's findings could help the city look at ways to mitigate heat absorption in the down town area, including incorporating environmentally friendly materials into buildings and streets.
"It was cool to learn the process of collecting and then interpreting the data," said Nick, adding that the group was motivated by the fact that the city may be able to implement their findings.
A second group of students – seniors Gwendolyn Thayer, Samantha Menke, and C. J. Klem – used a drone to help determine which houses in Keene would be good fits for solar panels.
"There's a lot of potential to generate electricity from residential solar," said C. J., "and move away from the fossil fuels and nuclear power and the other bio fuels we're running on right now."
Using the drone, Gwen, Samantha, and C. J. were able to look at residential properties throughout Keene and get a bird's-eye view of their rooftops to assess whether the pitch, orientation, and amount of direct exposure to sunlight would make them good candidates for solar panel installation.
Like the other group, they used Geographic Information Systems (GIS) mapping to create a map of their results. The city, or even individual residents, could access the information in the future to determine the feasibility of solar energy for a household or the entire city.
"It feels good to contribute to the community, especially for our last big project," said Gwen.
Related Stories