House Paintings: Evoking the Feeling of a Landscape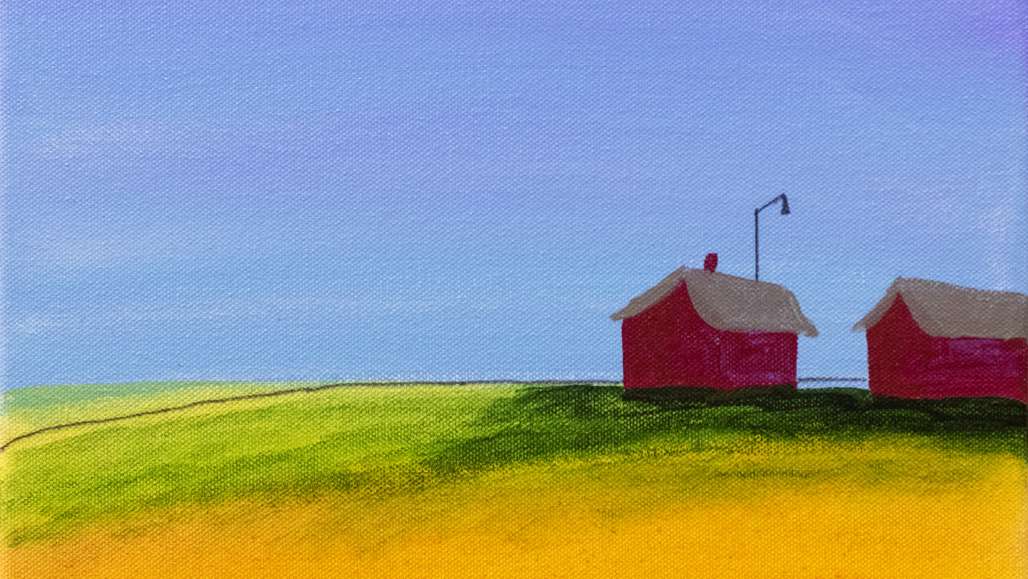 When fine artist Frankie Brackley-Tolman '74 paints houses – for many years a favorite subject of hers – she sometimes thinks about the Tom Waitts Song "The House Where Nobody Lives." Indeed, her houses and barns, unpeopled shapes and colors, are studies in stillness. Sometimes they're tucked into a distant valley; sometimes they loom large above a bluff or plain.
"I like to distill things down into simple shapes," says Brackley-Tolman, who lives in Nelson, New Hampshire. "I don't want to paint what they look like, but what they feel like. You can get more emotions across without going into the detail."
When the twentieth-century artist Fairfield Porter painted the landscape of Maine's Great Spruce Head Island, where his family had a summer home, he said he was painting his father, she notes. Similarly, she says, "When I'm painting a barn, I'm painting my ancestors."
To Brackley-Tolman, painting buildings is about exploring the place of humans in nature – not a surprising theme for a biology major who worked as a botanist and biology teacher before becoming a full-time artist. With a master's degree from UNH and a focus on taxonomy of vascular plants, she worked for the Nature Conservancy and served as both coordinator and botanist for the New Hampshire Natural Heritage Inventory.
As a child, she'd wanted to be an artist, and she was working as a lecturer at Keene State, teaching a botany course for non-biology majors, when she felt a strong pull to make art. She bought herself a big box of crayons and sketched with them on a visit to Cape Breton, Nova Scotia. She took painting classes at a local arts center along with a couple of watercolor workshops, then began exhibiting her paintings in group shows in the region. "People responded and bought my work," she remembers.
Brackley-Tolman made the leap, gave up her biology-teaching job at Keene State, and offered her services when the nearby Sharon Arts Center (now part of the New Hampshire Institute of Arts) advertised for teachers. "I went in and I said, 'Look, I have no formal art training, but I can paint and I can teach, I know that.' They agreed to let me try, and I taught there for about 15 years. I sort of re-invented myself." A lover of the spare northern landscape, Brackley-Tolman is noted for her evocative paintings of houses, barns, sheds and other modest structures in places including Cape Breton and Monhegan Island off the coast of Maine.
"The image is mostly in my head," she says. "I go somewhere and get an impression of something. I seldom work from photographs, and I tell my students not to. Just look at it and turn it over, otherwise you get hung up in details and you forget about the essence. I'm trying to evoke a feeling that the landscape gave me."
Color is a major feature of her work; in fact, she switched from watercolor to acrylic paint to capitalize on their brightness. "I like the vibrancy, the liveliness of color," she says. "It conveys joy to me."
Brackley-Tolman is part of a two-artist household: Her husband, Harvey Tolman, is a well-known traditional fiddler and recipient of the New Hampshire Folk Heritage Award. He also helps her set up displays at the arts tours and fairs where she sells her work – the Fall Foliage Art Studio Tour, Art in the Park in Keene, and Open Studios at the Harrisville Mills. "He's very supportive," she says – "and he lugs my paintings around."
These days, Brackley-Tolman is applying her artistic vision to different subject matter. After completing a series of forest paintings, she's now working on paintings of plants. It's all connected to her time as a field biologist, she says: "It has to do with the way you see the world."
Related Stories