At the Heart of the House Stands the Kitchen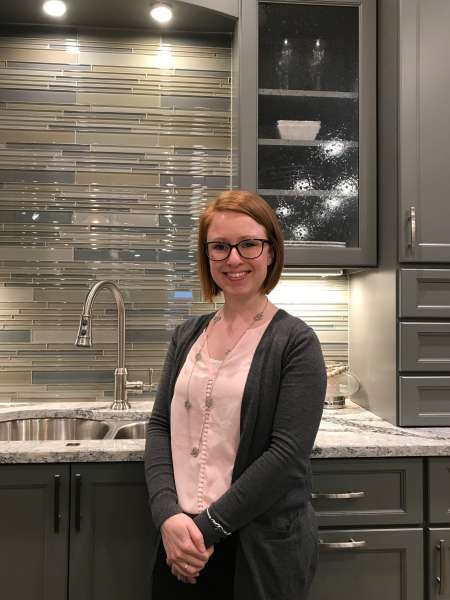 Jessica Enman '12 found her niche thanks to a downturn in the economy. An architecture major, she graduated at a time when even people experienced in the field couldn't find work. She took what she thought would be a stop-gap job as a kitchen designer at a lumberyard.
"I ended up really liking it," says Enman, who has since moved to another lumberyard – Hancock Lumber in Brunswick, Maine – but is still designing kitchens. "I really find it satisfying to help people figure out what they want and making it into a reality."
Typically, remodeling a kitchen or installing a new one in an addition or new home is a lengthy process, she says, one that begins with a conversation with the customers. "About 75 percent of my job is really to just ask questions and listen to what people say," Enman says.
Sometimes that involves helping couples negotiate differing wants and needs, she adds, joking that kitchen designers also do marriage counseling. She remembers one woman who had a very clear vision of what she wanted in her kitchen, then asked that the refrigerator and microwave be located on the periphery so her husband could grab his frozen meals, heat them up, and get out of her way.
The amount of space and the layout in a kitchen is critical, especially for a family that cooks together. For frequent bakers, Enman may suggest adjusting the height of the counter and adding shelf space for a mixer. For those who want to add the ubiquitous island to a small space, she may rough out the island's footprint on the existing floor with masking tape so they can try moving around it for a week.
"Either they'll do away with that concept once they realize it's not practical, or they will steal space for the new kitchen from another room in the house," she says.
Visiting the site pre-construction or renovation is important for other practical reasons, too: the designer needs to get accurate measurements before coming up with plans for flooring, cabinetry, countertops, and appliances – in addition to wiring, plumbing, and ventilation. "It's actually a very technical job," says Enman, who uses software called 2020 Design that can create a full-color 3-D view to help people visualize their planned new kitchen.
The information age has brought a host of new tools for homeowners as well. Enman finds that most of her clients have collected ideas on apps like Pinterest and Houzz. Houzz allows designers to plug in to customers' wish lists and get a sense of their style and taste. Most clients are also interested in integrating interior accessories into their new cabinets – things like wastebasket pullouts, roll-out shelves, and spice rack pullouts. It helps maximize functionality and efficiency of the space, she says.
What's the latest in kitchens? Trends include wood floors and wood-look tile floors. Quartz countertops are pulling ahead of granite. Shiplap walls are hot, thanks to a leading fixer-upper show. Enman finds that many people are going with a classic look with white as the primary color so their kitchen won't be dated within a few years.
In addition to working with clients, Enman's job includes working with contractors and with appliance, lighting, and flooring retailers. She credits "all those group projects" at Keene State with giving her the people skills she needs to see her kitchen designs become reality.
Her own kitchen, she notes, is neither fancy nor trendy. "I guess living with a mediocre one, I can appreciate what people don't like about their kitchens," she says.
Related Stories